I grew up eating Entemann's Crumb Coffee Cake and those delicious little crumb muffins, you know the ones, right? Soft and exploding with those irresistible crumbles? It's always been a favorite, but I wanted to try a recipe for homemade crumb coffee cake that would satisfy my craving for all things crumbly and delicious. This Crumb Coffee Cake has a ton of crumbles, which if you ask me, is always the best part! To make it super crumbly and delicious requires butter, so while it may not be super healthy, it's an indulgent treat worth making! This Crumb Coffee Cake is perfect for a special breakfast treat or even dessert.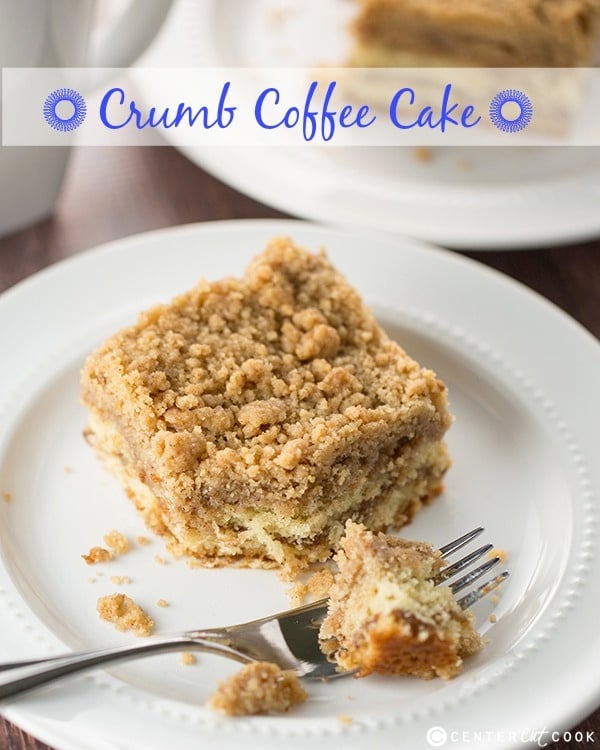 To make this crumb coffee cake, you'll start by making a pretty basic batter. The batter is going to be thick which means it'll take a little effort for you to spread it out in a 9 x 13 inch pan. The batter is divided with a brown sugar and cinnamon layer, then the whole thing is topped with all of those buttery crumbles!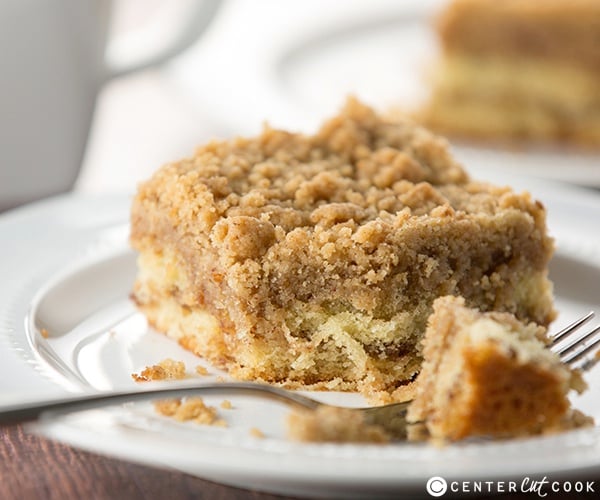 As you can see, there's a big thick layer of those delicious buttery crumbles on top that everyone just loves. Perfect alongside tea, or coffee, everybody will be asking for a second slice! If I'm entertaining with this recipe and making it for a breakfast or brunch, I like to make my Amish Breakfast Casserole to go with it to offer something sweet and something savory. Enjoy!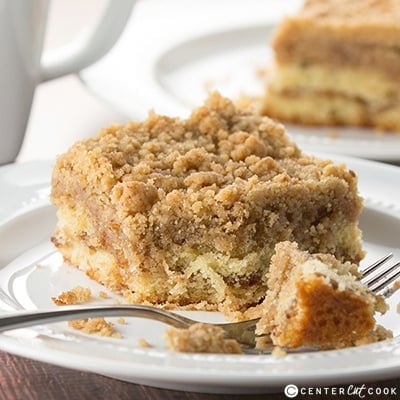 CAKE INGREDIENTS
FILLING INGREDIENTS
TOPPING INGREDIENTS
2 sticks cold, unsalted butter
2 1/4 cups all-purpose flour
1 1/2 tablespoons cinnamon
1 3/4 cups brown sugar
2 teaspoons vanilla
DIRECTIONS
Pre-heat your oven to 350F.
Prepare a 9 x 13 inch baking dish by spraying it with non-stick spray.
To make the cake: In the bowl for your mixer, sift together flour, sugar, baking soda, baking powder and salt.
Add in butter, a few pieces at the time and mix until you are left with crumbles.
Add in eggs, vanilla and buttermilk and beat until the mixture is combined, making sure to scrape down the sides of the bowl.
To make the filling: combine 1 cup light brown sugar with 1 and 1/2 tablespoons ground cinnamon
Pour half of the batter into the prepared pan. The batter is going to be thick, so it will take a bit of effort to spread it. Sprinkle the filling on top of the batter.
Pour remaining batter on top. Use a small knife to make swirls in the cake to give it a marbled look.
To make the topping: Whisk together flour, cinnamon, sugar, and vanilla. Cut in butter using two forks until it's crumbly (you can also use your mixer to do this). Sprinkle the crumb topping evenly over the batter.
Bake for 45-50 minutes, or until the cake has set.
Recipe from
CenterCutCook