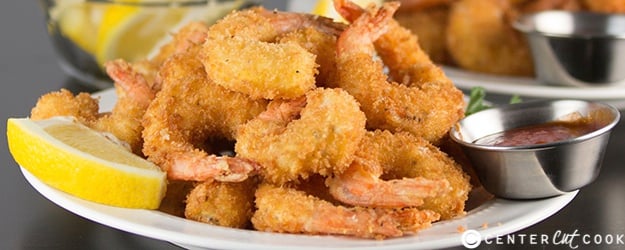 I've told you before how I worked at Red Lobster when I was in college, didn't I? One of my favorite things from there, aside from those Cheddar Bay Biscuits, was the fried shrimp. I don't know what it is about Crispy Crunchy Fried Shrimp that I just love, but it is a favorite. For some reason, I haven't really thought to try making fried shrimp at home. Last week Ryan mentioned that Fried Shrimp sounded good, so I decided I'd give it a try!
There's really not a whole lot to making fried shrimp at home. It's so easy! You just batter the shrimp, coat them in panko bread crumbs, fry them (they cook quick) and you're left with crunchy fried shrimp that taste just like what you'd get at a restaurant like Red Lobster!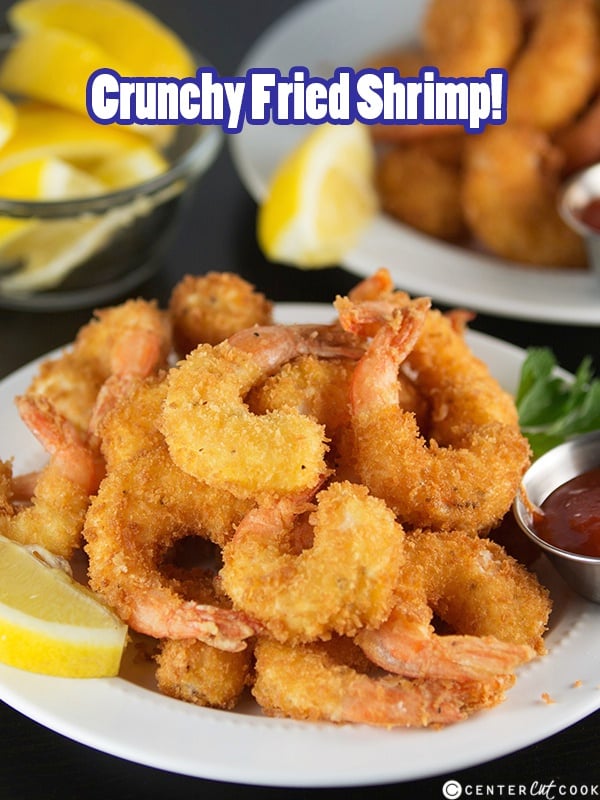 Have you heard of panko bread crumbs before? You'll find them in the same section of the grocery store as the regular bread crumbs. They're considered Japanese style bread crumbs, and they are my secret to ultra crispy crunchy fried shrimp!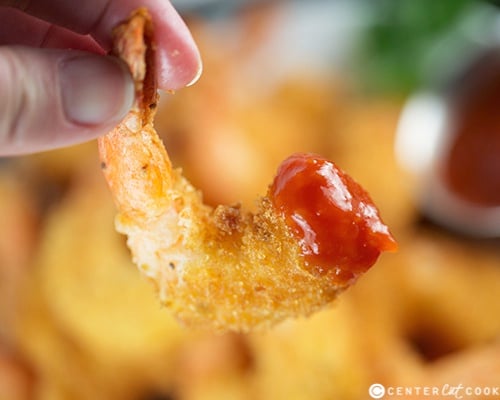 To make fried shrimp, you'll just toss about a pound of shrimp with salt, black pepper and garlic powder to season 'em up a bit. Then you'll dip them in flour, then egg, and finally those panko bread crumbs I mentioned. When you are buying shrimp, look for the raw shrimp that have already been peeled and deveined. They are so much easier to work with! I like to buy them at Costco, and I usually buy the 31-40 count shrimp which simply means that there are 31-40 shrimp in a pound. If you buy larger shrimp, there are fewer per pound.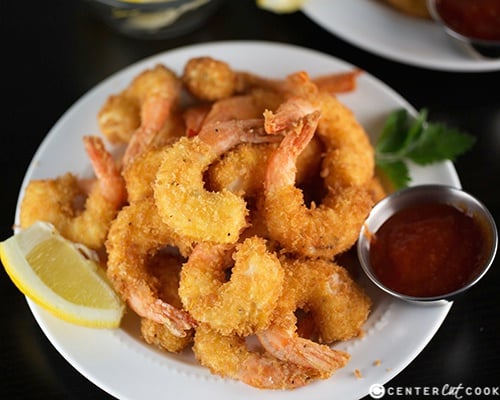 I like to squeeze a little fresh lemon over my fried shrimp, and dip them in cocktail sauce while Ryan's preference is hold the lemon, and the cocktail sauce, and use just ketchup instead. :)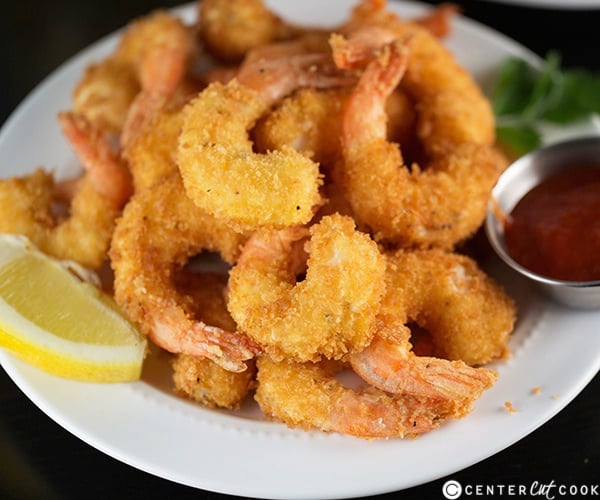 The "hardest" part about this recipe is the prep work – dipping each piece of shrimp in flour, then egg, then bread crumbs does take a bit of time. But the good news is that they fry up SUPER quick! You should have this fried shrimp recipe ready to be eaten in under 30 minutes. Great as an appetizer or a main dish, you are going to love this recipe. Enjoy!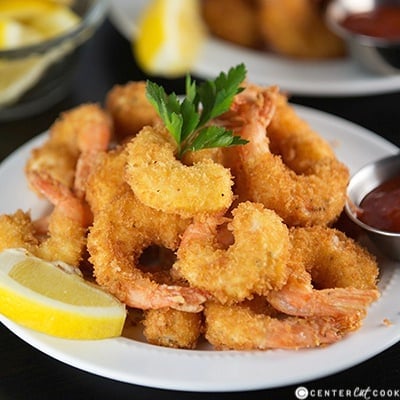 INGREDIENTS
1 pound raw shrimp, peeled and deveined with the tails attached (I used 31-40 count shrimp. This means that there's 31-40 shrimp per pound)
1/2 cup flour
2 eggs lightly beaten
1 1/2 cups panko bread crumbs
1/2 teaspoon salt
1/4 teaspoon black pepper
1/4 teaspoon garlic powder
vegetable oil or canola oil for frying
lemon slices for garnish
cocktail sauce for dipping
DIRECTIONS
Use paper towels to pat the shrimp dry. Toss the shrimp with salt, black pepper and garlic powder.
Gather three shallow dishes. I like to use cake pans. In one pan, add 1/2 cup flour. In another pan add 2 eggs, lightly beaten. In the third pan add 1 and 1/2 cups panko bread crumbs.
Dip each shrimp in flour, then egg, then panko bread crumbs. Use your fingers to press the bread crumbs onto each piece of shrimp.
Heat about two inches of canola or vegetable oil in a deep pot to around 350 degrees.
Deep-fry the shrimp in batches, frying about 6 shrimp at a time. The shrimp will cook very quickly! When they are golden brown, use a slotted spoon to remove them from the pan, and transfer them to a paper towel lined plate. Continue cooking the shrimp in batches until all shrimp are fried and golden brown.
Serve with lemon slices and/or cocktail sauce.
Enjoy!
Recipe from
CenterCutCook