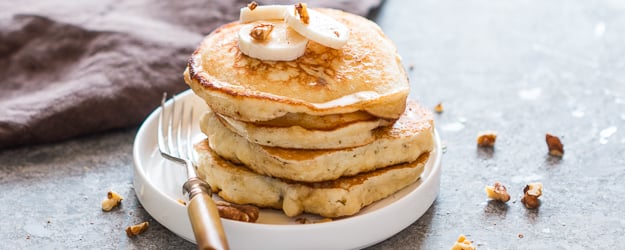 Have you ever tried banana pancakes? They are the best! Soft, fluffy and moist and taste just like banana bread with caramelized bits of banana in every bite. These pancakes are jam packed with banana. They have mashed ripe bananas in the batter and caramelized banana slices within the pancake too. And they are still really easy to make.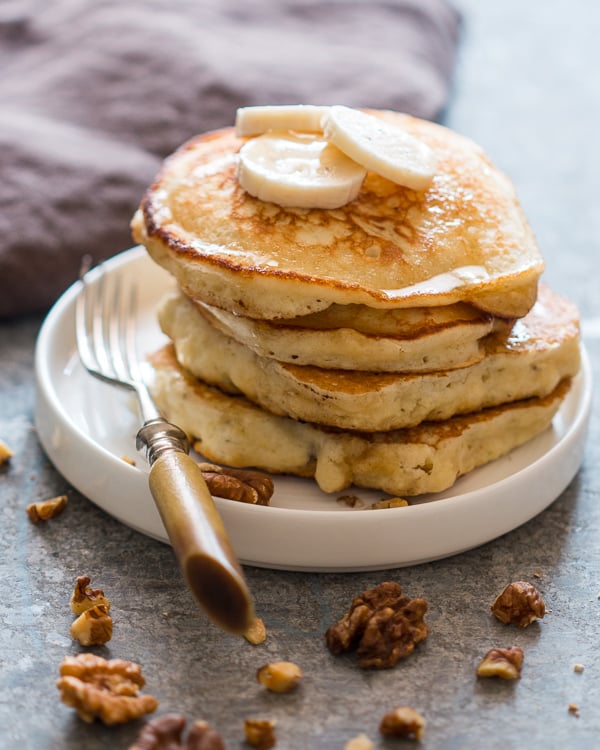 These banana pancakes really make Sundays better. The batter is super quick to make, and really only needs a few minutes to put together. You just need to make sure you have some over ripe bananas on hand. Because over ripe bananas add a delicious sweetness and flavour to these pancakes that can't be replaced by anything else.
Make these pancakes for a crowd or just for your family, they'll never disappoint anyone. I like to top my stack of banana pancakes with maple syrup and more banana slices on the side!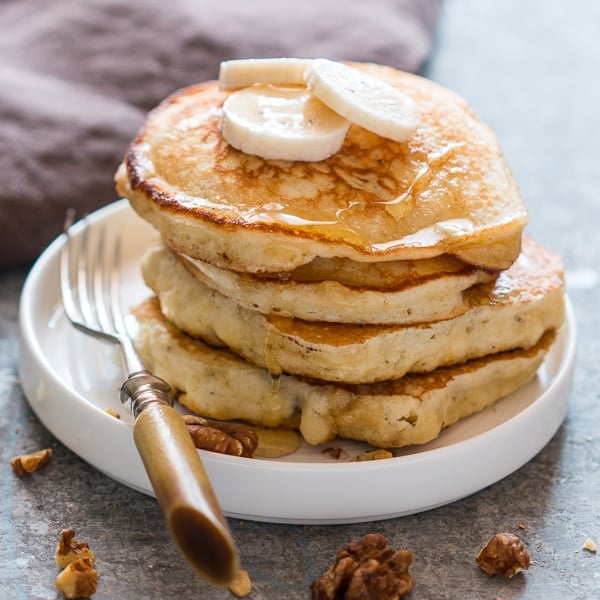 INGREDIENTS
1 cup Flour
2 tablespoons Brown Sugar + extra for sprinkling
2 teaspoons Baking Powder
A pinch of salt
1 Egg
1 cup Milk
2 tablespoons melted Butter
1 teaspoon Vanilla Extract
1 ripe Banana, mashed
1 tablespoon Butter for the pan
2 Bananas, sliced
DIRECTIONS
In a bowl, mix together flour, sugar, baking powder and salt.
In another bowl, whisk together egg, milk, butter, vanilla and mashed banana. Add the dry ingredients to the wet ingredients and mix just until combined. It's okay if the batter is a little lumpy.
Heat butter in a frying pan. Add 2-3 slices of banana in different places around the skillet, making sure to leave space between them for the pancake batter to spread. Sprinkle some sugar on the slices and cook for a minute or two on each side. (My skillet is 10 inches and can fit two of these pancakes at a time)
Once the slices are slightly caramelized, add 1/4 cup pancake batter on 2-3 slices. The pan should be hot as you pour the batter. Cook for a minute or two and flip. Cook on the other side for another minute or so till the pancakes are fluffy and cooked through. Remove from heat and repeat with remaining batter till all the batter is used. Serve immediately with choice of syrup.
Servings: 4