Filed under salads that really aren't salads, but are still called a salad (especially if you liven the Midwest), I'd like to introduce you to this Easy Cherry Fluff Salad made with Cherry Pie Filling. Don't let the name fool you – this is actually a dessert…a simple, quick and easy to make dessert that also happens to be called a salad.


There's a wide variety of names that this dessert gets called. Whether you grew up calling it Cherry Fluff Salad or Cherry Pie Filling Salad, the ingredients are usually the same and consist of cherry pie filling, pineapple chunks, sweetened condensed milk, whipped topping (Cool Whip), marshmallows, and nuts if you're in a nut-loving household where nuts aren't considered to be an ingredient that would ruin dessert. In my church recipe book from back in the day, this dessert was alliteratively titled "quickie dessert" and I can only guess it's because of how quickly this recipe comes together.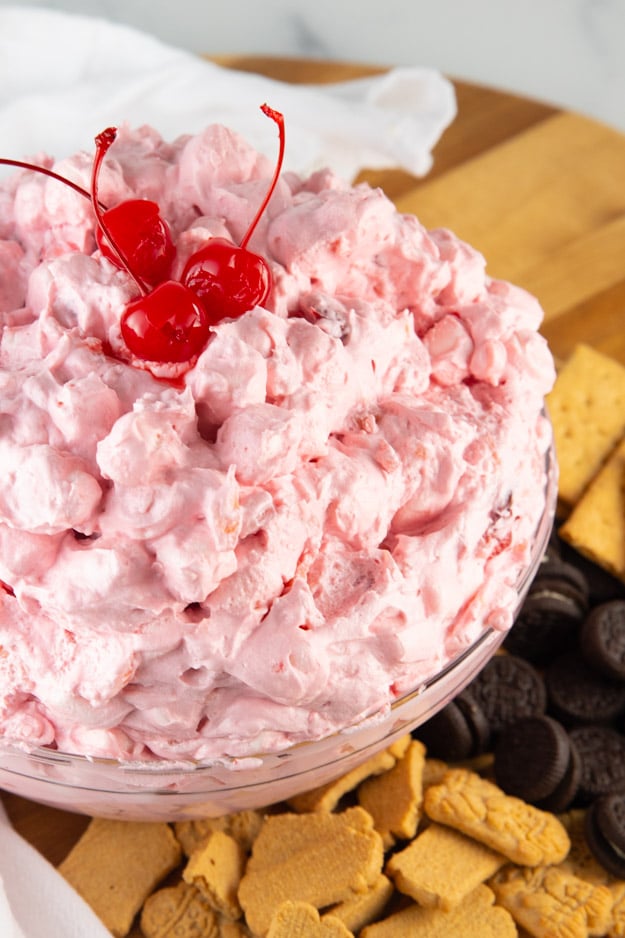 Cherry Fluff Salad Ingredients:
The simplicity of this recipe means there's not a whole lot for me to say, and I really can't offer many tips and tricks because it's all very straightforward but here are a few notes that might help you make this:
Cherry Pie Filling: you'll need one 21 ounce can of Cherry Pie Filling. Use whatever brand you like best.
Sweetened Condensed Milk – one 14 ounce can
Crushed Pineapple – one 20 ounce can crushed pineapple, drained
Whipped Topping (Cool Whip) – one 12 ounce tub
Mini Marshmallows – one 10 ounce bag
Nuts – if you like nuts, go ahead and add them!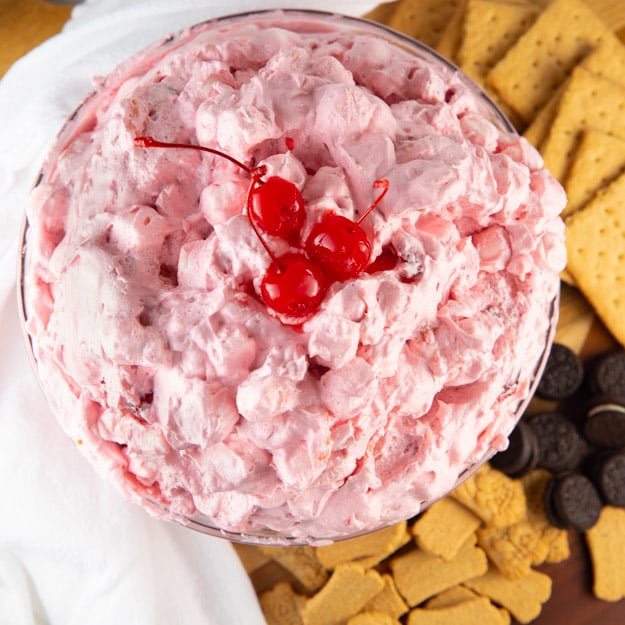 How to serve Easy Cherry Fluff Salad
When getting ready to serve Easy Cherry Fluff Salad, you have two options. The first option is to simply combine all of the ingredients in a large bowl and refrigerate for two hours before serving. To serve, scoop into bowls. I like to serve this dessert with graham cracker snacks like Teddy Grahams, or mini Oreos for dipping.
Another option is to purchase two prepared graham cracker pie crusts and divide the filling among the crusts. Refrigerate for two hours before cutting into pie slices and serving.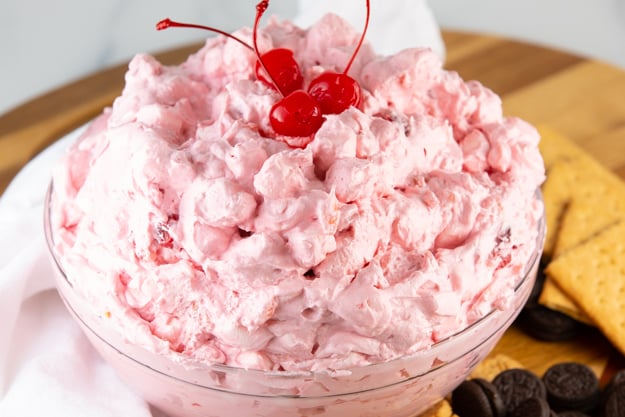 More Dessert Salad Recipes to Try:
If you haven't tried Watergate salad, also known as Pistachio Fluff, you must! It's a classic recipe that serves up plenty of nostalgia made with marshmallows, cool whip, and pistachio Jell-O that has been loved for many generations and only takes about 5 minutes to make.
While this isn't a "salad," it's a cherry pie filling dessert recipe that everyone loves – Chocolate cherry Dream!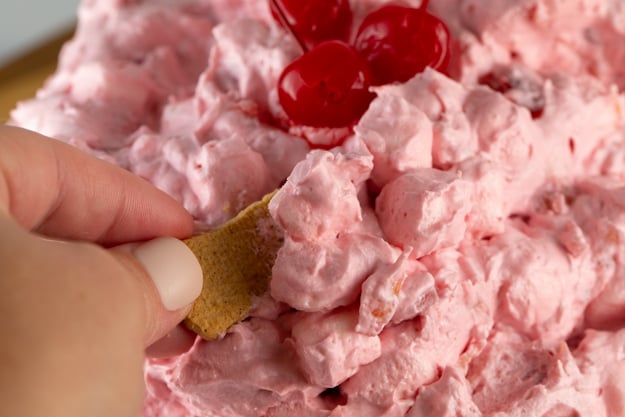 I hope you enjoy this recipe for easy Cherry Fluff Salad made in just 5 minutes with cherry pie filling, condensed milk, crushed pineapple, whipped topping and nuts. Enjoy!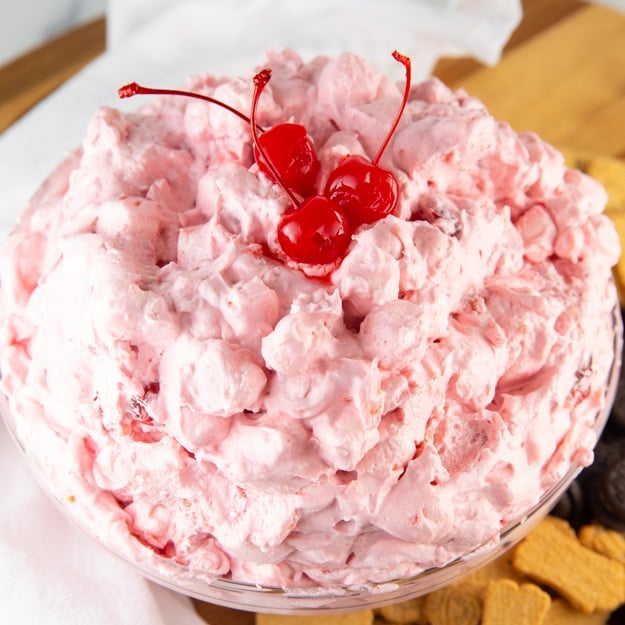 INGREDIENTS
DIRECTIONS
Combine all ingredients together in a large bowl.
Refrigerate for at least 2 hours before serving.
Serve with graham crackers or mini Oreos for dipping. Alternatively, you can divide the mixture between two prepared Graham Cracker Pie Crusts and chill for 2 hours before serving.
Servings: 6