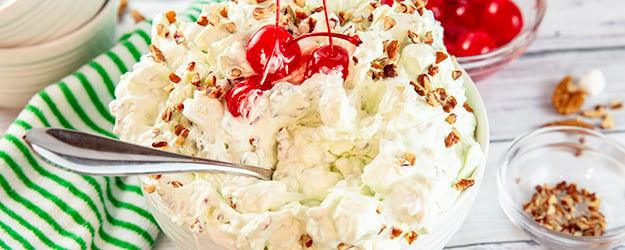 Whether you call it Watergate Salad or Pistachio Fluff, it does not matter. What you need to know is that this classic recipe with an interesting origin is delicious and made very simply with marshmallows, Cool Whip, Pistachio Jell-O, crushed pineapple and chopped pecans. This recipe has been served on dinner tables and at picnics across the country for decades!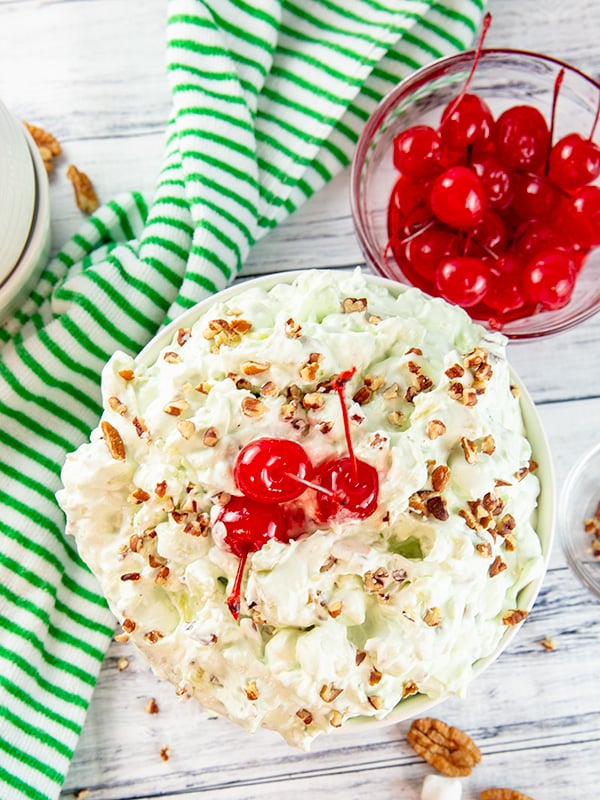 What is watergate salad and where did it originate?
Watergate salad is a common salad you will find in the United States. You might have also heard it referred to as "Green Goddess", Pistachio Delight, or Shut The Gate Salad. There are even other varieties of Watergate salad, such as Hawaiian Watergate salad and Strawberry Watergate salad. They are all easy to make, and crowd pleasers. Rumor has it that this dessert got its name after being made and served at the Watergate hotel and it eventually gained popularity during the "Watergate Scandal."
How long does it take to make?
We love any recipe that can be made quickly without too much labor-intensive time in the kitchen. This one is quick, easy and delicious. It is so simple that you can have it whipped up in under 5 minutes then just pop it in the fridge to chill. Whether you're using this as a side dish or dessert, no one will be complaining! (Raise your hand if you grew up eating Jello "salad" for Sunday dinner? Anyone? Just me?)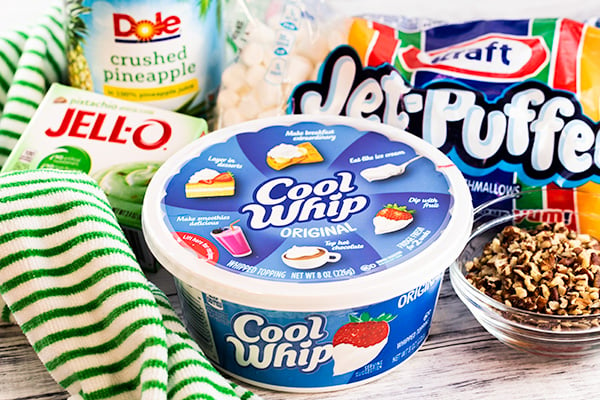 What is in Watergate salad? While some versions of Watergate salad commonly include cottage cheese, lime Jell-O, or cream cheese, this Watergate salad is made with pistachio instant Jell-O pudding mix, cool whip, crushed pineapple juice, marshmallows, and pecans- YUM!
Watergate salad is the perfect addition to summer picnics and parties! Enjoy!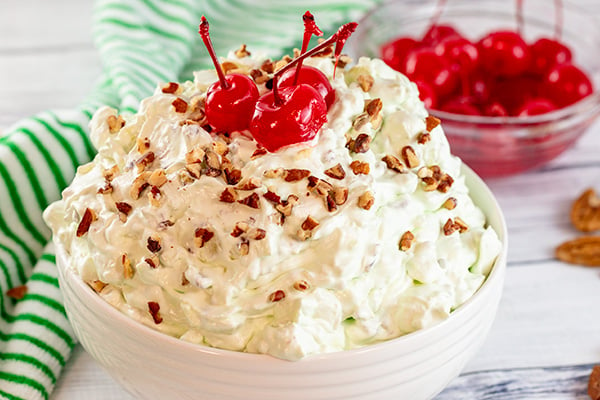 If you are planning a summer picnic or party, try some of our favorite recipes:
Red White and Blue Patriotic Berry Tart (serve this Watergate salad at a 4th of July, Memorial Day or Labor Day event, then make this tart to go with it!)
Easy Cherry Fluff Salad
Pink Lemonade Pie
Lemon Cupcakes with Raspberry Jam Filling
Easy Macaroni Salad
Ham and Cheese Pinwheels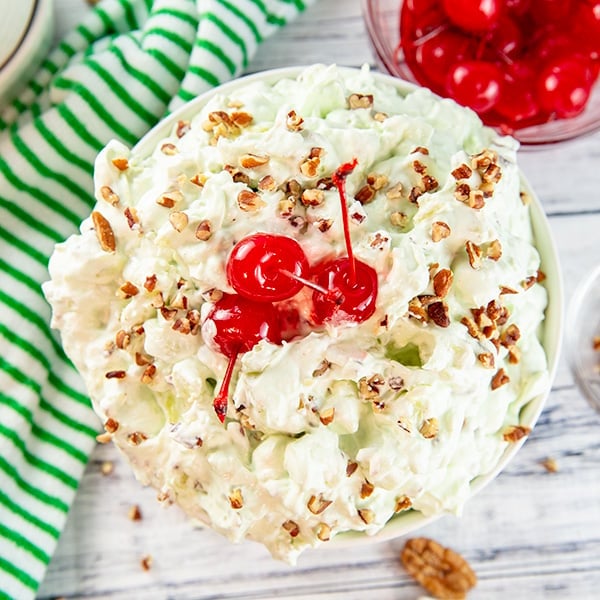 INGREDIENTS
3.4 ounce box pistachio Jell-O Instant Pudding Mix
12 ounces Cool Whip, thawed
20 ounce can crushed pineapple with juice
1.5 cups miniature marshmallows
1/2 cup chopped pecans
DIRECTIONS
In a large bowl, combine Cool Whip with pistachio Jell-O pudding mix.
Stir in crushed pineapple with juice, marshmallows and chopped pecans.
Chill for 2 hours or until ready to serve.
Pro tip: Combining the pudding mix with the Cool Whip before adding other ingredients makes it extra creamy, smooth and delicious! Trust me. :)