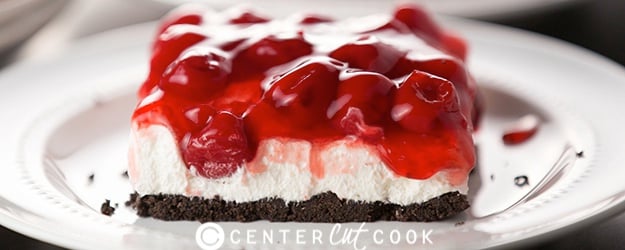 Last year when the Chocolate Lasagna recipe I posted went viral, I realized how much everyone loves both chocolate and layered desserts! I kept those two things in mind when I came up with this exceptional layered dessert I've named Chocolate Cherry Dream. You start with an Oreo cookie crust, then top it with a fluffy sweet filling and finish it all off with Cherry Pie Filling. This is the kind of dessert the whole family will love and it's the perfect dessert for any holiday whether it be Easter, Mother's Day, Memorial Day, or Christmas!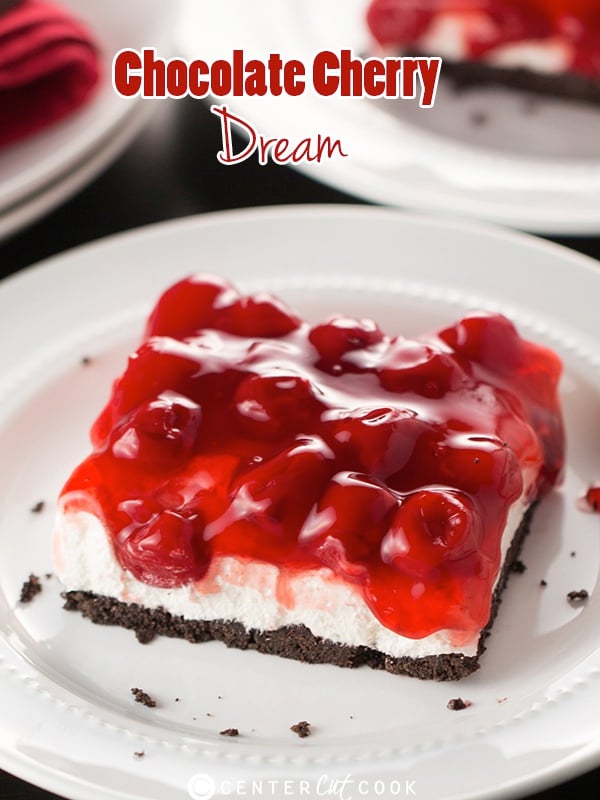 You'll start with crushed Oreos mixed with a little butter to create the crust. First things first, yes, you will use the entire Oreo cookie, filling and all. I recommend you use regular Oreos versus the double stuff variety, just because it provides a better consistency. You will get the best results using a food processor to crush the Oreos, but you can also use something like a rolling pin. Just pop the cookies in a gallon sized Ziplock bag and use the rolling pin to crush 'em.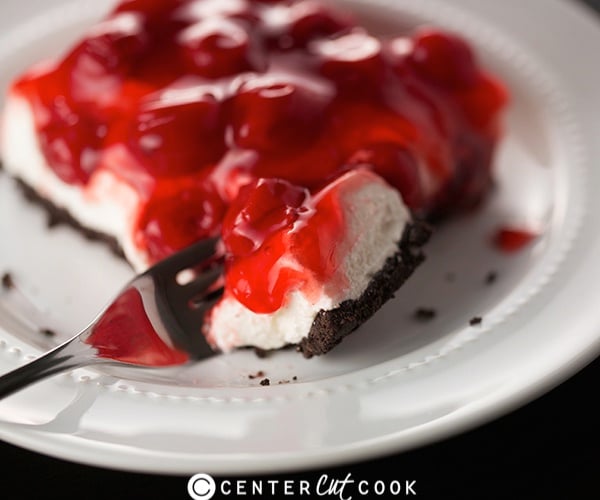 The white fluffy filling is super easy to make. All you'll need is cream cheese, powdered sugar and Cool Whip. Now, before all of you Cool Whip haters leave a comment about how terrible Cool Whip is for you, please know that I do realize it is not health food and I operate under the philosophy of everything in moderation. In case you're wondering why this comment is necessary, the Chocolate Lasagna comment section is FILLED with comments about the Cool Whip. :)
K… enough said. :)
The topping? I simply used cherry pie filling. I used the canned variety because I am catering to those of you who constantly ask me for quick and easy recipes. If you have a delicious homemade cherry pie filling that you love, by all means, go for it and use it in this recipe!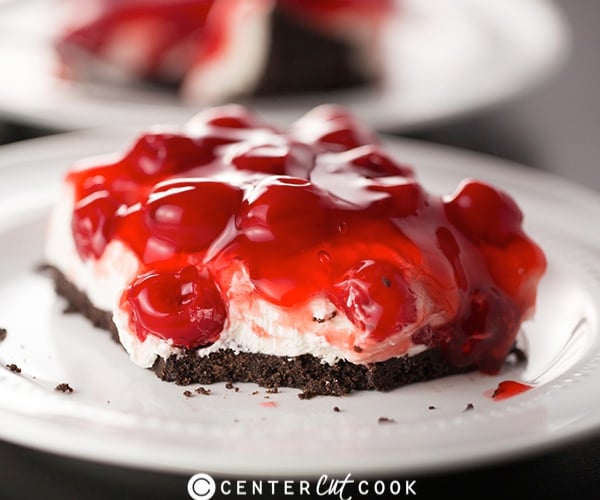 This Chocolate Cherry Dream dessert will set-up in the fridge for a couple of hours. When it's done you're left with a chocolate-y cherry treat that everybody is going to love! Promise!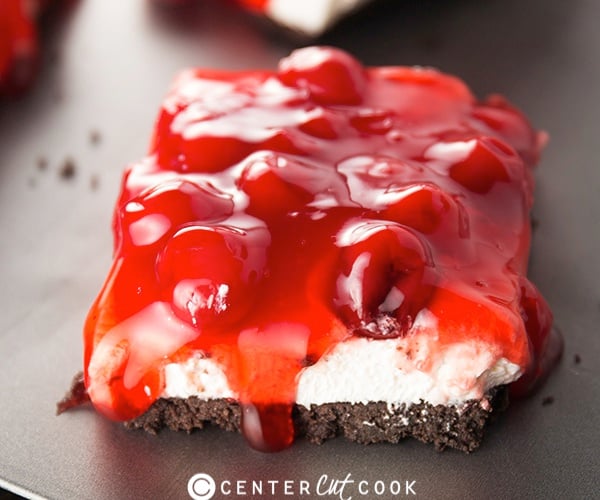 You're probably wondering how many this serves. You'll make this dessert in a 9 x 13 inch pan. I typically cut it into 3-4 pieces going across and 4-6 pieces going down the length of the pan which will give you anywhere from 12-24 servings.
You may not have heard of Chocolate Cherry Dream until today, but let me assure you, after today, you won't forget it! Just like Chocolate Lasagna, you'll come back to this one over and over.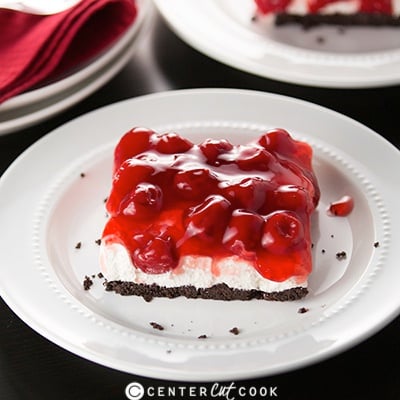 INGREDIENTS
1 package regular Oreo Cookies (not Double Stuff) – about 36 cookies. You will use the whole cookie, including the filling.
6 Tablespoons butter, melted
16 ounces cream cheese, softened to room temperature
3/4 cup powdered sugar
2 Tablespoons cold milk
12 ounce tub Cool Whip
21 ounce can Cherry Pie Filling
DIRECTIONS
Prepare a 9 x 13 inch baking dish by spraying it with non-stick cooking spray. I sometimes also line the pan with tinfoil to create handles so that I can easily lift the dessert out of the pan and cut it into pieces.
Begin by crushing 36 Oreo cookies. I used my food processor for this but you could also place them in a large ziplock bag and crush them with a rolling pin. When the Oreos have turned into fine crumbs, you are done. You will use the whole cookie, including the filling.
Transfer the Oreo crumbs to a large bowl. Sitr in 6 tablespoons melted butter and use a fork to incorporate the butter into the cookie crumbs. When the butter is distributed, transfer the mixture to the prepared 9 x 13 inch baking dish. Press the crumbs into the bottom of the pan. Place the pan in the refrigerator while you work on the filling.
With your mixer, beat the cream cheese until light and fluffy. Add in 3/4 cup powdered sugar and 2 Tablespoons cold milk and mix to combine. Stir in a 12 ounce tub of Cool Whip.
Remove the crust from the refrigerator and spread the cream filling over the cookie crust.
Use a spatula to spread the cherry pie filling over the top.
Place in the freezer for one hour or the refrigerator for two hours before serving.
Enjoy!
Recipe from
CenterCutCook