To think that there was once a time in my life when this Corn Casserole was not in it sort of makes me sad. I mean, what's not to love? Corn seems to be the most favorite vegetable in the whole wide World, and when you mix it up with the sweetness of Jiffy corn bread mix, cheesy cheddar cheese, green chiles for a little spice, and sour cream and bit of cream cheese for creaminess, you're in for a real treat. Add to that a little bacon to give it a hint of smokiness and the result is an ultra comforting, delicious casserole that everyone will beg you to make over and over again.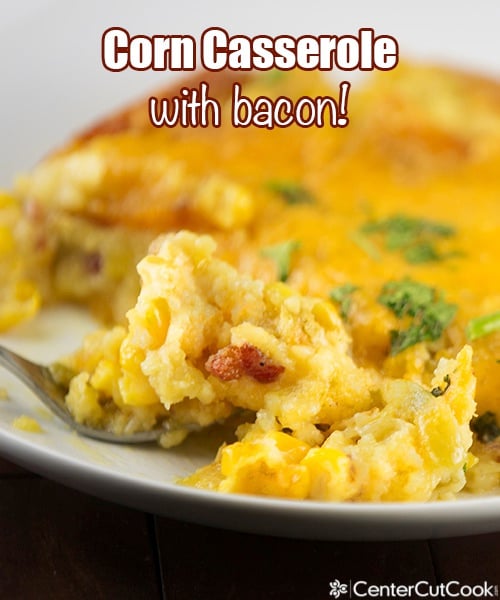 There are a variety of corn casserole variations floating around out there. Some are more on the sweet side and taste more like corn pudding or a soufflé. I wanted mine to be savory with a hint of sweetness so I started with a can of corn, and a can of cream style corn. Then I added in a box of Jiffy corn muffin mix. This gives it just a hint of sweetness. To make it more savory, I thought the flavor trio consisting of green chiles, smoky bacon and cheddar cheese would be perfect, and it was! The creaminess comes from a bit of sour cream, but you could also sub Greek yogurt. I also added just a smidge of cream cheese. Don't worry, even if you don't like cream cheese, you will not taste it. It adds just the right amount of creaminess in this dish!
Now, clearly this Corn Casserole would not be considered super healthy, and it's not made entirely from scratch, but, let me tell you that if you can get past those two things, this is a side dish that you and everybody you serve this to is going to love! It is perfect for holidays, and is already on the menu plan for this year's Thanksgiving! It only takes about 20 minutes to prepare it, and the rest of the work is done by the oven. Score!
If you're looking for a savory, comforting side dish, this Easy Corn Casserole fits the bill. Even picky eaters tend to devour it! Enjoy!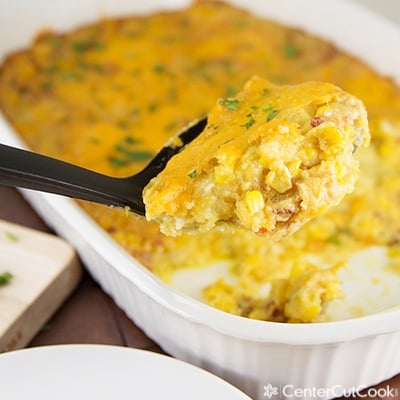 INGREDIENTS
1 tablespoon olive oil
1 small yellow onion, diced
2 garlic cloves, minced
6 slices bacon, cut into small pieces
14 ounce can corn, drained
14 ounce can cream style corn
6 ounce can green chiles
8 ounce package corn muffin mix (Jiffy)
4 tablespoons butter, melted
3/4 cup sour cream or plain Greek yogurt
4 ounces cream cheese, softened
1 cup cheddar cheese, divided
DIRECTIONS
Pre-heat your oven to 350 degrees. Heat 1 tablespoon olive oil in a large non-stick skillet over medium heat. Sauté the onion for a few minutes, until translucent. Add in garlic and cook for a minute longer. Transfer the onion and garlic to a small bowl and set aside.
To the skillet, add the chopped bacon and cook over medium heat until crisp. Use a slotted spoon to remove the bacon from the pan and transfer it to a paper towel lined plate to drain.
In a large bowl, combine 1 – 14 ounce can corn (drained), 1 – 14 ounce can cream style corn, 1- 6 ounce can green chiles, garlic and onions, cooked bacon, 1 package corn muffin mix (I recommend Jiffy), 4 tablespoons melted butter, 3/4 cup sour cream (or Greek yogurt), 4 ounces softened cream cheese, and 1/2 cup cheddar cheese. Mix well. Pour into a greased 9 x 13 inch casserole dish and bake for about 50 minutes or until the top is golden brown.
Sprinkle remaining 1/2 cup of cheese on top and bake for 10 minutes longer, or until cheese is melted. Allow to stand for about 10 minutes before serving.
Recipe from
CenterCutCook