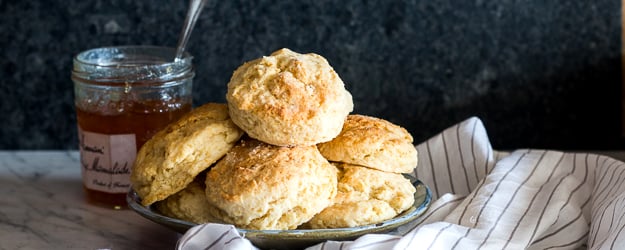 Does your biscuit craving involve opening a can? With this recipe, you'll never go back to doing that, because who would've guessed making biscuits at home could be so easy!
There are tons of buttermilk biscuit recipes out there, but when you want biscuits in a hurry, you have to turn to this one, because it all comes together in a food processor and still gives you the best, most fluffy buttermilk biscuits you'll have that pair perfectly with our Homemade Gravy!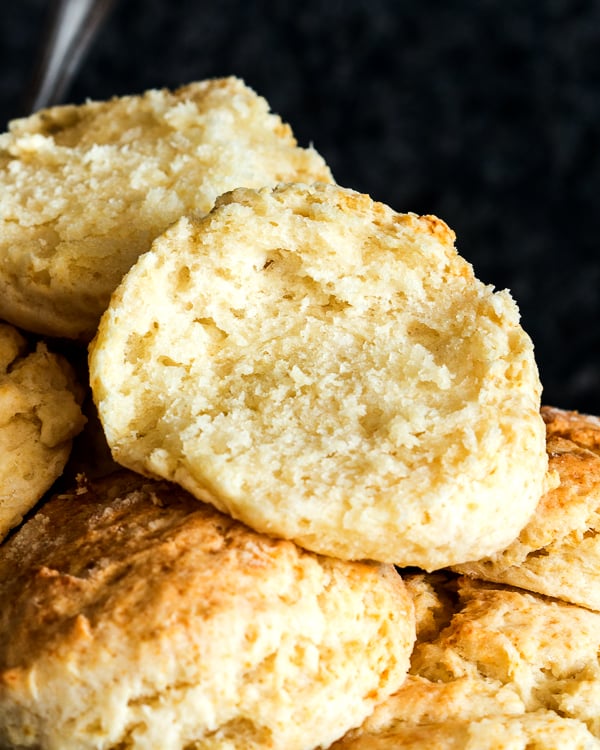 I love it when recipes are as simple as me switching on a gadget and then letting it do all the work, because that means, I'm not getting my entire kitchen dirty and there isn't a lot of cleanup to do once I'm done. Which leaves me with so much time to get other things done.
There are only a few rules to making the best buttermilk biscuits in my book:
Your butter should be super cold, and cut into small pieces
Use all purpose flour. There is no need for fancy shmancy flour
Work fast, and don't over knead the dough
Simple isn't it? Now let's get started!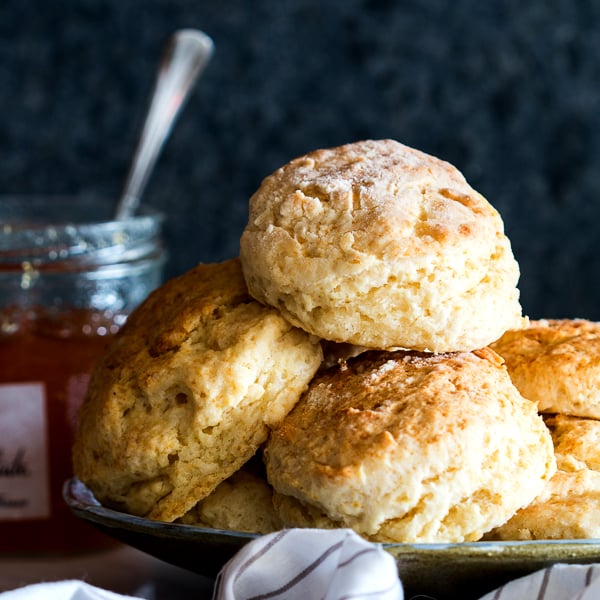 INGREDIENTS
2 cups All Purpose Flour
2 teaspoons Baking Powder
1/2 teaspoon Baking Soda
1 teaspoon Salt
2 teaspoons Sugar
7 tablespoons cold butter cut into 1/2 inch chunks
3/4 cup + 1 tablespoon Buttermilk
DIRECTIONS
Pre-heat oven to 400 degrees. Like a cookie sheet with parchment paper and set aside.
In a food processor, pulse together flour, baking powder, baking soda, salt and sugar until combined.
Add the chunks of cold butter and pulse again until the mixture resembles coarse breadcrumbs with small bits of butter still visible.
Pour in the buttermilk and pulse a few times until the mixture starts coming together. Transfer onto a lightly floured surface and form into a 3/4 inch thick rectangle. Use a 2 1/2 inch cookie cutter to cut out the biscuits and place them on the lined cookie sheet.
Combine the leftover scraps, and cut out a few more biscuits. Don't repeat this activity more than twice.
Bake for 12-15 minutes until biscuits are light brown.
Serve the buttermilk biscuits warm with your favourite sausage gravy.