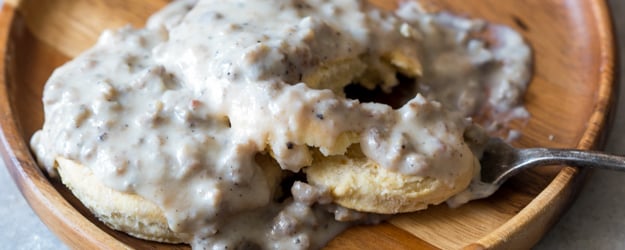 I wasn't always a fan of breakfast gravy till I tasted my husbands recipe. Yes, he cooks in the kitchen and he is damn good at it. He might not always offer to make food, but there are some things like this sausage breakfast gravy that he swears by and can probably whip up in his sleep.
He learnt this from another friend of his and now I've learn it from him. And that's how it goes.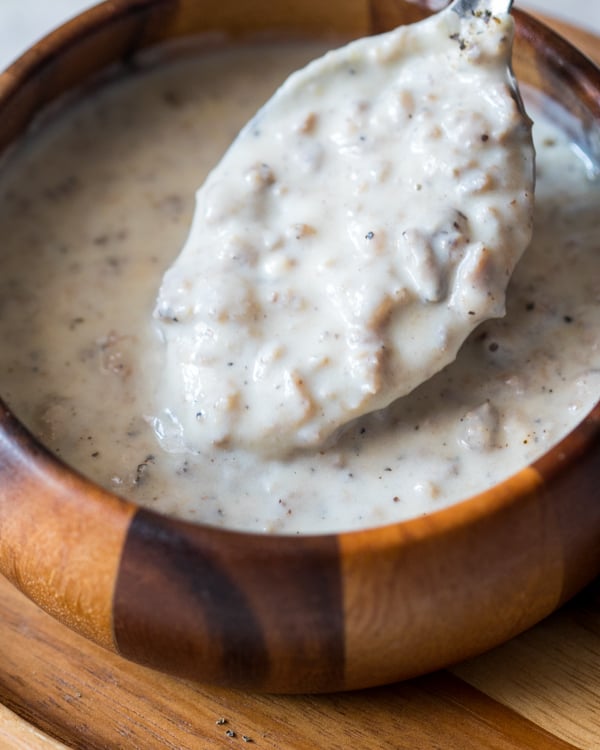 This is probably Sunday morning breakfast three times out of four because we love it so much. You could probably get this at your local diner so I'm sure you are wondering why you should make this at home. How many times have you had too greasy, too runny or too thick breakfast gravy and decided that you'll never order it again?
Well that's exactly why I'm sharing my recipe for breakfast gravy with you so that you never have to go through that again.
Actually while we are at it, I also want you to try my fluffy buttermilk biscuits recipe because whats a breakfast gravy without some buttermilk biscuits to drown it in? Amirite?!
Making a sausage gravy or breakfast gravy at home is super easy. You really need only four ingredients – sausage meat, butter, flour and milk. It's really as simple as that and the whole process will take you all of twenty minutes from start to finish. Through in some buttermilk biscuits and you've got yourself breakfast in under thirty minutes that your family will devour!
If you want, you can also make breakfast gravy from ground pork and add your favourite herbs to it. I know some people also love adding mustard which can add great flavour to the gravy. This is basically an easy, adaptable recipe that you can make your own as you go.
Just use this as a base for your next experiment and decide how you like your breakfast gravy and what works for you.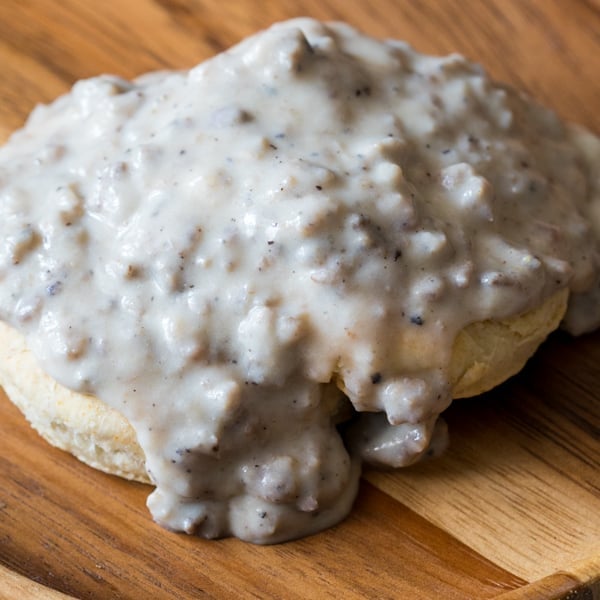 INGREDIENTS
1 pound Sausage Meat
2 tablespoons Butter
1/4 cup Flour
3 1/2 cups Milk
DIRECTIONS
Add sausage meat to a skillet and cook the meat till brown. Remove most of the fat from the pan except a teaspoon.
Add butter and flour to the pan. Cook the flour for 2-3 minutes to get rid of the raw taste.
Add milk to the pan and whisk till the gravy thickens. This should take a few minutes. Simmer for another one or two minutes and switch off the flame.
Serve the gravy with buttermilk biscuits.