Fall is officially here folks, and I couldn't be more excited! There's so much to love about this season including all things pumpkin, cooler weather, beautiful leaves, and hey, why not peaches? A couple weeks ago I bought a mega box of peaches at Costco and they weren't quite ripe yet.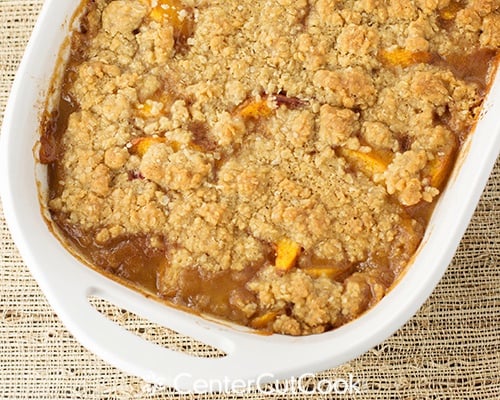 I patiently waited for them to get super juicy and delicious. My patience paid off, and the peaches got super juicy, but then I realized that they were ripening so fast that if I didn't use 'em up quick, I'd have rotten peaches! Thus…. Fresh Peach Crisp!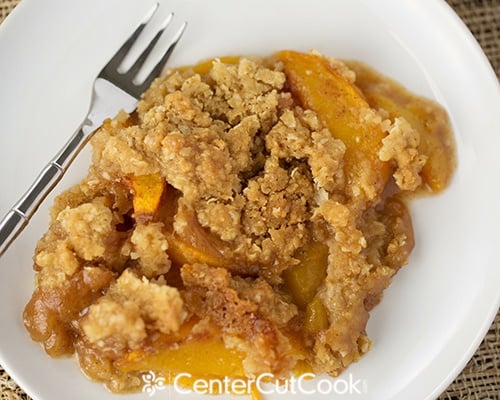 If you've got apples on hand feel free to use them, but there's something about Peach Crisp that I just love. The key to a good Peach Crisp if you are using fresh peaches versus the canned variety, is ripe peaches. If the fruit you're using isn't ripe, you're not going to end up with a good peach crisp, so definitely make sure your peaches are perfectly ripe and juicy.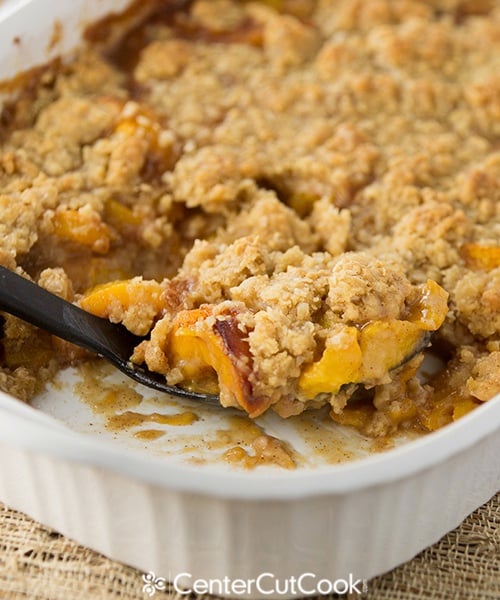 This really does come together quite quickly, I'd say the longest task is peeling, pitting, and slicing the peaches. But once that task is done, it's only a matter of minutes before your Peach Crisp is in the oven baking!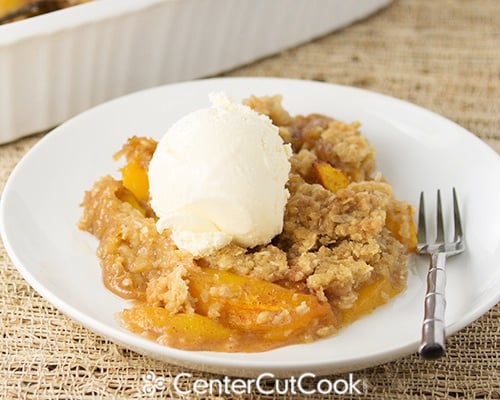 And then……
And THEN your house will smell phenomenal, and it will take massive amounts of self control to eat just a piece, and eat it civilly. I like to top my Peach Crisp with a scoop of vanilla ice cream. Yum! This is good stuff folks, enjoy!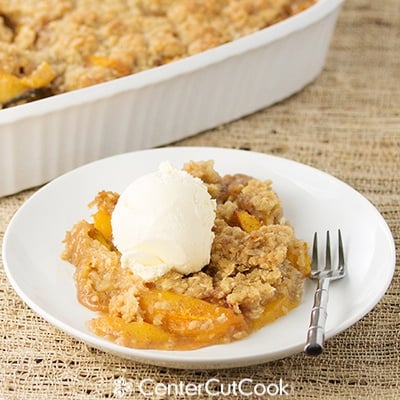 INGREDIENTS
DIRECTIONS
Pre-heat your oven to 350 degrees.
Grease a 9×13 inch casserole dish.
In a large bowl, toss peaches with cinnamon, vanilla, 3 tablespoons sugar and 3 tablespoons flour. Pour the peaches into the greased casserole dish.
In a separate large bowl, combine 1 cup flour with old fashioned oats, and brown sugar. Cut in butter until you have a crumbly consistency.
Pour the crumbly topping on top of the peaches.
Bake in the oven, uncovered for 45-50 minutes.
*Notes: Some of you have suggested that this calls for too much butter. If a cup seems like too much for you, feel free to reduce the amount to 1/2 cup. If you want your Fresh Peach Crisp to be extra crisp, bake for 5-10 minutes longer, making sure to keep a close eye on it. I personally love the end result using a full cup of butter.
Recipe adapted from
About.com