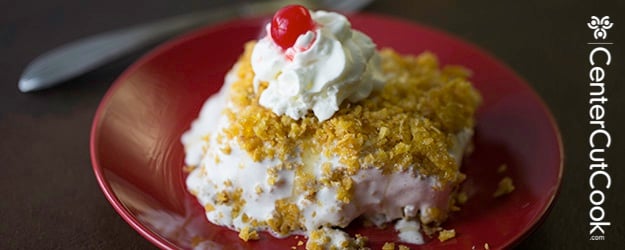 I feel like after today, I need to just stop making new dessert recipes for the rest of the Spring/Summer because this is the only dessert that I will want. Over. And over. And over. I love fried ice cream, but the idea of taking the time to coat a ball of ice cream, heat a pot of oil, and actually fry the ice cream, has prevented me from making this dessert at home.
When I came across a pin on Pinterest for Fried Ice Cream, made in a pan, without the hassle of heating oil, I knew I had to try it. And what better time to try it than during the week when we're celebrating Cinco De Mayo? I do realize that fried ice cream is not Mexican at all, however, the very first time I tried fried ice cream was in a Mexican restaurant. For that reason, I always tend to associate it with all things tacos and quesadillas, and of course, Cinco de Mayo!
You'll start by taking the ice cream (2 quarts) out of the fridge so that it can soften for about 30 minutes. While the ice cream is softening, you'll crush 6 cups of corn flakes. I used a food processor, but you could also just put them in a big ziplock and use a rolling pin to crush 'em. 6 cups corn flakes amounts to about 3 cups crushed corn flakes. Melt 8 tablespoons of butter in a large skillet. When melted, add in the crushed corn flakes and 3/4 cup sugar. Sauté this mixture for about 3-5 minutes.
In a large 9 x 13 inch baking dish, sprinkle 2/3 of the corn flake mixture over the bottom. Use your fingers to press the corn flakes into the bottom of the pan. Next up? The ice cream! You'll combine 2 quarts softened ice cream with an 8 ounce tub of cool whip. Use 2 cups real whipped cream if you don't have access to Cool Whip. Fried Ice Cream wouldn't be Fried Ice Cream without the cinnamon, so toss 1 and 1/2 teaspoons of cinnamon in with the ice cream and cool whip. Use a mixer to combine this all together, then spread it over the cornflakes in the pan. Top with the remaining corn flakes, then put it in the freezer to firm up for about 3 hours.
When you're ready to serve this Fried Ice Cream Cake Dessert, you'll drizzle a little honey over each piece, top with whipped cream if you wish, and a cherry! This dessert definitely ranks up there with the Chocolate Lasagna and the Chocolate Peanut Butter Cupcakes! And obviously this is a no-bake dessert which, for Summer months, I love!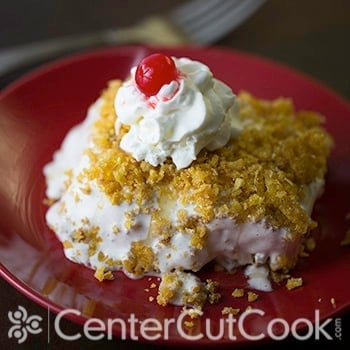 INGREDIENTS
8 tablespoons butter
3/4 cup granulated sugar
6 cups corn flakes, crushed (about 3 cups crushed)
2 quarts vanilla ice cream, softened (about 30 mn. at room temp. does the trick)
8 ounce tub Cool Whip (use 2 cups real whipped cream if you don't have access to Cool Whip)
1 1/2 teaspoons ground cinnamon
DIRECTIONS
Melt 8 tablespoons butter in a large skillet, when melted, add in crushed corn flakes and granulated sugar. Cook for 3-5 minutes, then remove from heat.
In a 9 x 13 inch casserole dish, arrange 2/3 of the corn flake mixture. Use your fingers to press the mixture into the pan.
With your mixer, combine 2 quarts softened ice cream, 8 ounces Cool Whip, and 1 and 1/2 teaspoons cinnamon.
Pour the ice cream in the pan over the corn flake crust.
Top with remaining corn flake mixture.
Place in the freezer for around 3 hours, or until it's firm.
Drizzle honey over each piece before serving. Top with whipped cream and a cherry if desired.
Recipe adapted from
The Imperfect Housewife