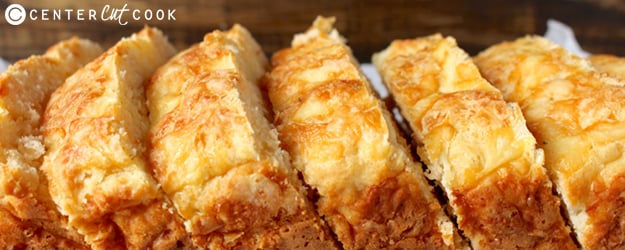 Personally, I love making yeast bread. It's a fun, rewarding process, but the time doesn't always allow for it. Taking time for it to rise is sometimes just too time consuming and that's what is so great about this bread! It is made in one bowl and is in the oven in just minutes.
I used some garlic-herb cheese is this bread. I found it in the cheese section located in the produce department of my store. They have so many types and flavors of cheese now that is was hard to choose, but garlic and cheese are a classic pairing and I knew it would be delicious! I'm sure it would be good with other flavors as well. If you can't find that specific cheese, just use a cheddar and add a little more garlic powder- it will still be amazing.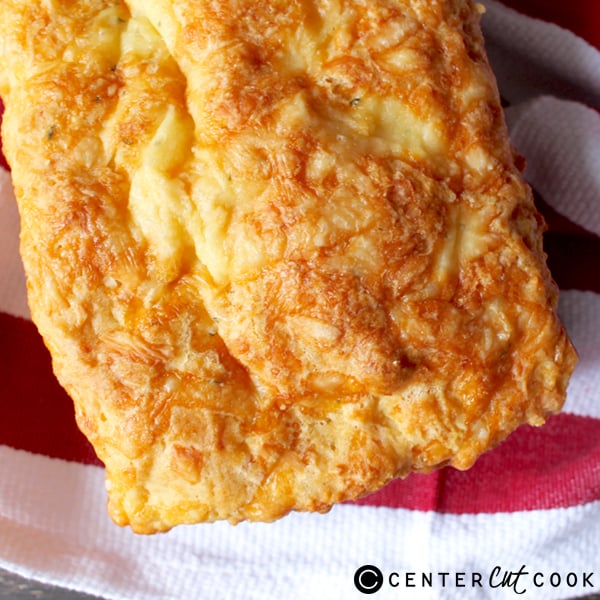 The dough is thick and you wont be able to pour it into the pan. It's much thicker than a traditional quick bread. I scooped it in the pan with a spoon then pressed it out evenly with my hands. The little sprinkle of cheese on it takes it over the top. It browns perfectly and gives it almost a crust-like texture. It is the perfect contrast to the soft inside.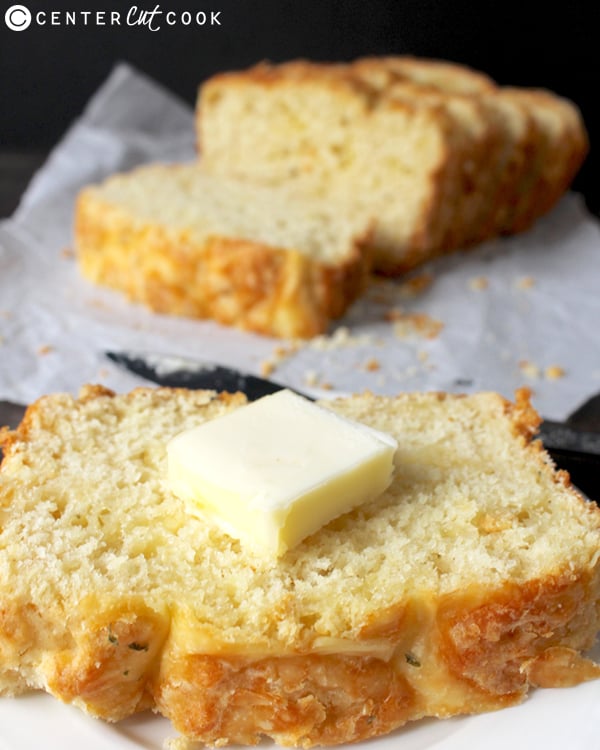 It is full of cheesy and garlicy goodness! Eat a slice warm with butter or have it along side some spaghetti. This is good any way at all. You'll be able to whip this up in no time and serve fresh, home-made, garlic cheesy bread that everyone will love it!
INGREDIENTS
1 cup shredded garlic herb cheese
1/2 cup shredded parmesan cheese (from the block, not the can)
1/4 cup butter, melted
1 tablespoon sugar
1 egg
1 cup buttermilk
2 cups flour
1/4 teaspoon salt
1/2 teaspoon onion powder
1/2 teaspoon garlic powder
1/2 teaspoon baking soda
1 1/2 teaspoons baking powder
DIRECTIONS
Preheat the oven to 350° and spray a 9×5 loaf pan with non-stick spray.
Mix cheese in a small bowl and set 1/4 cup aside for the top.
In a large bowl, combine butter, sugar, egg, and buttermilk. Mix well.
Add the flour, salt, onion powder, garlic powder, baking soda, and baking powder. Mix until just combined.
Fold in the cheese (except the 1/4 cup) and spoon into the loaf pan.
Top with remaining 1/4 cup cheese.
Bake 50-55 minutes or until lightly brown on top and toothpick inserted in the center comes out clean.
Servings: 8-10