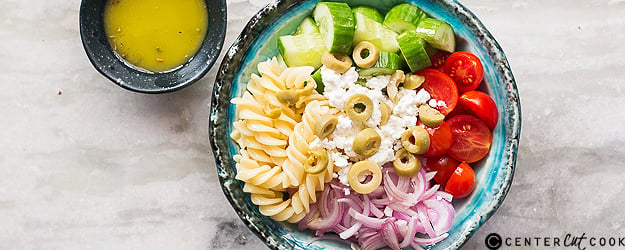 This greek pasta salad is bursting with flavours, and combines all the classic Greek flavors: herbs, fresh vegetables and olives.
This is definitely one of my favorite pasta salad recipes to whip up when I have a crowd to food. For starters, it's really easy and you probably have all the ingredients already available in your party. The major work in this recipe is really chopping a few veggies.
It's usually one of the first things to vanish at picnics and parties because while it's a salad, it's a lot more than that. It's got crunch, zest and is chock block full of flavor.
It's important to cook the pasta till it's al dente. There is nothing worse than soggy pasta that's breaking off when it's tossed in the salad. I prefer Fusilli for this salad because all the dressing gets nicely stuck in the crevices and you have intensely flavorful pasta instead of dry.
I also love the fact that you can use dry herbs instead of fresh ones. I usually have dry herbs in the pantry so I don't need to run to the supermarket just for that. Trust me, this pasta is the most convenient thing when you are planning for a picnic or a party. Once you try it, it's the only thing you'll be making!
INGREDIENTS
For the Dressing:
1/2 cup Olive Oil
1 teaspoon dried Oregano
1 teaspoon Honey
1/4 cup Red Wine Vinegar
Salt and Pepper to taste
For the Salad:
1 3/4 Fusilli Pasta
1 large Cucumber, diced
1 cup Cherry Tomatoes, halved
1/2 cup Olives of your choice
1 Red Onion, sliced
1/2 cup crumbled Feta Cheese
DIRECTIONS
Cook the pasta as per package instructions with salt until Al Dente. Once cooked, drain and cool with cold water.
In the meanwhile, toss all the ingredients under dressing or pulse in a food processor for a few times till combined.
Toss the pasta with half the dressing and refrigerate till ready to serve.
Toss all the other ingredients (cucumbers, cherry tomatoes, olives, red onions and feta) into the salad with the remaining dressing just before serving so that the vegetables don't become soggy.
Serve cold.