Summer time is pasta salad time and there's nothing we love more than a pasta salad loaded with colorful veggies and homemade dressing. We have so many favorite pasta salad recipes that we've shared with you over the years, and today we can add this Roasted Vegetable Pasta Salad to the list of favorites. This recipe has multiple layers of flavor and is a summer essential! Whether you're going to a summer picnic or hosting a graduation party, there's always a perfect time to make this roasted veggie pasta salad recipe.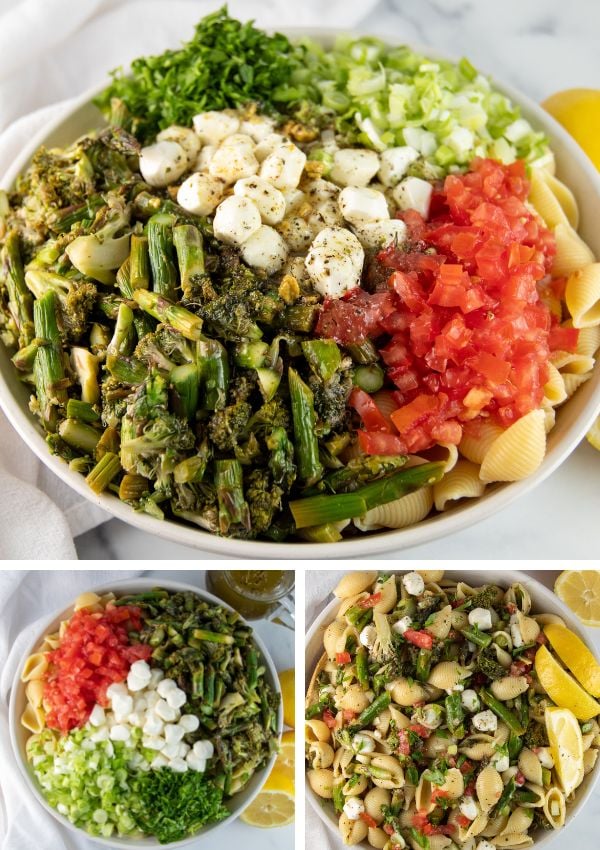 Roasted Veggie Pasta Salad Ingredients:
Pasta of your choice: I used medium sized shells. You could also use something like rotini or penne. Make sure to salt your pasta water before adding the pasta to cook. This is your only opportunity to season the pasta!
Asparagus and broccoli for roasting: Substitute any of your favorite veggies that you like to roast. Note that the broccoli will take slightly longer to roast than the asparagus so it will go in the oven about 5 minutes ahead of the asparagus.
Tomatoes: You'll need about 1 cup of tomatoes (Roma, or tomatoes on the vine) diced, or cherry tomatoes halved. If you don't like tomatoes, feel free to omit them. A great substitute for flavor and color would be red pepper diced or even roasted.
Scallions: We used about 4 scallions, both the white and green parts, and chopped them up. Feel free to use more or less to taste.
Mozzarella Pearls: Have you seen those cute little mozzarella pearls at the grocery store? They typically come in 8 ounce packages and are so perfect for pasta salads and traditional lettuce salads. If you don't like mozzarella, another great option would be to make this Roasted Veggie Pasta Salad with feta cheese.
Fresh herbs: Garnish this pasta salad with fresh herbs like parsley or basil. You'll need about 1/4-1/2 cup.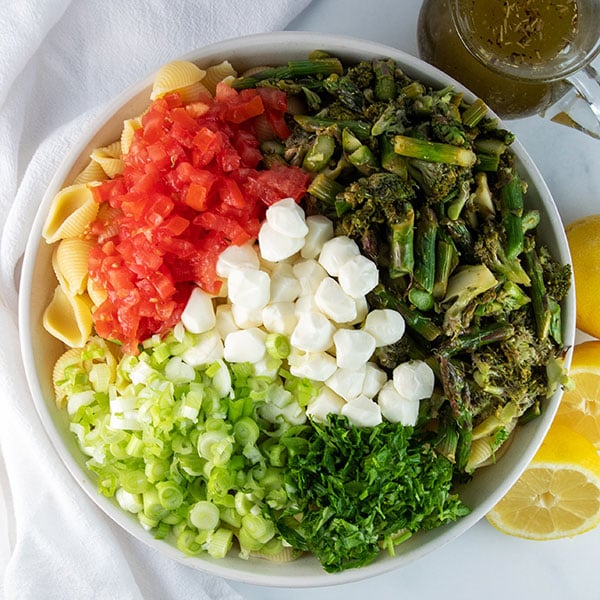 Pasta Salad Dressing
Let's talk about the best pasta salad dressing! The choice of dressing for pasta salad really depends on your own personal taste preference along with the ingredients of your pasta salad. Sometimes a creamy dressing is best and other times a homemade vinaigrette complements the ingredients the best.
For this homemade pasta salad recipe, you'll be making a Lemon Vinaigrette dressing. It is SO simple but SO good. I like to use a jar with a lid to make it but you could also make it in a bowl and whisk to combine. Be sure to set aside 2-3 tablespoons of pasta water to add to the dressing. Additionally, you'll be reserving 1/4 cup of dressing to toss with the pasta salad just before serving.
Alternatively, if you don't want to make the homemade lemon vinaigrette, feel free to use your favorite store-bought Italian dressing, or this Veggie pasta salad would also be delicious with a store-bought balsamic dressing.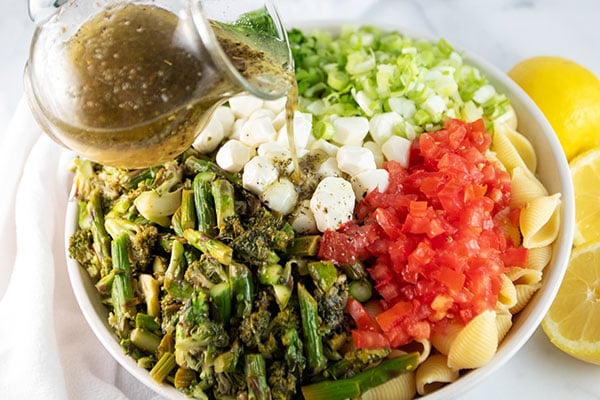 Can you make pasta salad the day before?
If you are wondering whether or not you can make this pasta salad the day before, the answer is yes. In fact, I like to make pasta salad a day early so that the ingredients have time to hangout with the dressing. Pasta salad that's had time to chill in the fridge is always the best.
Be sure to reserve some of the dressing to toss with the pasta salad just before serving.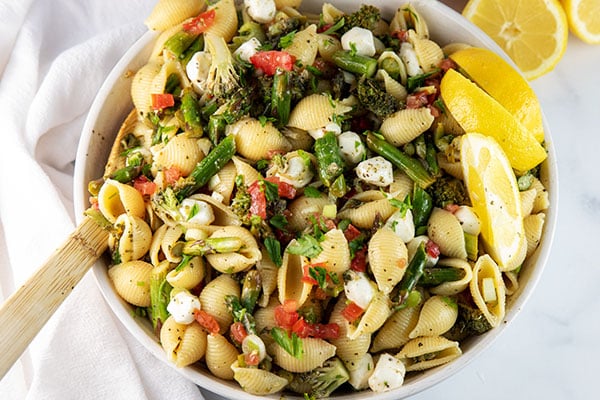 Should I salt the water for pasta salad?
Salting pasta water is often overlooked but a necessary step to season the pasta itself. I use about 1 tablespoon of salt added to 4 quarts of water for 1 pound of pasta.
Yes, salt the water for pasta salad!
What does pasta salad go with?
If I am hosting a summer BBQ, I love to make a pasta salad along with Classic Potato Salad and coleslaw (this KFC Coleslaw Copycat is a favorite). Sometimes I take a little help from the store and if I'm making homemade pasta salad and potato salad, I'll buy store bought coleslaw.
More Pasta Salad Recipes
Looking for more pasta salad recipes? Here are some of our reader favorites!
Creamy Cheddar Pasta Salad
Easy Macaroni Salad
Creamy Ham and Cheese Pasta Salad
Easy Ranch Pasta Salad
Greek Pasta Salad
We hope you enjoy this recipe for Roasted Veggie Pasta Salad. Roasted veggies are always a delicious option whether they're incorporated into a pasta salad or eaten alone. We love these Oven Roasted Baby Carrots and this recipe for Garlic Roasted Potatoes and Carrots.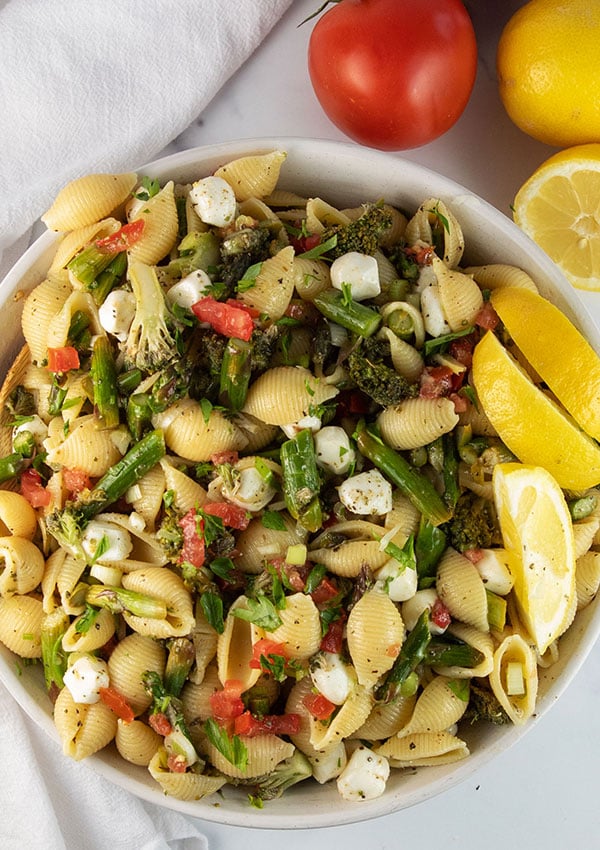 If you try this recipe, and we hope you do, please come back to let us know what you think and share your photos on social media (make sure to tag us!)
Enjoy!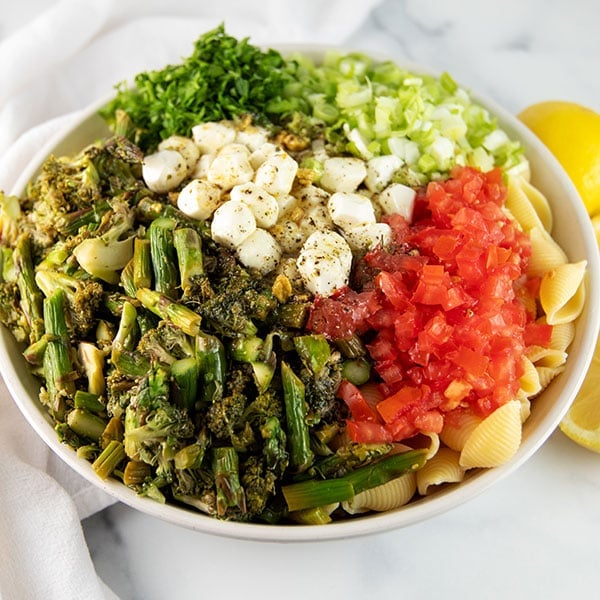 PASTA SALAD INGREDIENTS
1 pound pasta of choice, cooked according to package directions
1/2 pound broccoli florets, cut into small bite sized pieces
1 pound asparagus, ends trimmed and cut into 2 inch pieces
1 tablespoon olive oil
1/2 teaspoon salt
4 scallions, chopped
1 cup tomatoes, diced or 1 cup cherry tomatoes halved
8 ounces fresh mozzarella pearls
1/2 cup chopped fresh parsley or basil
DRESSING INGREDIENTS
PASTA SALAD DIRECTIONS
Preheat oven to 425 degrees F.
Toss broccoli with 1/2 tablespoon olive oil and season with 1/4 teaspoon salt (more to taste) and arrange on a rimmed baking sheet
Roast broccoli in oven for 5 minutes.
Toss asparagus with remaining 1/2 tablespoon olive oil and season with 1/4 teaspoon salt (more to taste)
Add asparagus to the pan with the broccoli and continue roasting the broccoli and asparagus together for an additional 10-12 minutes or longer if you prefer your veggies to be softer.
While the vegetables roast in the oven, cook pasta according to package directions, making sure to salt the pasta water before adding the pasta. Reserve 2-3 Tablespoons pasta water, then drain the pasta and set aside.
In a large bowl combine the cooked pasta, roasted vegetables, chopped scallions, diced tomatoes, mozzarella pearls and fresh parsley or basil. Toss with dressing, making sure to serve 1/4 cup dressing. Cover and refrigerate for at least 2 hours, but up to 24 hours in advance.
Right before serving, toss the pasta salad with the reserved 1/4 cup dressing.
Store leftovers in an airtight container for 2-3 days.
DRESSING DIRECTIONS
In a glass jar with a lid, add all dressing ingredients, secure the lid and shake to combine. Alternatively you can make the dressing in a bowl and whisk to combine. Be sure to add 2-3 Tablespoons pasta water to the dressing. Reserve 1/4 cup dressing that you will toss the pasta salad with right before serving.
Servings: 6