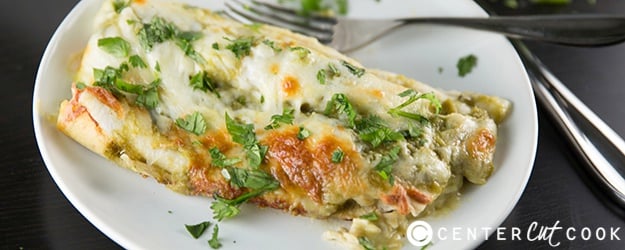 Looking for a way to use all that meat from the rotisserie chicken you just bought at the grocery store? Look no further than this recipe for Green Chicken Chile Enchiladas! While they don't necessarily look pretty, thanks in part to the green enchilada sauce, I assure you, they ARE tasty!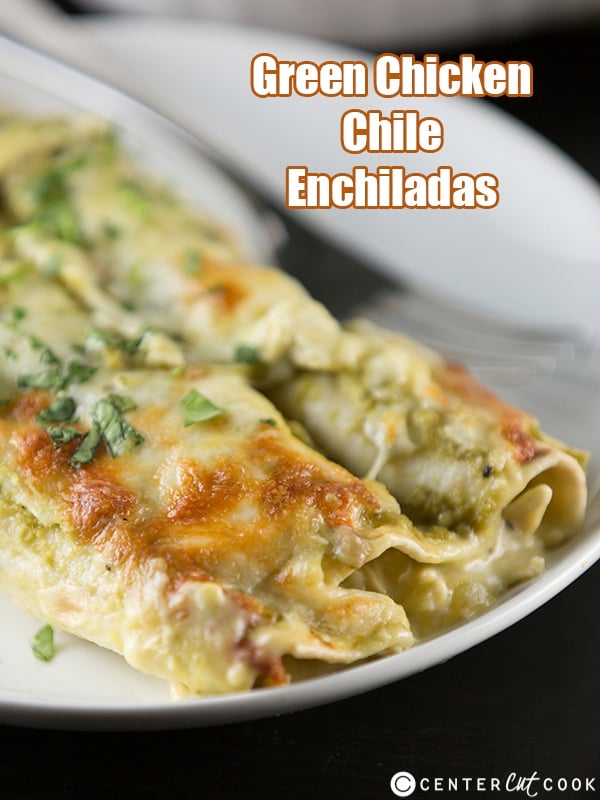 Sometimes, when a recipe calls for shredded chicken, I just poach some chicken in chicken stock (it adds extra flavor), or I've also been known to cook it in the slow cooker all day on low for about 6-8 hours, again in some chicken stock, OR, when I'm feeling exceptionally busy (or lazy!), I'll buy a rotisserie chicken and use that. There are endless recipes for shredded chicken, so it's handy to have multiple ways to cook the chicken.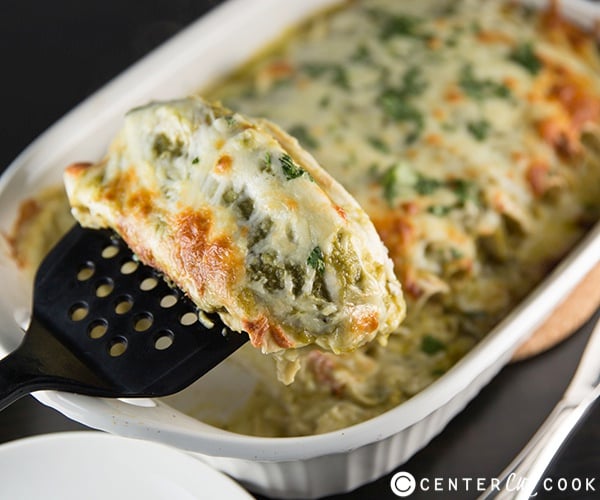 I'm a pretty huge fan of Rick Bayless who is the chef/creator at a handful of Chicago restaurants. A couple of weeks ago when I saw that he has a whole line of sauces for sale at the grocery store, I knew I had to give it a try. The Target by my house had all kinds of options, but the one that stood out was the Green Chile Enchilada Sauce. Now, like I said, green enchilada sauce doesn't exactly look pretty, but, don't let that stop you from trying these guys!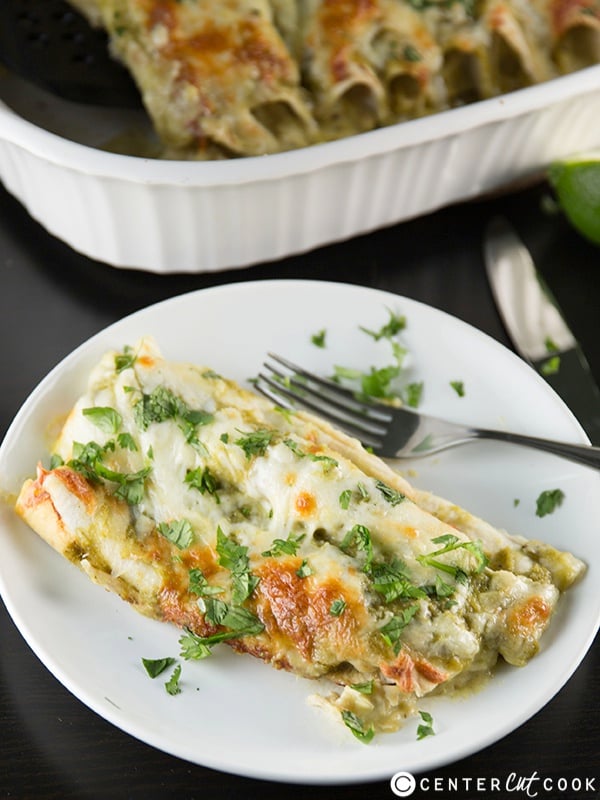 The filling for these Green Chicken Chile Enchiladas is simple, creamy, and delicious! I combined 1/2 cup sour cream, with my homemade recipe for cream of chicken soup (go ahead and use canned soup if you're in a hurry), a can of diced green chiles, the shredded chicken and some basic seasonings. Then I stirred in some of the bright green enchilada sauce, and sharp white cheddar cheese and divided the filling among 8 flour tortillas (go ahead and use corn if you'd like). The result was fantastic, and we'll definitely be seeing this on our dinner rotation list again.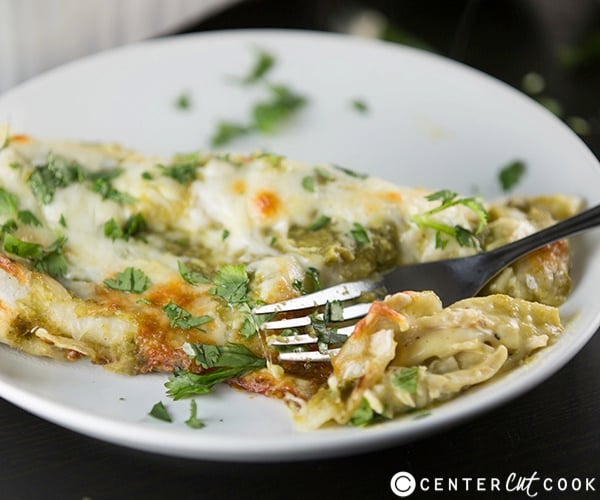 Ready in 35 minutes, this is a meal your whole family will love!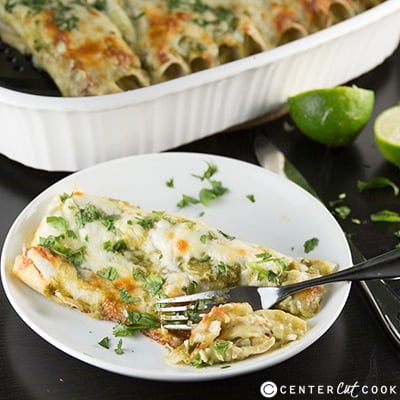 INGREDIENTS
2 cups cooked, shredded chicken
16 ounces of Green Chile Enchilada Sauce (I recommend the Frontera brand), divided
2 cups shredded monterey jack cheese, or white sharp cheddar cheese, divided
1 small can diced green chiles
1 tablespoon chopped, fresh cilantro
1/2 cup sour cream
1 can cream of chicken soup (homemade version here)
8 medium sized tortillas (flour or corn)
Salt, pepper to taste
Diced cilantro for garnish
DIRECTIONS
Pre-heat your oven to 400 degrees.
In a large bowl, combine cooked, shredded chicken with 1/2 cup enchilada sauce, 1 cup cheese, green chiles, sour cream, cream of chicken soup, and about 1/2 teaspoon each of salt and black pepper.
Microwave tortillas for about 30 seconds so that they'll be easier to roll up.
Divide the mixture evenly among 8 medium sized tortillas, and roll up. Place the tortillas in a 9 x 13 inch casserole dish, seam side down.
Top with remaining enchilada sauce, then cheese.
Bake for 25 minutes, or until the cheese is melted and bubbly.
Sprinkle enchiladas with chopped fresh cilantro and serve immediately.
Recipe from
CenterCutCook