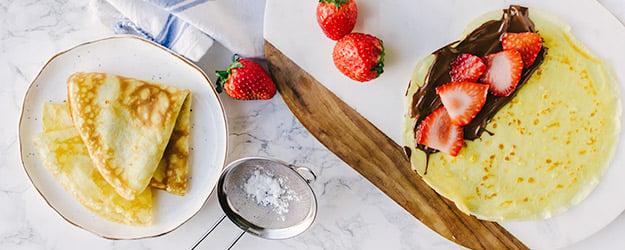 I use to live in an area where there was a kiosk that sold fresh crepes to-go while you were on your commute to and from work or school. i was always so intimidated by it because I never had a crepe before. But one day, I mustered up all my courage and ordered a crepes suzette. It was wonderfully sweet and tangy with a slight bite of alcohol. I was immediately smitten with the thin pancake and ordered a new crepe each day I passed the kiosk.
After moving, it took me a few years to get back into eating crepes again. I craved them, but there weren't any local places that sold them and I was too intimidated to make my own crepes at home. Of course, when I became pregnant, the cravings for crepes became so overwhelming that I bought a crepe maker and set off into a whole world of learning how to make crepes. It took time to get used to the delicate wrist movements needed to get a perfectly thin crepe, but I got the hang of it. One day, my crepe maker broke down and I thought all was lost.
But then I saw someone making crepes with a basic nonstick skillet and was immediately blown away.
Not only is it easier to learn how to make crepes using a nonstick skillet, but it is faster with a lesser chance of getting a weird looking or broken crepe. Now I recommend that everyone who wants to learn how to make crepes start with their favorite nonstick skillet and this basic recipe.
There are many ways to make a good crepe batter and if you ask any cook, they will have their own favorite process, but the ingredients and basic structure is always the same.
Crepes start with a thin batter that you can easily spread out so it creates a very thin pancake. Some people prefer to make their crepe batter in the blender – you can do that with this recipe too. Others prefer using their hands and a whisk, No matter how you make your crepes, one thing remains very important: You must give your batter time to rest. At minimum, you should let your batter rest for 10 minutes at room temperature. At the most, you can cover your batter and allow it to rest in the refrigerator overnight. This allows the flour to fully hydrate and give you the best texture in your crepes.
Traditionally, many people will whisk the dry ingredients together, mix the wet ingredients together, then combine the wet and dry together. My method is a little different. I like to add the dry ingredients together, then I add my eggs to create a paste. From there, I add the remaining wet ingredients to thin out the paste. In my opinion, it gives the best texture, but no matter what method you use, your crepes will end up delicious – as long as you let the batter rest!
You also need to make sure your pan is hot before you add your batter. You can test this by adding a drop of water to your pan. If it sizzles and evaporates immediately, then your pan is hot enough. If the water sits there for a moment before evaporating, give it another minute or two.
Once I am ready to add my batter, I lift up my pan and add the batter to the very center of the pan. Immediately, I start swirling the batter around so it reaches the ends of the pan. I am usually able to get the batter around the pan twice before getting an even coat. I recommend using a wooden spoon or silicone stirrer/scraper to lift the crepe and flip it. Or you can be fancy and loosen the edges then flip the crepe right in the pan…I am not that fancy or skilled to do that.
Learning how to make crepes is really simple and you can get it with a bit of practice. The first crepe usually comes out ugly (but an excellent taster). After that, it is usually smooth sailing before you are impressing your friends with homemade crepes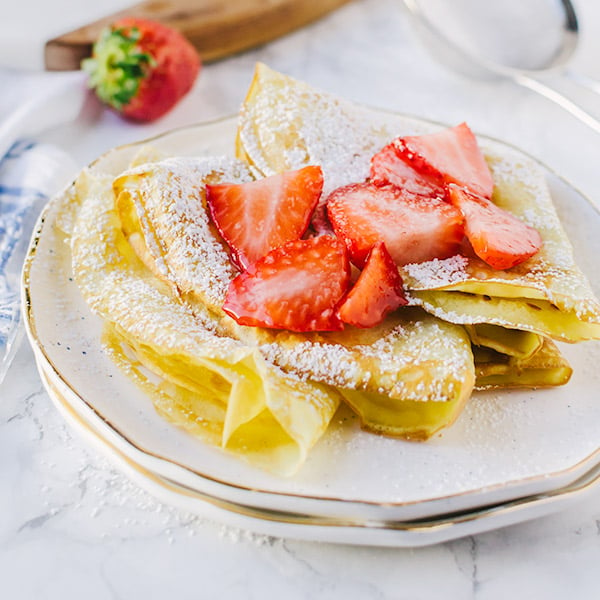 INGREDIENTS
DIRECTIONS
Place a nonstick skillet on a burner set to medium heat.
In a medium bowl, add the flour, sugar, and salt. Whisk to combine the dry ingredients. (Or you can add the ingredients to a blender and pulse once or twice to combine)
Create a well in the flour mixture and add the eggs. Use a whisk to combine the eggs and flour mixture to create a paste (or add the eggs to the blender and blend for about 30 – 45 seconds).
Mix together the milk and butter, then add to the flour paste. Mix until combined and the batter is smooth.
Set aside the batter at room temperature or at least 10 minutes.
Lift up the skillet by the handle so it is just over the heat. Pour exactly 1/4 cup of the batter onto the middle of the pan. Immediately, but carefully, swirl the batter around the bottom of the skillet so it coats the bottom evenly. Cook for about 2 minutes, or until golden brown, then flip and cook for about 30 – 60 seconds longer, or until it is golden brown.
Place parchment paper on a plate and add your crepe. Top with another piece of parchment paper before stacking another crepe on top.
Servings: 3 servings (about 9 crepes)