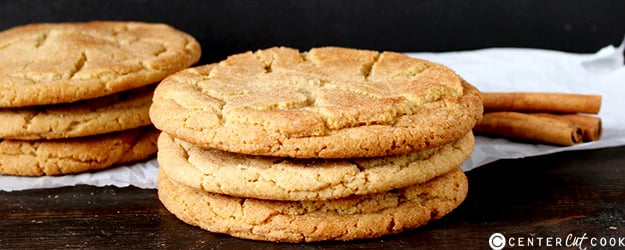 I had a request to make these cookies from a reader. My Jumbo Sugar Cookies and Jumbo Chocolate Chip Cookies have been a big hit and one lady suggested I try a Snickerdoodle version. I thought that was a great idea and made some that night. They turned out awesome and I'm so excited to share them with you!
A Snickerdoodle is very similar to a sugar cookie but made with cinnamon sugar- yum! One key ingredient is cream of tartar. I know it's kind of a pain to have to buy a special ingredient just for one recipe, but it's pretty important here. It gives snickerdoodles their classic flavor and texture- keeping them thick, pillowy and soft and without it they have a tendency to get crisp and flat.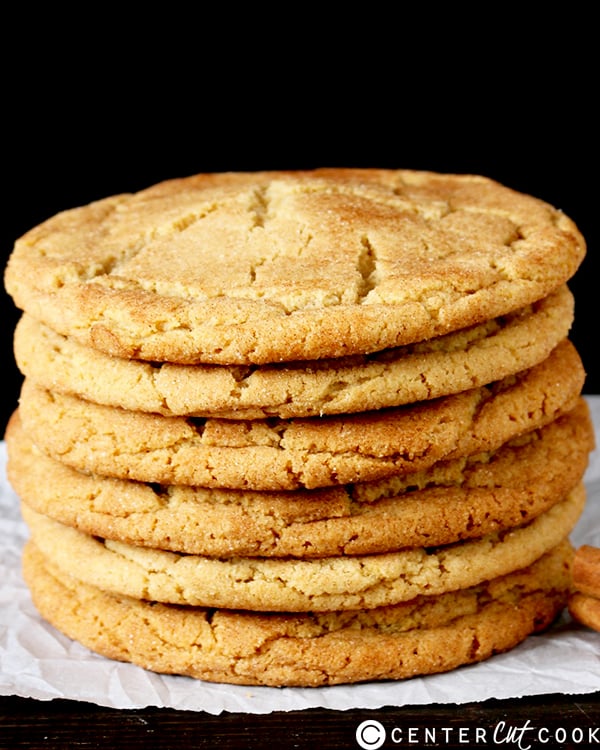 They are super easy to make, mixed in one bowl and the dough doesn't need to chill at all. Much like my other recipes, I use a measuring cup to portion the dough out and only 3 cookies fit on a cookie sheet at a time. They bake up so big and the centers will look a little underdone, but that is how you want them. They will set up as they cool. If you like them a little more crispy, bake for the longer recommended time.
You will absolutely love how delicious these cookies are! Perfect for holiday baking or giving as a gift!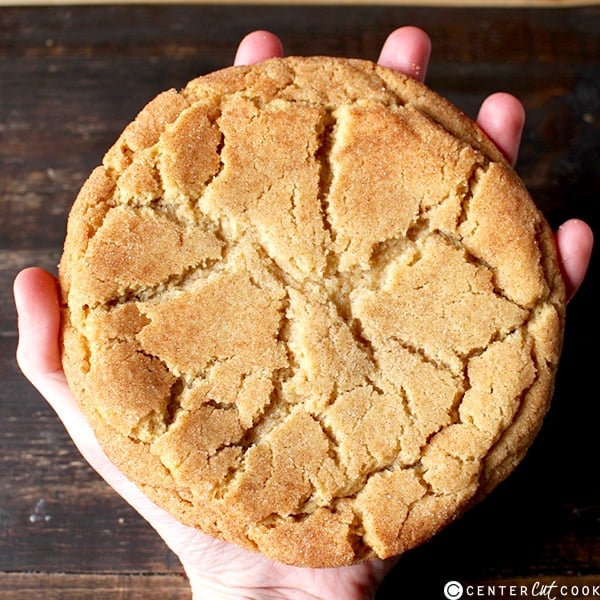 COOKIE INGREDIENTS
CINNAMON SUGAR INGREDIENTS
1/4 cup granulated sugar
2 teaspoons cinnamon
DIRECTIONS
Preheat the oven to 350° and line 2 cookie sheets with parchment paper.
Combine the 1/4 cup granulated sugar and 2 teaspoons cinnamon in a small bowl to make cinnamon sugar mixture for rolling. Set aside.
In a large bowl, combine butter, brown sugar, and granulated sugar and stir until completely combined.
Add in egg, egg yolk, and vanilla and mix well.
Add the flour, cream of tartar, salt, baking soda, and cinnamon and mix until fully combined.
Using 1/2 cup measuring cup, portion the dough into balls. It should make 6 even-size balls.
Roll each ball of dough between your palm to smooth then roll it in the cinnamon sugar mixture.
Place 3 cookies on each cookie sheet, evenly spaced so they room to spread.
Bake, one sheet at a time, for 16-19 minutes. 16 minutes will result in chewy cookies and 19 will result in a little crisper cookie.
Let cool on the cookie sheet for 5-10 minutes before moving to a cooling rack.
Servings: 6