A KFC Coleslaw Copycat recipe! The coleslaw dressing is made with Miracle Whip and tastes just like the original KFC cole slaw. Make this today for a tasty side dish.
We may not have the exact KFC Coleslaw recipe, but this one is pretty darn close! I do not know what it is about KFC coleslaw that draws me in, but I love it. And despite the fact it has been years since I have had KFC, I still get the hankering for the coleslaw which is why I am so excited to have figured out this KFC Coleslaw Copycat recipe. It is so very similar to the original that I think you might have a hard time telling the difference.
How to make the KFC Coleslaw recipe:
The key to making your coleslaw just like KFC is in the dressing, and the way that you finely chop the ingredients. After much research, I determined that one of the key ingredients to a KFC Coleslaw Copycat is that you must use Miracle Whip and not real mayonnaise. This has been confirmed by an ex-employee who says that KFC makes their coleslaw with Miracle Whip and not mayonnaise. I am a Hellman's girl myself, but I specifically made a special trip to the store, just to buy Miracle Whip. The taste of Miracle Whip versus Mayo in this recipe really does make a difference so step #1 to making a KFC Coleslaw Copycat recipe at home is… go buy Miracle Whip!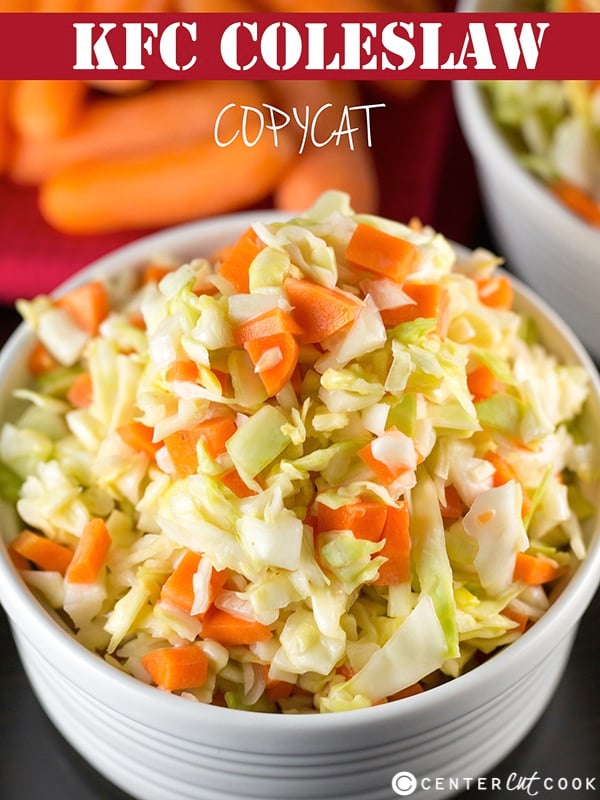 Another important step in this KFC Coleslaw recipe is the 24 hours you need to let this coleslaw sit in the refrigerator to chill. If you whip up this batch of KFC coleslaw and plan to eat it immediately, it WILL NOT taste the same. You need to give it time to hang out in the fridge so that all of the flavors can blend together. Trust me, do not skip this step!
It comes together in about 20 minutes, the longest task will be to simply get the cabbage and carrots chopped. And of course, if you want it to look like KFC coleslaw, you'll need to take the time to pretty finely chop the cabbage and carrots. I did it by hand with a good sharp knife, but you could certainly use a food processor.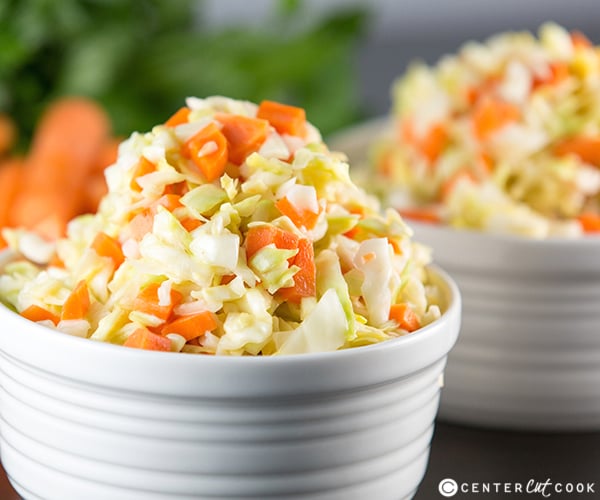 Once it chills, you'll be left with a KFC Coleslaw Copycat recipe with dressing that tastes just like the original, thanks to the miracle whip. Serve this at potluck's or summer BBQ's and this will get rave reviews, promise!
Recipe tips
Chop the onion very finely. You do not want an overpowering onion taste!
Be sure to use Miracle Whip instead of Mayo for a more authentic taste.
Allow the coleslaw to chill in the refrigerator for 24 hours for the best result!
Enjoy!
Ingredients
1

cup

Miracle Whip

1/2

cup

granulated sugar

3

tablespoons

vegetable oil

3

teaspoons

apple cider vinegar

1/2

teaspoon

celery salt

8

cups

cabbage (finely chopped)

2

carrots, shredded

1/4

cup

yellow onion (very finely chopped)
Instructions