*THIS GIVEAWAY IS NOW CLOSED. CONGRATULATIONS TO ENTRY #3960 – DONNA F.*Today I am excited to announce an awesome giveaway for a Magimix Food Processor valued at $499! I was able to team up with the folks over at Magimix who sent a review unit for me to try out, and they were gracious enough to sponsor this giveaway so that one of you can see first-hand what an awesome, awesome food processor this is! How cool is that?
Before we get into what Magimix is all about, let's first talk about the basic food processor, shall we? Way back in… oh, 2003 when Ryan and I, at the ripe old ages of almost 19 and barely 20, decided to get married, we had the major task of putting together a wedding registry. The things I included when I was still practically a child, and what I would include now, 10 years later, is oh SOSO different! I'm pretty certain I didn't even blink an eye at the food processor when we wandered through Target creating our registry. It wasn't until I got a food processor as a hand-me-down about 7 years into married life that I realized what a necessity it was in the kitchen.
The food processor quickly became my go-to appliance in the kitchen once I got my hands on one! There are some days where it gets used three times to prep a single meal. Take for example homemade pizza like this Fast and Easy Pizza. With the food processor, I shred the cheese, and pulse together the perfect concoction of ingredients to make pizza sauce.
With my hand-me-down food processor, there was just a single bowl which meant I had to wash the bowl in between making the dough, shredding the cheese, and pulsing together the sauce. Pain.in.the.butt.
Enter the Magimix. The Magimix comes with three bowls – a mini, midi, and main bowl. They all fit into each other for easy storage. Perfect if your kitchen is like mine and doesn't offer much storage. With the Magimix I can make the sauce in the mini, shred the cheese in the midi, and make the dough in the main bowl. Easy. Fast. Can I just tell you what a time-saver this is? This Chopped Thai Chicken Salad was the first recipe I used the Magimix with and boy, did I give it a workout! I made tangy peanut dressing in the mini bowl, then shredded the cabbage, and perfectly sliced the carrots and cucumbers with the slicing disc in the midi bowl.
You know this oh-so-popular Chocolate Lasagna and its new side-kick, the Chocolate Lasagna Cupcake? It is SO much easier to just use a food processor to crumble the Oreo cookies. The Magimix turns the whole package of Oreo cookies into perfectly crumbled cookies in seconds, and without hesitation. The Magimix is a powerful beast!
You may have heard me say on more than one occasion (read: I'm a broken record) to shred your own cheese, that freshly shredded cheese is so much better than the pre-shredded stuff in the grocery store. If I'm making something simple like tacos and I don't need a whole lot of cheese, I whip out the box grater. But for something like this Creamy Four Cheese Baked Pasta Skillet that calls for oodles of cheese? A food processor shaves off so much time!
Sometimes I'll buy a big 2 pound hunk of cheddar cheese at Costco, come home, shred it all up, then divide in up into single use portions so that it's super easy to get dinner on the table.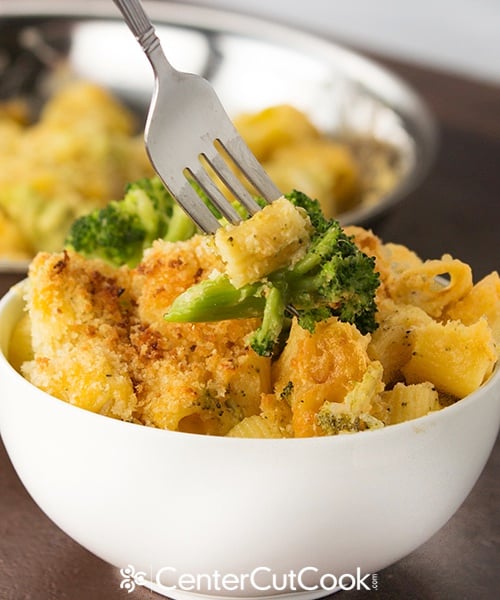 My previous food processor was impossible to clean thoroughly with particles of food getting stuck in the lid. The Magimix cleans up like a champ. While it is dishwasher safe, I always hand wash it to keep it looking fresh and new.
If I had to pinpoint my top three favorite things about the Magimix, it'd be this:
1. Three bowls – I can't tell you how convenient this is for a power-user like myself who likes to take full advantage of a kitchen appliance like the Magimix.
2. It's a powerful beast – It's like the Lamborghini of food processors. I have not come across a task the Magimix can't handle. My previous food processor would start to smell like it was burning up if I was processing dough for bread or cinnamon rolls. The Magimix doesn't even hesitate, it just plows right through.
3. Huge feed tube – The extra large feed tube was a nice little surprise. I didn't realize how convenient it would be to be able to fit nearly anything into the feed tube.
GIVEAWAY!
I am so excited to be able to give a Magimix food processor away to one lucky reader! The winner will receive the Magimix 16 cup food processor by Robot-Coupe! It is stainless steel, and just beautiful! It includes 6, 12, and 16 cup bowls which means there is not a single project the Magimix can't handle! There are numerous entry options available, just use the Rafflecopter widget below to get started. Good luck! :)