Stuffed Peppers are a classic! There are so many yummy ways to make them including a variety of ingredients and preparation methods.
Sometimes I find myself making them in the microwave and other times I make them in the oven or the crock pot. No matter how you make them, they're always SO good and filling.
When I developed this recipe I debated whether or not I should call these Mexican Stuffed Pepper or Taco Stuffed Peppers. Ultimately I decided to name them after another favorite recipe of mine that has a similar flavor profile, Mexican Stuffed Shells. SO good.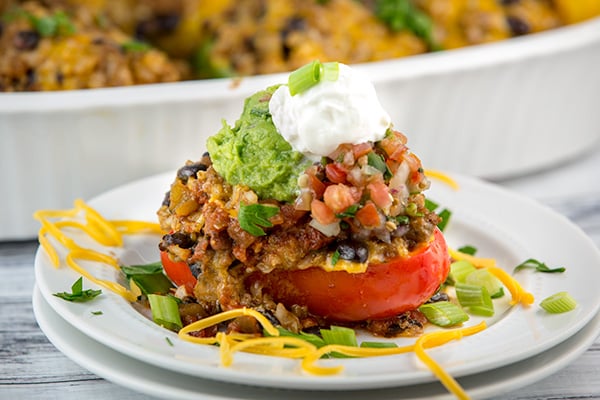 One of the questions I get most often is what should I serve with stuffed peppers? Often times I simply make the peppers and eat only a pepper because it is so filling and is well balanced. Other times I'll serve it with a simple green salad.
I don't know about you but I am a sucker for any food that incorporates all of my favorite Mexican flavors. Mexican stuffed sweet potatoes? Mexican Stuffed Spaghetti Squash? Mexican Stuffed chicken? You name it I love it, and these Mexican Stuffed Peppers are a great addition to all of my other favorite Mexican infused recipes and they're healthy to boot!
The best part about this recipe is that you can very easily tweak it so that it includes your favorite ingredients. I make my stuffed peppers with black beans but if you don't like them, feel free to leave them out or maybe swap them for corn.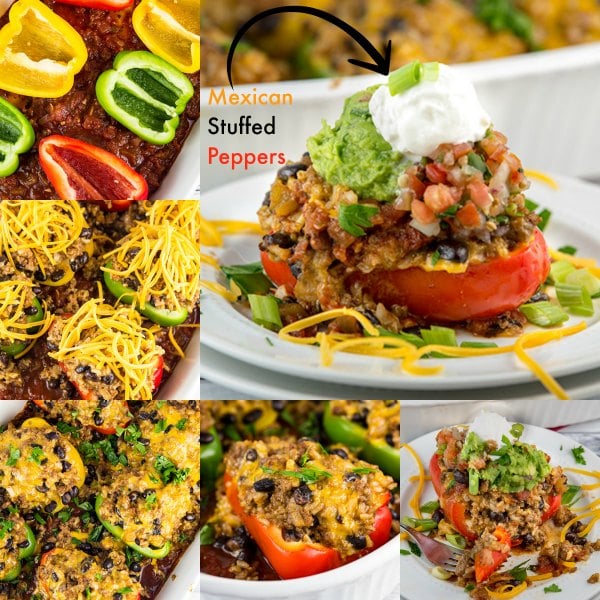 And while I used brown rice for this recipe, you can swap it for white rice if you'd like. One of my favorite hacks for making these stuffed peppers is to buy pre-cooked rice from the frozen food section of the grocery store. Bird's Eye is the specific brand I buy and they have white rice or brown rice. You simply heat in the microwave and then it's ready! This eliminates the step of spending the time to cook rice and I'm all about those time savers.
These Mexican style stuffed peppers are a recipe that you can feel good about making for your family. They're healthy, easy to make and SO delicious. Perfect for a weeknight dinner or even entertaining on the weekends, this is a no-fuss recipe.
Pro tip: remember to cut your peppers lengthwise. I like this method best for stuffed peppers.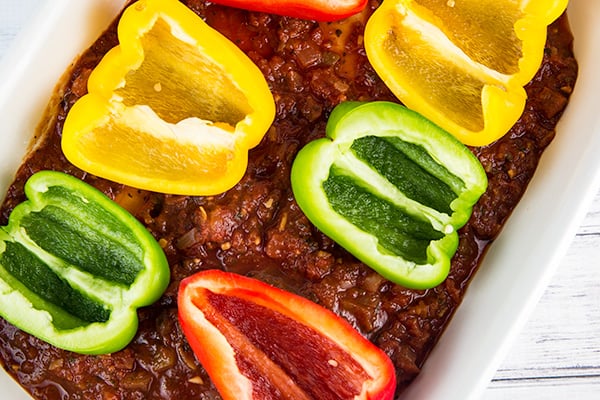 Enjoy!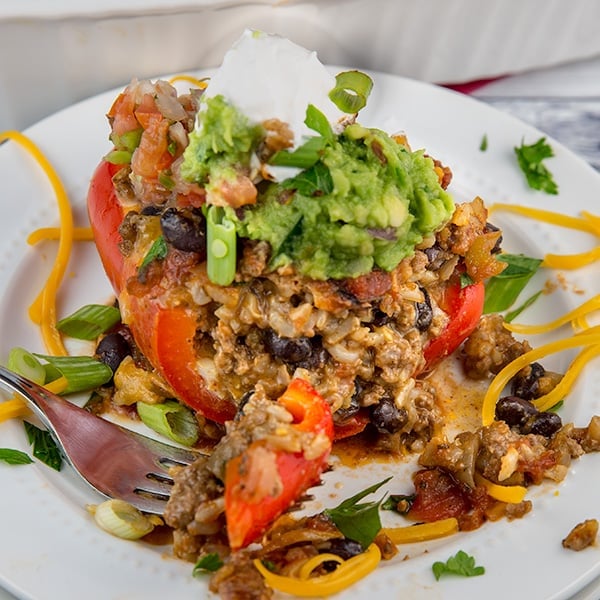 INGREDIENTS
3-4 bell peppers cut in half length-wise
1 tablespoon olive oil
1 pound ground meat
1 small onion, diced
1 can black beans rinsed and drained
2 cups cooked rice
1 packet taco seasoning or 2 tablespoons homemade taco seasoning
1 cup salsa
2 cups grated cheddar cheese
Guacamole
Sour cream
Salsa for garnish
DIRECTIONS
Preheat oven to 400 degrees F.
In a large skillet heat 1 tablespoon olive oil over medium heat.
Add onion and ground meat and sauté until the meat is browned and the onions are tender, about 5-10 minutes. Drain any excess fat.
Meanwhile, as the meat cooks, prep the bell peppers but cutting the top off the pepper. Cut the pepper in half from top to bottom, lengthwise to create halves that you can fill with the mixture.
Pour 1 cup salsa into a large casserole dish.
Arrange the pepper halves in the dish and season each lightly with salt and black pepper.
To the meat mixture stir in 1 can black beans rinsed and drained, 2 cups cooked rice, taco seasoning and 2/3 cup water.
Simmer for about 5 minutes more.
Divide meat mixture among the 8 bell pepper halves.
Top each pepper with shredded cheddar cheese.
Cover with foil and bake for 15 minutes
Remove foil and bake for another 10 minutes.
Serve immediately, making sure to spoon some of the salsa from the bottom of the pan over each pepper.
Top with your favorite taco garnishes like sour cream, shredded lettuce, salsa, and guacamole.
Servings: 4-6