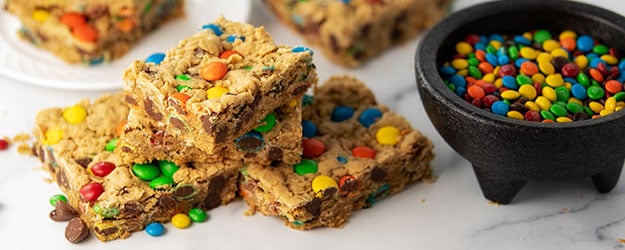 Oh, hello Monster Cookie Bars! Remember those insanely delicious Giant Monster Cookies from a few years back that everyone loves? Let me introduce you to their beloved cousin, the Monster Cookie Bar. This recipe for Monster Cookie Bars includes a similar ingredient list as the Monster Cookie recipe, its just made in a 9 x 13 inch pan so that you can cut them into whatever size and shape your cookie-loving-heart desires.
If you're new to Monster Cookies, allow me to explain. Monster cookies start with a basic cookie dough recipe and then you start adding in all of your favorite mix-ins like M&M's and chocolate chips. The beauty of the monster cookie is that you can add in anything that makes you happy — peanut butter chips, butterscotch chips, nuts, you name it…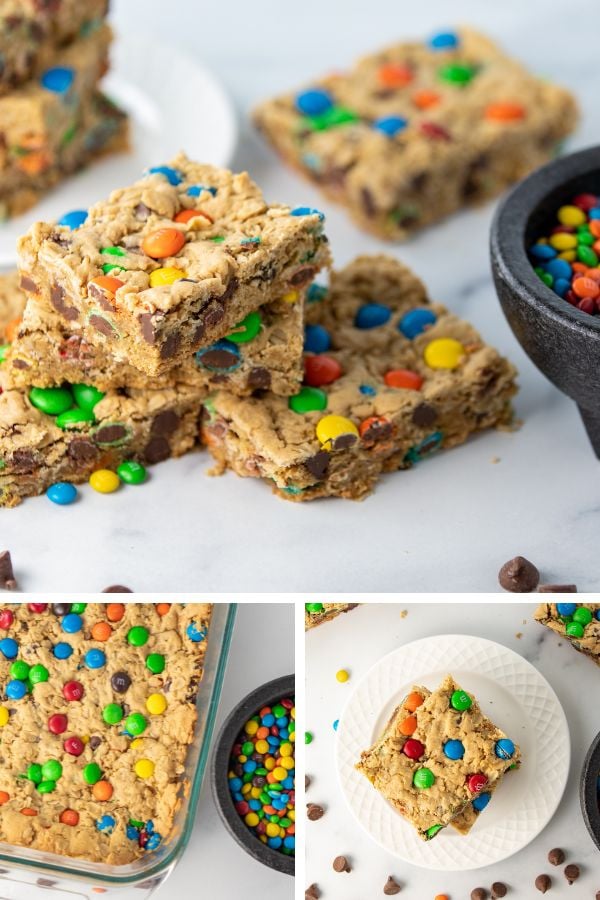 Let's talk about the ingredients that you'll need…
Monster Cookie Bar Ingredient Notes:
Butter: Use unsalted if you have it, otherwise you may want to reduce the amount of salt used. Softened butter will work best. Allow the butter to sit at room temperature for 30 minutes to an hour. If you forget to take the butter out, you can also microwave it for 10-15 seconds — just long enough to soften it a bit without melting the butter
Brown sugar: light brown sugar or dark is fine – whatever you have on hand
Peanut butter: do not use natural peanut butter for this recipe.
Oats – this recipe uses quick cooking oats
Add-ins – we used chocolate chips and M&Ms but get as creative as you'd like!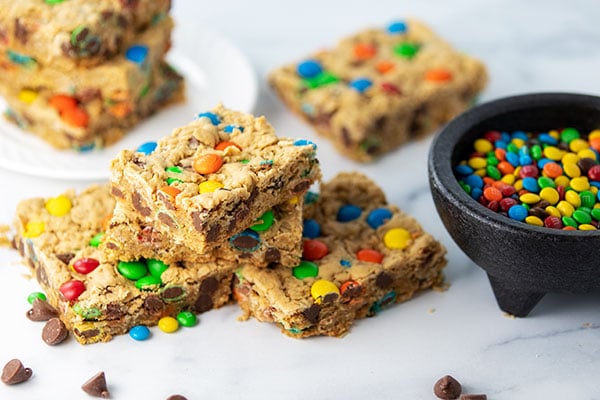 Monster Cookie Bar Tips and Tricks:
For an even more indulgent treat, try drizzling your monster cookie bars with caramel, melted peanut butter or chocolate drizzle!
Making Monster Bars for Christmas? Swap out traditional M&Ms with Christmas M&Ms! Making these Monster Cookie Bars for Valentine's Day? Use a heart cookie cutter to cut the bars into cute heart shapes. This dessert is so versatile and lends itself well to customizing for any of your favorite special occasions and events.
While we love our monster cookie recipe, we also love this variation without the fuss of shaping cookies into perfect rounds, not to mention how fun it is to be able to use cookie cutters to cut the monster cookie bars into fun shapes for any holiday. If you want to try another fun Monster Cookie variation, you must try out Monster Cookie Dough Dip!
About 30 minutes is all you'll need to make and bake these amazing Monster Cookie Bars. If you try this recipe, and we hope you do, please come back here to let us know what you think or snap a picture and tag us on social media!
Enjoy!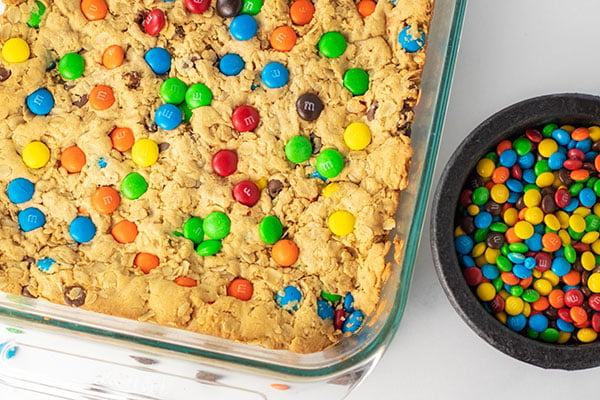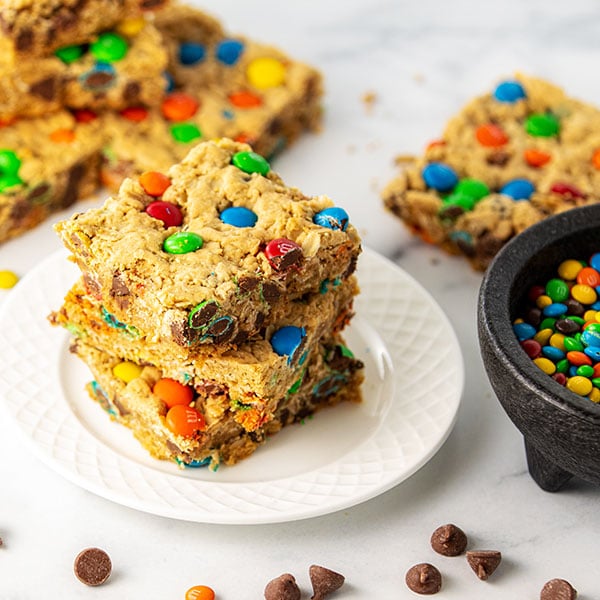 INGREDIENTS
DIRECTIONS
Preheat oven to 350 degrees Fahrenheit . Grease a 9×13 baking dish and set aside.
In a large bowl, cream together the unsalted butter with the brown sugar. Add in the peanut butter, eggs, and vanilla; beat until combined.
In a medium bowl, mix together the flour, baking soda and salt. Add the dry ingredients to the wet ingredients, and mix until combined.
Mix in the oats, chocolate chips, and M&M's.
Press the mixture into the greased baking dish. If you'd like, you can add additional M&M's and chocolate chips to the top of the dough and slightly press them into the dough.
Bake 14-16 minutes or until edges are lightly brown or a toothpick inserted comes out clean.
Allow to cool before cutting.