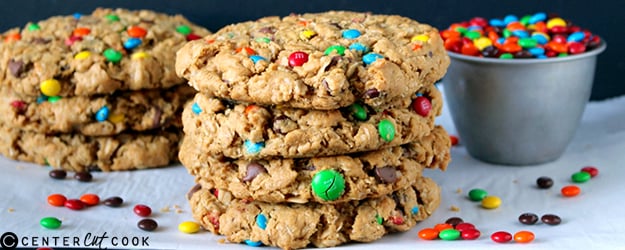 If you are looking for the Best Monster Cookies, you have come to the right place. If you don't know what a Monster Cookie is, allow me to explain: you start with a basic cookie dough, then you add in mix-ins like chocolate chips and M&M's. You can get creative and add in anything you enjoy including butterscotch chips, peanut butter chips, toffee pieces and chopped nuts.
Few things are better than Monster Cookies, in our humble opinion, except when you make GIANT Monster Cookies. We decided to take these cookies to a new whole level and made them giant in size. We're talking a hand-sized cookie. These cookies are soft, thick, chewy, giant, and always a favorite!
The Best Monster Cookie Ingredient Notes
Let's talk about the ingredients that you'll need to make the best monster cookies.
Peanut Butter – you do not want to use all natural for this recipe. In general, all natural peanut butter in baking just does not work. Use a brand like Skippy or Jif for the best result.
Butter – salted or unsalted is fine. Whatever you have on hand. Butter is recommended over margarine for the best result. Make sure that you've allowed the butter to come to room temperature.
Eggs – room temperature is best. If you are pulling your eggs from the refrigerator right before baking, place the eggs in a cup of warm water for a few minutes to take the chill off.
Vanilla – vanilla extract makes these cookies taste extra amazing. Vanilla extract can be a bit pricey. I like to buy it from Costco. Their pricing is the best I have seen for real vanilla extract.
Old Fashioned Oats – I prefer Quaker Old-Fashioned Oats for these monster cookies, but any brand is fine.
Add ins – get creative here! Chocolate chips, peanut butter chips, cinnamon chips, toffee pieces – the options are endless!
You may notice that there is no salt added and that is intentional. Most peanut butter has a fair amount of salt, so no additional salt is needed.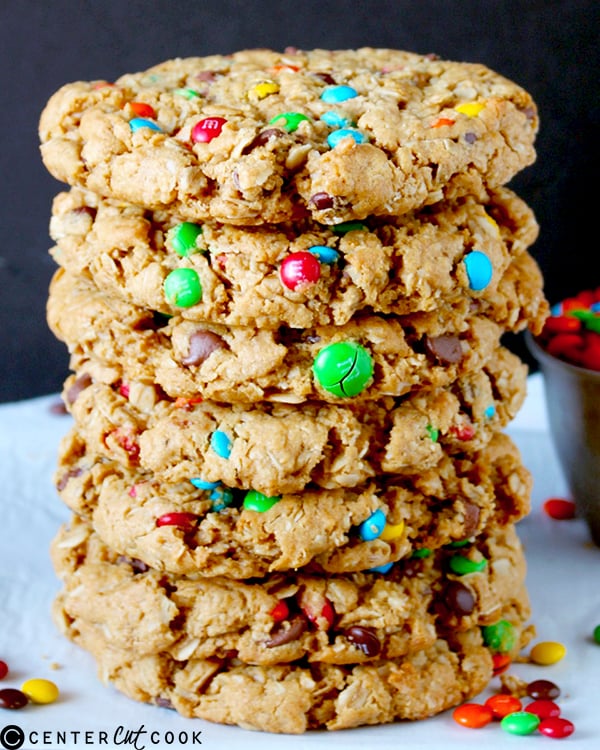 Big, chewy and thick, these Monster Cookies are the type that your kids would love to come home to for a special after school snack. Or bring them to an event or a bake sale and they will be sure to impress.
Christmas Monster Cookies / Holiday Monster Cookie Variations
The Monster Cookie Recipe lends itself well to adapting for use for Christmas or any other holiday. If you are wanting to make Christmas Monster Cookies, swap out the traditional M&Ms for a bag of red and green Christmas M&M's.
The same goes for just about any other holiday. M&Ms come in colors for just about any holiday you could imagine so you can make these Monster Cookies for every holiday of the year! I've seen Easter M&M's, Valentine's M&M's, Halloween M&M's and the list goes on and on. There are so many fun ways to make these cookies for any occasion.
Tips and Tricks for Easy Monster Cookies
Before you pull out your mixer to get started, stop for a second and read this: No mixer is required! The beauty about this recipe is that it is so easy and completely mixed in one bowl, by hand! No mixer required. Can I get an hallelujah?
Did I mention these are giant cookies? Readers always love our giant cookies and these Giant Monster Cookies are no exception. Each cookie is made with about ½ cup of cookie dough. They are so big, thick and delicious! Peanut butter and chocolate is a classic combination and adding the oats make them chewy and so perfect. They are also naturally gluten-free if you use certified gluten-free oats.
After you make these, might I suggest a few other Giant cookies to add to your list? These Giant Chocolate Chip Cookies are always reader favorites, along with these Giant Sugar Cookies and Giant Snickerdoodle cookies.
For another incredible Monster Cookie Option, try our Monster Cookie Dough Dip, yes dip, and your little dessert-loving heart will be happy. Alternatively, you can start with our basic Chocolate Chip Cookie Dough Dip that gets rave reviews, and add in any toppings you'd like.
You will love these cookies because they are so easy, thick, chewy, perfectly sweet, and…. giant!!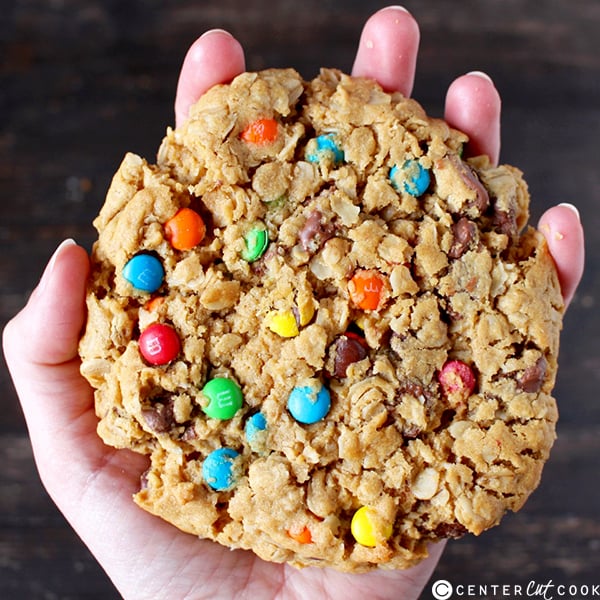 INGREDIENTS
16oz jar peanut butter, about 1 3/4 cups (do not use all natural)
1/2 cup butter, room temperature
1 1/2 cups brown sugar
1/2 cup granulated sugar
3 eggs
1 teaspoon vanilla
4 1/2 cups old fashioned oats (gluten free if necessary)
2 teaspoons baking soda
1 cup milk chocolate chips
1 cups M&M's (mini, holiday, etc)
DIRECTIONS
Preheat oven to 350° and line 2 cookie sheets with parchment paper.
In a large bowl, combine peanut butter, butter, brown sugar, and granulated sugar. Stir until smooth.
Add eggs and vanilla and stir until combined.
Add the oats and baking soda. Stir well, make sure it is very well mixed.
Mix in the chocolate chips and M&M's.
Using a 1/2 cup measuring cup, portion out balls and roll between palms to make them smooth.
Place 3 cookies on a cookie sheet at once so they have room to spread.
Bake for 12 minutes then press them down slightly using a fork and bake for another 6 minutes.
Let cool on the tray about 5 minutes then transfer to a cooling rack.