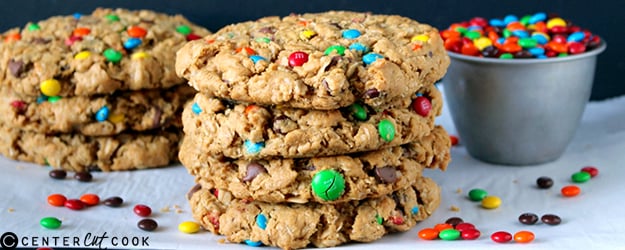 These Jumbo Monster Cookies are full of peanut butter, oatmeal, chocolate chips, and M&M's. Easy to make, soft, thick, and delicious!
Are you familiar with monster cookies? I thought everyone knew what they where, but I asked my dad and husband both and neither of them knew. They are a peanut butter oatmeal cookie with lots of delicious mix-ins. Some recipes call for butterscotch chips, peanut butter chips, toffee pieces, and chopped nuts. I decided to keep them pretty simple with just chocolate chips and M&M's. Feel free to play around with the mix-in's to create your favorite combo, just keep the ratios the same.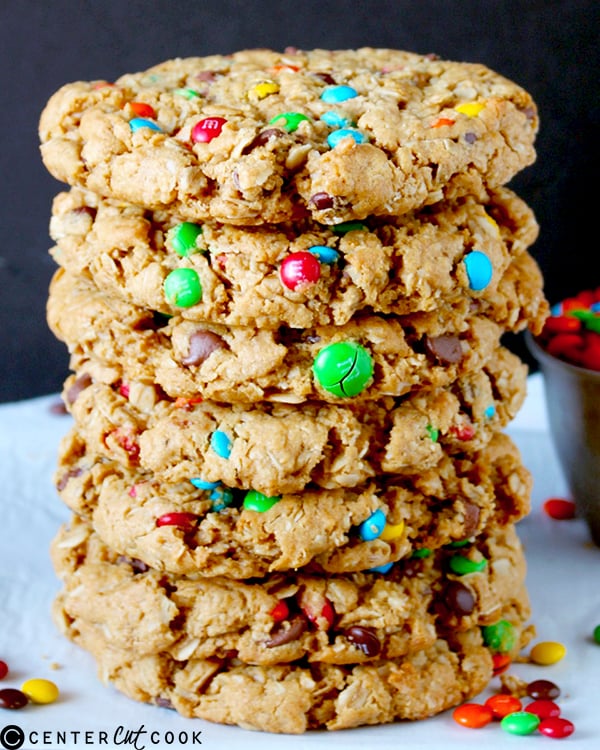 These are so easy- completely mixed in one bowl by hand. The dough doesn't need to chill at all, so cookies in under 30 minutes are a real thing! You may notice that there is no salt added- that is not an accident. Most peanut butter comes salted so no additional salt is needed. All natural peanut butter is not the best option for these. You will want a traditional, popular brand for best results. The natural peanut butter is too grainy and the texture is better with the smoother kind. I tried both- just to see the difference.
Did I mention these are jumbo? Each cookie is made with 1/2 cup of cookie dough- that is no joke! These are so big, thick, and delicious! Peanut butter and chocolate is a classic combination and adding the oats make them chewy and so perfect! These are also naturally gluten-free if you use certified gluten-free oats.
You will love these cookies because they are so easy, thick, chewy, perfectly sweet, and BIG!!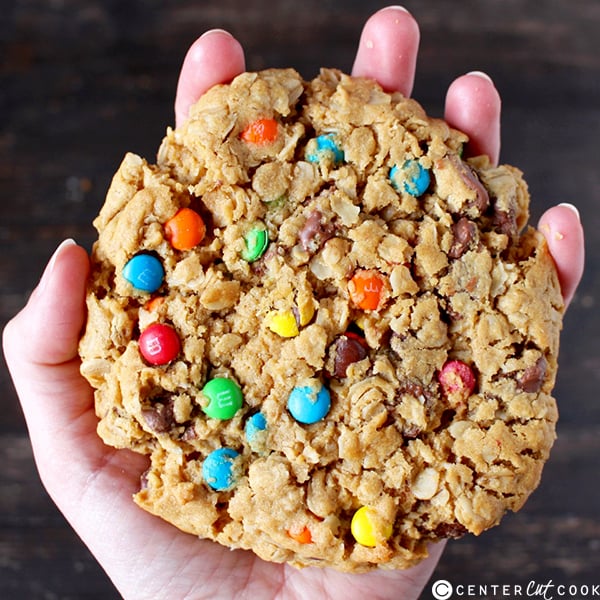 INGREDIENTS
DIRECTIONS
Preheat oven to 350° and line 2 cookie sheets with parchment paper.
In a large bowl, combine peanut butter, butter, brown sugar, and granulated sugar. Stir until smooth.
Add eggs and vanilla and stir until combined.
Add the oats and baking soda. Stir well, make sure it is very well mixed.
Mix in the chocolate chips and M&M's.
Using a 1/2 cup measuring cup, portion out balls and roll between palms to make them smooth.
Place 3 cookies on a cookie sheet at once so they have room to spread.
Bake for 12 minutes then press them down slightly using a fork and bake for another 6 minutes.
Let cool on the tray about 5 minutes then transfer to a cooling rack.