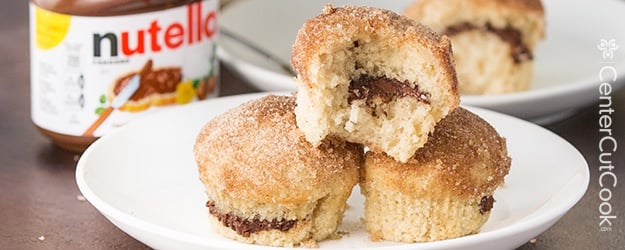 One of the very first recipes I ever posted on CenterCutCook was this recipe for Cinnamon Sugar Muffins… it's a recipe that I adore! Cinnamon and sugar is a combo that I just can't seem to get enough of, which means I've made this recipe at least a half dozen times over the last year (that's a lot when I'm always trying new recipes)!
Now, I've always known that Nutella is definitely a European thing. In fact, it's manufactured by an Italian company. For some reason though, I was blown away on my recent trip to Europe when I saw Nutella EVERYWHERE! In France, I saw it in the windows of what seemed like every cafe I walked past and in Barcelona, it was spotted in far more places than I've ever seen it in the U.S. At our hotel in Barcelona, they served Nutella in these cute little single serving containers for breakfast!
Despite the fact that I should have gotten my fair share of Nutella while I was in Europe, I came home still craving the stuff and determined to smuggle it into any recipe that I could, starting with Cinnamon Sugar Muffins!
In case you're not familiar with Nutella, it's a hazelnut spread with skim milk and cocoa, found in most grocery stores by the peanut butter. We eat it with pancakes, toast, brownies, cookies, you name it! And now Nutella is also eaten with these delectable little muffins!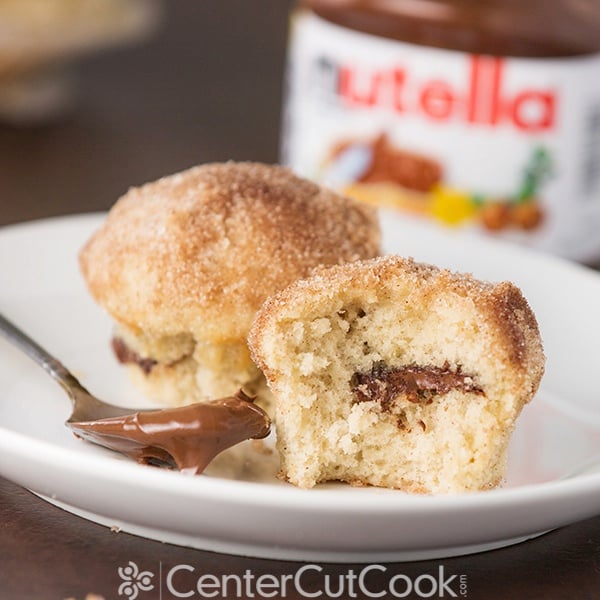 The muffin recipe itself is very simple – you combine a few dry ingredients in one bowl, the wet ingredients in another, then combine the two. To get the "stuffed" look, you simply place a couple of tablespoons of batter in the bottom of your muffin liner, then plop a teaspoon of Nutella on top, then cover it with a few more tablespoons of batter.
This version of Cinnamon Sugar Muffins does take a little more time to make than the traditional version, but I can assure you that you'll have no regrets at the few minutes of additional prep time it takes once you take your first bite. A soft, cinnamon-sugar muffin just oozing with Nutella? I'm a fan! (Of Nutella, and anything stuffed with Nutella).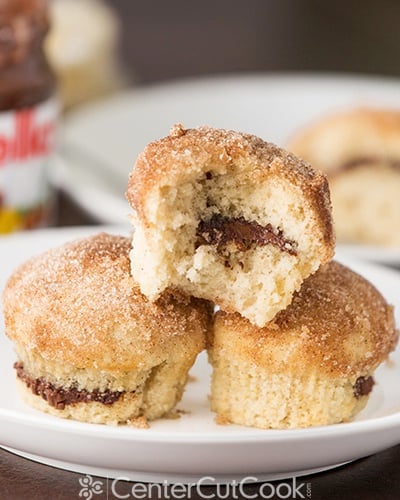 This particular recipe makes about 8 muffins, so feel free to double the recipe if you think they'll get devoured faster than you can say Nutella Stuffed Cinnamon Sugar Muffins! To help the muffins bake evenly, just fill the empty muffin cups with a little water.
If you've been looking for ways to use up that half-eaten jar of Nutella (aside from just eating the stuff with a spoon), give these little muffins a try.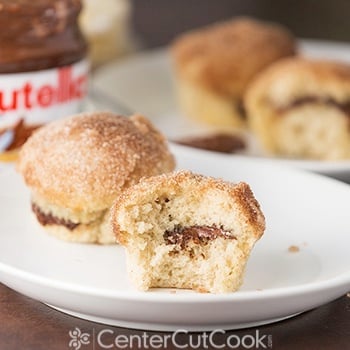 MUFFIN INGREDIENTS
TOPPING INGREDIENTS
1/2 cup sugar
1 teaspoon cinnamon
6 tablespoons butter, melted
DIRECTIONS
Pre-heat your oven to 350 degrees.
In a bowl, combine flour, baking powder, cinnamon, sugar, and nutmeg.
In a separate bowl combine milk, egg, and melted butter.
Mix the wet ingredients into the dry and stir well.
Lightly grease a muffin tin or line it with paper muffin wrappers.
Place around 2 tablespoons of batter into the bottom of each muffin cup. Add 1 heaping teaspoon of Nutella to each muffin. Divide the remaining batter among each muffin.
Bake for 20-25 minutes or until the muffins start turning golden brown at the edges.
If you baked the muffins in paper liners, remove the liner before the dipping process.
Pour 6 tablespoons melted butter into a small bowl. In another small bowl, combine 1/2 cup sugar with 1 teaspoon cinnamon. Dip each baked muffin in butter, then in the cinnamon sugar mixture.
Eat them fresh from the oven!
Recipe from
CenterCutCook