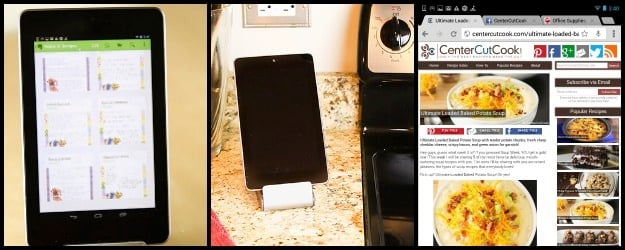 *GIVEAWAY NOW CLOSED – CONGRATS TO SHARON S!* Once upon a time, before I was a food blogger, and before I was a teacher, believe it or not, I was a technology blogger (are you trying to picture me with over-sized, dark framed, geeky glasses? *snort*). I'm sure right about now you're wondering how I went from tech blogger to food blogger, with a few years of teaching in-between? That's a long story for another day! For today, all you need to know is that I adore technology and finding ways to organize my never-ending stack of recipes to try, schedules, and all the crazy ideas I come up with. Basically I use technology to organize my whole life because let's face it, some days it is hard to keep organized with everything that is going on!
Despite the fact I'm sort of a geek-girl and love all things technology, I'm married to someone who defines tech geek in every sense of the word. My geekiness pales in comparison to his. The way things work around here, typically, is that Ryan will try something out first. If he likes it, he'll insist that I will like it too. After a while I'll cave in and try what he has suggested, and then wonder why I didn't listen to him sooner (ssshhhh don't tell him I said this). Let me give you an example. Back in 2008, Ryan started using this application called Evernote to organize webpages, notes, photos, and all kinds of things. It was new at the time, but he would pretty much talk non-stop about how amazing it was for digitally organizing his life. I had a hard time believing an app could be as amazing as he was making it sound, so I held off until a full year later. In 2009, I finally started using it and I quickly found myself wondering how on Earth I organized my life before Evernote came into the picture. Ridiculous, I know, but it's awesome and I can't wait to tell you all about it.
Today I'm going to talk to you about how I use Google's Nexus 7 tablet, the Internet, and Evernote to organize my recipes, and THEN I've got an amazing giveaway for a Nexus 7 tablet sponsored by Staples that you don't want to miss out on! Are you ready to dive into how I organize my recipes? It all starts with…. Evernote!
-What is Evernote and how can you use it to organize your recipes?-
Evernote is a package of software and services that was designed to help you take notes. By notes, I mean webpages, photos, handwritten notes, voice memos, and more. The beauty of Evernote is that you can create multiple "notebooks" to keep various aspects of your life organized. I have at least a dozen notebooks for things like recipes, crafts, financial documents, pay stubs, and receipts.
Within each of those notebooks I've got a mixture of entire webpages I've clipped, handwritten notes that I have scanned in, and photos that I have taken with my camera. If I am browsing a website and see a recipe that I want to experiment with, I use Evernote's built-in Web Clipper to capture the entire webpage with just a click. This is what it would look like if you clipped my recipe for Chocolate Lasagna. As you'll see, you can hardly tell a difference between a clipped recipe and what it'd actually look if you were viewing it on a web browser.
If for some reason you wanted to add notes to a website you've clipped, Evernote allows you to mark up a page and make any changes you'd like.
-Searching Recipes with Evernote-
I used to have a big box FULL of index cards with recipes scribbled down on them. Once I discovered how amazing Evernote is, I decided I wanted them all scanned in and stored in Evernote so that I could easily search them. You see, Evernote has this insanely powerful search tool that can even search handwritten notes. It can recognize characters whether it's handwritten or typed so that no matter what you have stored in Evernote, it can be searched.
Now when I search for my handwritten recipe card for my Mom's Homemade Banana Bread, I don't have to sift through piles of printed out recipes, and stacks of index cards. I simply do a search in Evernote for "Banana Bread" and it is able to search and find my handwritten recipe card for Banana Bread. How cool is that?
– Evernote Highlights –
Notes can be synced across multiple platforms (PC or Mac, online and offline, iPhone, iPad, Blackberry, Windows phone, or Android). Example: I can search for that banana bread recipe on my computer, on my Nexus 7 tablet, or my Nexus 5 phone. If I had an iPad or an iPhone, it would work there too!
The more notes you add, the more useful it becomes.
The filing system can be as simple or as complex as you'd like. I have multiple notebooks and use tags in my recipe notebook for things like dinner, breakfast, snacks, lunch, chicken, beef and vegetables.
Powerful search – I already mentioned that powerful search tool but I'll mention it again. The search tool within Evernote is the very reason I decided to scan in every single recipe card I had.
Speaking of scanning, Evernote has become so popular that there are even scanners designed with Evernote in mind. With one button, you can scan documents right into Evernote. Some of them can be a bit pricey. I have the earlier version of Canon's imageFormula P-215 Scanner and it proved to be worth every penny. We were able to go entirely paperless in our house which means we have no filing cabinets, and no stacks of papers to be found!
I initially started using Evernote on my computer, but it became so much more useful for me when I started using a tablet and was able to open Evernote on the tablet as well! So now let's talk about the Nexus 7!
-Using a Nexus 7 Tablet to get organized!-
Several years ago I started using my tablet in the kitchen and now I can't imagine not having it there. I look up recipes, make notes on new recipes that I'm developing, and use the Internet to look up measurement conversions. Last year I sold my iPad and purchased Google's Nexus 7. Here's what I love about the Nexus 7 tablet:
Size – the 7 inch high-res screen size is big enough to see a lot on the screen, but small enough to make it really portable. It's the ideal place to store recipes.
Display – the screen is bright and vivid so that all of those mouth-watering photographs of food from your favorite food bloggers look just as delicious on the Nexus 7 as they would look on a computer!
Battery life – You'll get a good 10 hours of web browsing. On days when I'm in the kitchen all day long, I don't have to worry about the battery dying.
Another huge consideration when choosing a tablet is the cost. I went with the Nexus 7 because it is priced at an incredibly competitive price, starting at $229 for the 16GB version from Staples.
Compared to other tablets on the market with similar specifications, this is a phenomenal price point. In case you're not familiar with what the heck 16GB means, the GB stands for Gigabyte which is how much storage space the device has. All you need to know is that 16GB is plenty of storage for the average user (they have a 32GB version in case you're a power user!).
The Nexus 7 is made by Google so that it is always up to date with the latest version of Android, which is the operating system that powers the Nexus 7. To most of you that's not a big deal, but it was a key factor for me when deciding which tablet to go with.
Most importantly, I am able to easily browse all of my favorite blogs using the web browser on the Nexus 7, I can check in on the CenterCutCook Facebook page (are you following me yet?) from the Facebook app, discover new websites, and open up Evernote to view all of the recipes I've clipped, scanned and saved.
To make it more convenient for me to use my tablet in the kitchen, I bought this Belkin Flip Blade Stand (link here) that's made for tablets and smartphones. It's small and portable and can hold a tablet in either landscape or portrait view. My tablet is always resting on it when I'm using it in the kitchen, like yesterday when I was whipping up a pot of Ultimate Loaded Baked Potato Soup!
I can't tell you how convenient it has been to have a tablet with Evernote in the kitchen with me as my cooking companion over the last few years which is why I am so excited to be able to give one away! If you could use some help organizing your recipes, be sure to enter the giveaway!
-NEXUS 7 GIVEAWAY-
*GIVEAWAY NOW CLOSED – CONGRATS TO SHARON S!* I've teamed up with the fabulous folks at Staples to offer this Nexus 7 Giveaway! One lucky winner will receive the 16GB Nexus 7 Tablet valued at $229, along with a Moleskine Evernote Notebook. Please use the Rafflecopter widget below to enter. The giveaway will run until Friday, November 15th at 11 AM and a winner will be announced shortly after. The winner will have 48 hours to respond to the email, before another winner is chosen!
Tell me how you currently organize your recipes, and why you'd like a Nexus 7 to help you get organized! Be sure to use the Rafflecopter widget to let me know that you've left a comment!
Good luck!