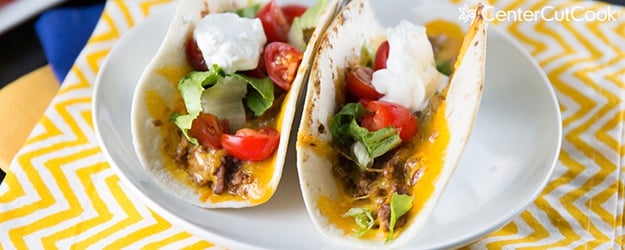 Typical tacos get taken up a notch with this simple recipe for Oven Tacos! I don't know what taco night is like in your house, but a typical taco night in this house usually happens on a night when I'm in a rush to get dinner made, or I haven't planned out what we're going to have since tacos can usually be made with the staples I always keep on hand. In other words, we have tacos quite often! ;)
After I saw a photo for baked tacos on Pinterest over a year ago, I decided to experiment with my own variation. We enjoyed them so much that I decided from that point on, the only way we'd ever make tacos was in the oven! Baked tacos are simply awesome!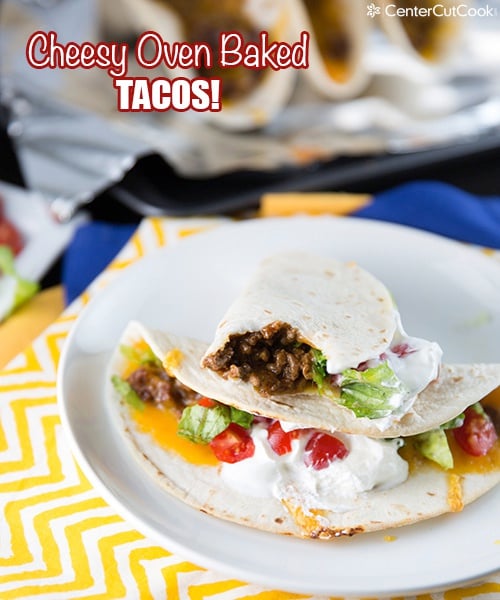 There's a lot to love about tacos, especially the homemade kind. Who needs Taco Bell when you can so easily whip them up at home, and they are far tastier? The method for these oven tacos is simple. You start by browning ground beef as you typically would, and draining off any excess fat. Then, a can of Ro*Tel (simply diced tomatoes and green chiles), taco seasoning (here's my recipe for a homemade taco seasoning), and a little hot sauce gets stirred in. All that simmers for a few minutes before it gets divided evenly among hard taco shells. Each taco gets topped with cheese, then the pan goes in the oven where the tacos will bake for about 10 minutes, or until the cheese is all melty!
You can make these with soft flour tortillas, with corn tortillas, or hard shells. After I originally posted this recipe several months ago, I got a message from the maker of The Taco Rack who offered to send me a taco rack to try. It looks something like this:
I was a little skeptical at first, thinking I really didn't need a taco rack to make awesome tacos in the oven. Truth-be-told, you really don't need The Taco Rack BUT let me tell you, for as often as we have Oven Tacos it sure does come in handy! I use this Taco Rack all the time, and my favorite part is that you can quickly take it apart for easy storage which is a HUGE plus in my book with the limited storage space in my kitchen.
If you'd like your own Taco Rack, click the link!
If you're looking for a way to add a little excitement to taco night in your house, look no further! Serve these cheesy baked oven tacos with all of your favorite garnishes – lettuce, tomato, sour cream, refried beans, etc. I typically serve tacos with my recipe for Taco Rice which is the perfect side dish. Enjoy!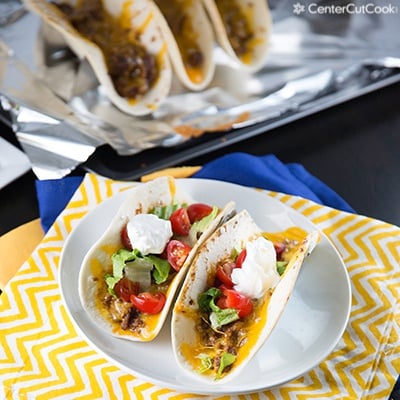 INGREDIENTS
1 pound lean ground beef
1 packet taco seasoning or make your own
12 hard shell tacos (you can also use soft flour or corn tortillas, it'll just take a little effort to get them to stand nicely in a baking dish)
1 can Ro*Tel (diced tomatoes and green chiles)
1 teaspoon hot sauce
1 1/2 cups sharp cheddar cheese, shredded
Lettuce, sour cream, guacamole, etc. for garnish
DIRECTIONS
Pre-heat your oven to 400 degrees.
Brown ground beef in a large skillet, then drain any excess fat.
Return the cooked ground beef to the pan, and stir in taco seasoning packet, 2/3 cup water, 1 can Ro*Tel, and 1 teaspoon hot sauce. Bring the mixture to a boil, then reduce the heat and simmer for 3-4 minutes.
Arrange 12 hard shell tacos or tortillas in a 9 x 13 inch casserole dish. Divide the meat mixture evenly among the taco shells.
Top each taco with shredded cheddar cheese.
Bake for about 10 minutes, or until the cheese is melted.
Top with your favorite garnishes (lettuce, tomato, sour cream, refried beans, etc.) and serve.
Yields 12 tacos.
Recipe from
CenterCutCook