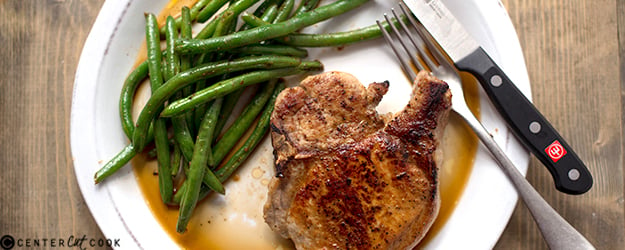 Twenty minutes and your delicious, healthy, and hearty dinner is served.
I'm a huge fan of easy dinners that use as little dishes and/or pans to make as possible. In fact, if I can use just two pans to make my entire meal, I am one happy camper.
That's what makes this delicious pan-roasted pork chops with ginger green beans so amazingly fantastic. Not only is pan-roasting amazing for meats, but this meal is super easy to make, incredibly fast, and I can make it all using just two pans.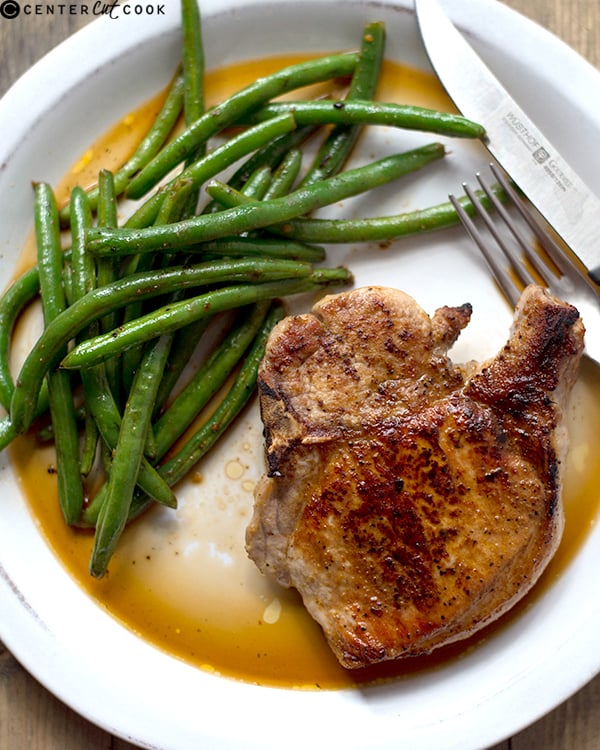 Umm, yes.
I mean – hello – I can serve 6 people a full, healthy meal in just 20 minutes!
The trick with this meal is to cook the green beans quickly in the separate pan while the pork chops are quickly roasting in the oven. Then, once you remove the chops and allow them to rest before serving, you can finish the green beans in the same pan you used for the pork chops. This provides such a delicious flavor on the green beans and slightly sears them because the pan is so hot. So good!
If you don't have bone-in, thick pork chops, you can also use boneless, just be sure to reduce the cooking time because they wont need as much time in the oven.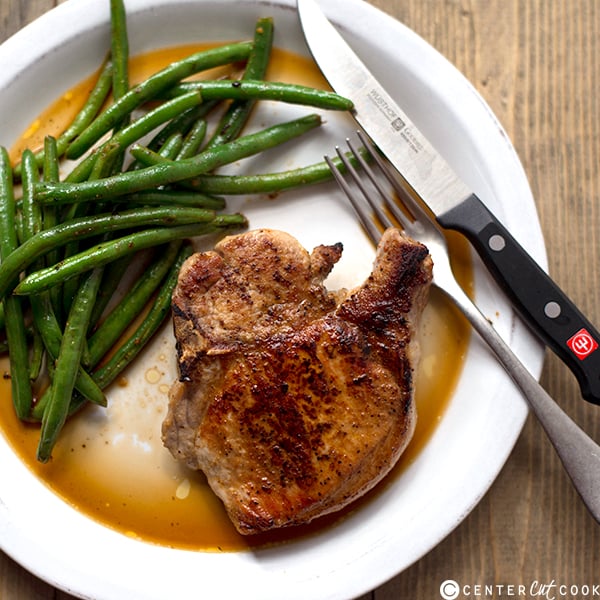 INGREDIENTS FOR THE PORK CHOPS
INGREDIENTS FOR THE GINGER GREEN BEANS
1 1/2 tbsp. olive oil
2 lb. green beans, de-stemmed
1/4 tsp. crushed red pepper flakes
1 tsp. dried ginger
3 tsp. soy sauce
DIRECTIONS
Preheat the oven to 500 degrees.
Combine the paprika, 1 tsp. dried ginger, dried mustard, kosher salt, brown sugar, and pepper in a small bowl to make the spice rub.
Generously coat all sides of the pork chops with the spice rub. Heat 1 tbsp. olive oil in a large, oven-safe skillet over high heat.
Once hot, add the pork chops and cook on high for 2 minutes. Then, flip and cook opposite side for 2 minutes.
Place the entire skillet into the oven and roast for 3 minutes. Then, flip the chops over and roast for an additional 3 minutes.
While the pork chops are in the oven, in a separate skillet, add 1 tbsp. olive oil and heat over medium-high heat. Add the green beans, red pepper flakes, 1/2 tsp. dried ginger, and soy sauce and increase the heat to high. Cook on high for 5 minutes. Then, turn off the heat and cover the green beans until the pork chops
Are ready to be removed from the oven.
Carefully remove the chops from the oven and transfer to a plate. Cover with tin foil and let rest for 5 minutes.
While the chops are resting, place the green beans into the hot pork chop skillet with the reserved juices and toss to coat with the juices before serving
Servings: 6