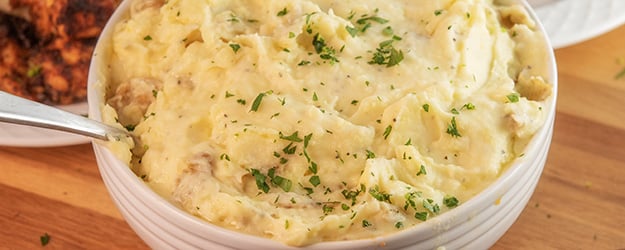 Oh sweet sweet November, you have arrived, which can only mean mashed potatoes, stuffing, and turkey are around the corner. Along with Christmas decorations. You too?
So many of you have told me how my recipe for The Best Mashed Potatoes is THE recipe that you turn to year after year, and time and time again. It's your go-to Mashed Potato recipe and for good reason – these mashed potatoes are made with cream cheese and sour cream and they are fluffy and delicious and SO perfect for Thanksgiving. It's the reason there is NO OTHER mashed potato recipe to be found here on CenterCutCook because once you have the best, there's no reason to mess with any other version.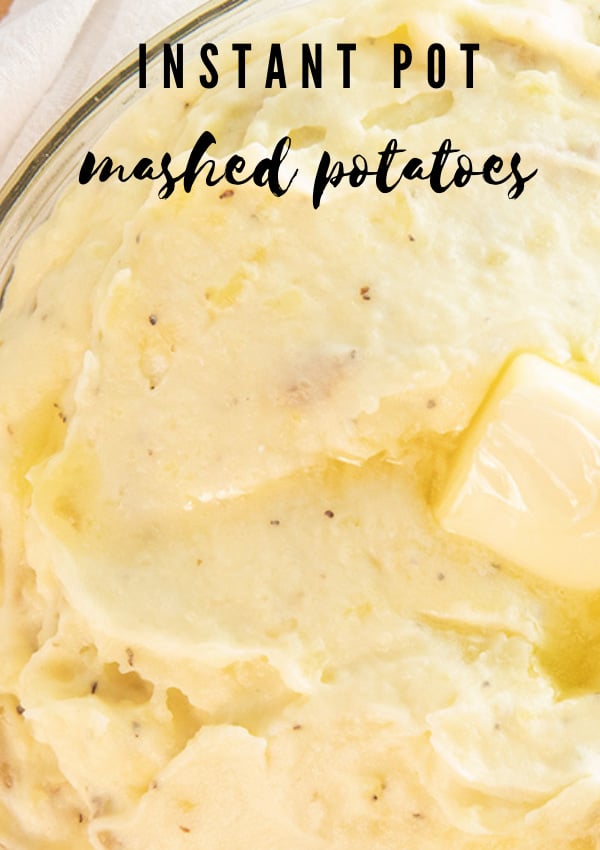 However, I know how many of you love your Instant Pot, and I know that especially on Thanksgiving, it is helpful to save the oven space for the turkey and homemade fast and easy dinner rolls, and probably Apple Crumble Pie too which is why I decided to take my stovetop mashed potato recipe and convert it to an incredible recipe for Instant Pot Mashed Potatoes.
Let me paint a picture of this Instant Pot Mashed Potato recipe for you, before going into details on how to make it.
Will you have to spend time peeling potatoes? Absolutely not. Unless you want to.
Will you have to spend time cutting potatoes into small chunks? Absolutely not necessary with the Instant Pot!
Will you experience a pot of boiling potatoes boiling over and making a mess on the stove because you forgot to reduce the heat? Absolutely not, because these bad boys are made in the Instant Pot
Will you be adding cream cheese and sour cream, and alll of the delicious things to this recipe? Absolutely. Because cream cheese definitely belongs in the best mashed potatoes, I promise.
Will this be your new favorite way to make mashed potatoes? 110% yes. Instant Pot Mashed Potatoes are simply incredible.
Now let's get into the nitty gritty details about how to make these potatoes in the Instant Pot starting with the potatoes.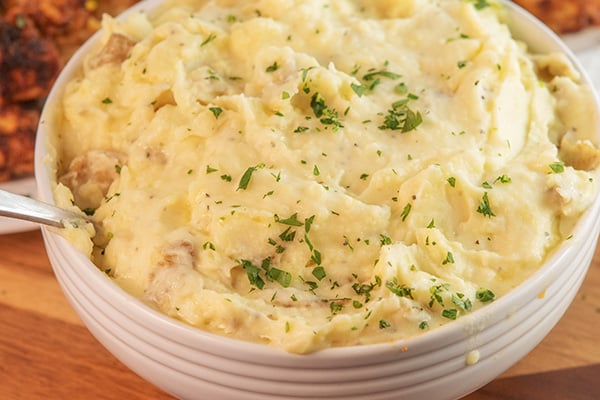 What kind of potatoes should I use for Instant Pot Mashed Potatoes?
Let's talk potatoes. Russet potatoes is the more traditional potato that is used to make mashed potatoes. However, I like to use Yukon Gold Potatoes for mashed potatoes. There's something about the Yukon Golds that make the mashed potatoes extra creamy and delicious. You'll need 3 pounds.
Here's the best part about making mashed potatoes in the instant pot: You DO NOT need to gut the potatoes into small pieces. I cut the potatoes into large rounds. By large, I mean, for one potato, I will get it into 3-4 pieces. Super simple.
I like to leave the skins on, but you are welcome to peel the potatoes if you wish. It is not a necessary step, however.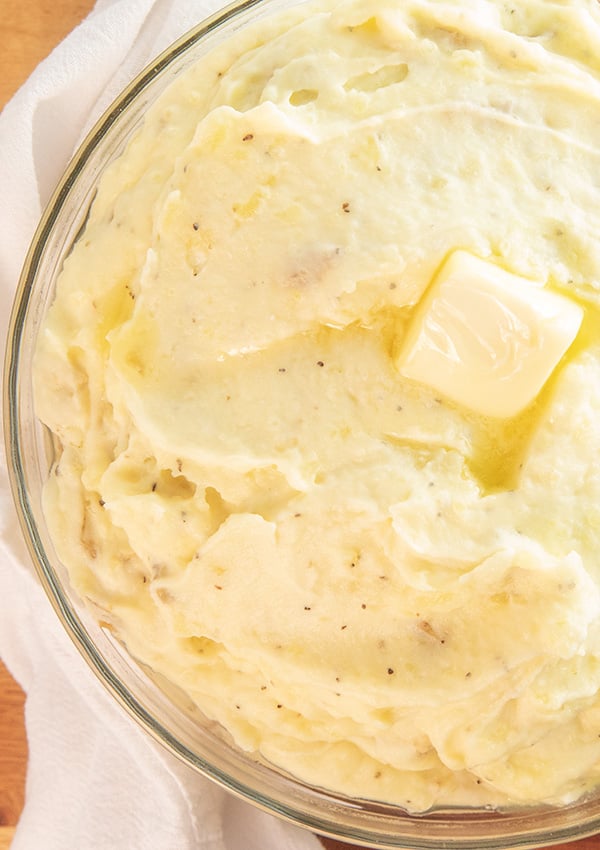 How long will Mashed Potatoes cook in the Instant Pot?
Once you prep the potatoes and place them in the Instant Pot, you will add either 2 cups of water, or 2 cups of chicken broth. If you don't have chicken broth, it's no big deal. I like to use chicken broth because it adds extra flavor to the potatoes.
Place the lid on the Instant Pot, making sure the valve is set to "sealing" then set the manual timer for 12 minutes.
It'll take about 7-10 minutes for the Instant Pot to pressurize before the timer will start counting down.
When the timer goes off, go ahead and quick-release the pressure. I like to cover the valve with a kitchen towel so that liquid doesn't spatter everywhere.
How to season Instant Pot Mashed Potatoes
I know how much you guys love my mashed potato recipe made with cream cheese, so of course there is cream cheese in this recipe. You will need an 8 ounce package of cream cheese, 4 tablespoons of butter, 1/4 cup sour cream, 1/4 cup milk along with salt, black pepper, and garlic powder.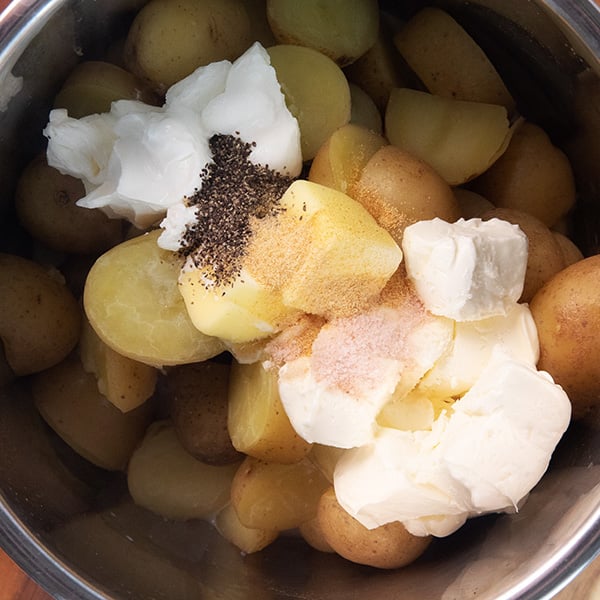 In place of garlic powder, you could also toss in 1-3+ cloves of garlic to cook right along with the potatoes in the Instant Pot then mash them up when the potatoes are done cooking.
While many of you many not be accustomed to mashed potatoes made with chicken broth, and cream cheese, I can tell you that these two small changes result in an incredible end result.
My favorite way to mash the potatoes is to use a hand mixer on medium- low speed. You can also use a hand masher which will give you more control over how chunky or smooth your mashed potatoes are.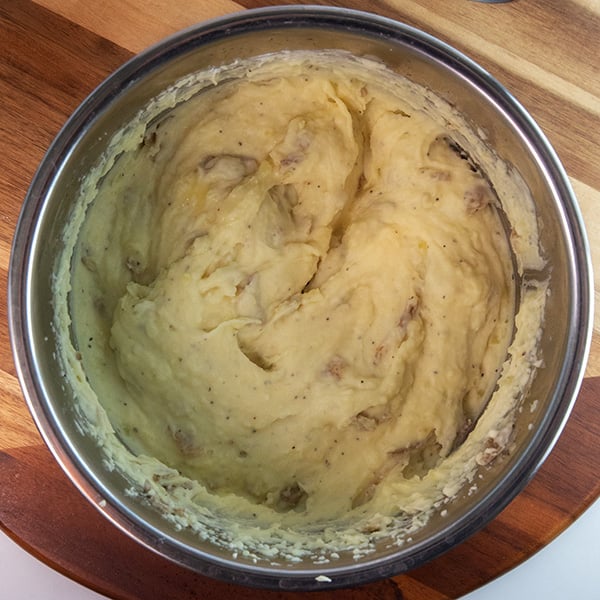 Mashed Potatoes made right in the Instant Pot are so easy, and so delicious, and so perfect for Thanksgiving or any night of the week. I love to make Chicken Bowls (a la KFC) with Air Fryer Chicken Bites and use these mashed potatoes as the base. They are SO GOOD!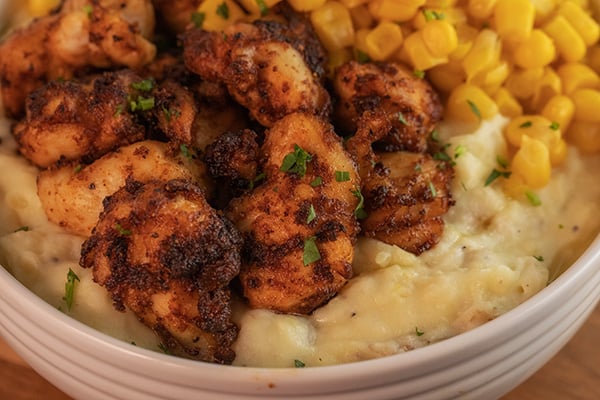 Top with my recipe for Perfect Turkey Gravy and you are in heaven. I hope you enjoy this recipe for Instant Pot Mashed Potatoes!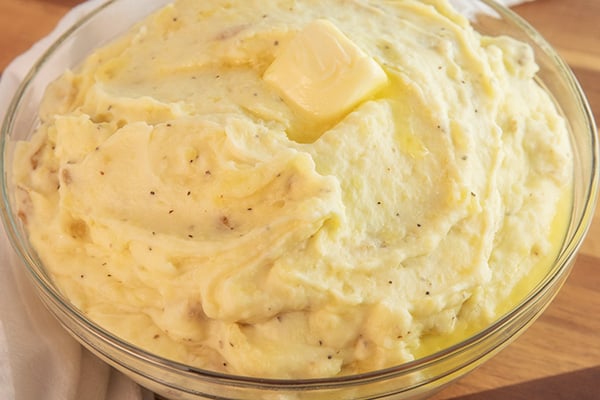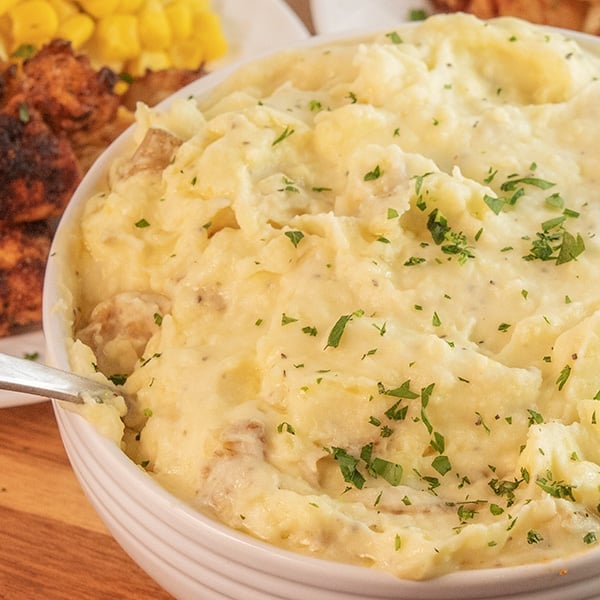 INGREDIENTS
3 pounds yukon gold potatoes – washed, and cut into large rounds (peel if you wish)
2 cups water or chicken broth
1- 8 ounce package cream cheese
4 tablespoons butter
1/4 cup sour cream
1/4 cup milk
1 teaspoon kosher salt
1/2 teaspoon black pepper
1/2 teaspoon garlic powder
DIRECTIONS
Place prepared potatoes into Instant Pot.
Add in 2 cups chicken broth or water
Place the lid on the Instant Pot making sure the valve is set to "sealing."
Press "manual" – high pressure, then set the timer to 12 minutes.
When the timer goes off, quick release the pressure by switching the valve from "sealing" to "venting."
Drain any excess liquid.
To the cooked potatoes, add in cream cheese, butter, sour cream, milk, salt, black pepper, and garlic powder.
Mash the potatoes with a hand masher or use a hand mixer and mix until creamy and smooth or leave a few chunks if desired.
Enjoy!
Servings: 6