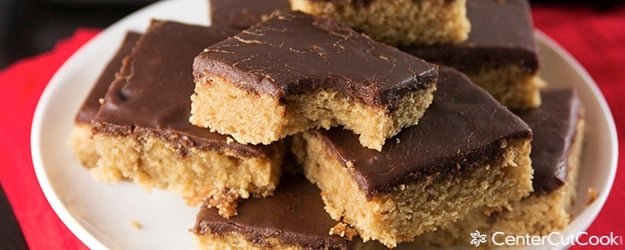 If someone were to ask me what my favorite flavor combination is, without hesitation, I'd say peanut butter and chocolate. In my book, there are few other flavor combinations that even come close to the amazingness of good ole chocolate and peanut butter!
When I decided I wanted to share a recipe for peanut butter sheet cake with you, I admit, I was torn on which frosting would go best. Despite my love for all things peanut butter and chocolate, for a second I did consider making this peanut butter sheet cake with peanut butter frosting, just because the peanut butter frosting recipe I use on these chocolate peanut butter cupcakes knocks my socks off.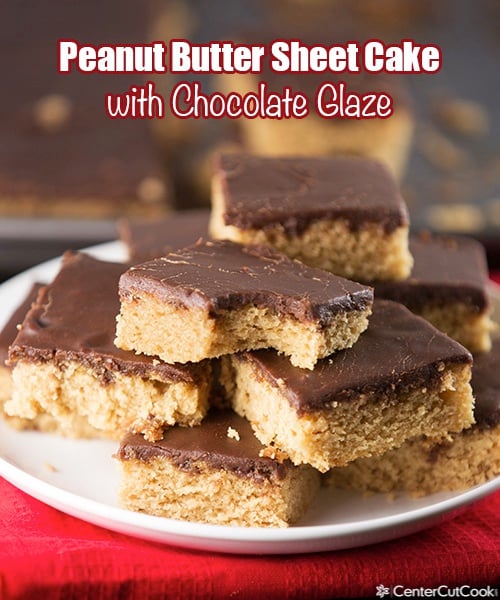 The more I thought about it, the more I realized that this peanut butter sheet cake recipe, made from scratch of course, would go best with a decadent chocolate glaze. I mean, can you ever go wrong pairing peanut butter cake with chocolate?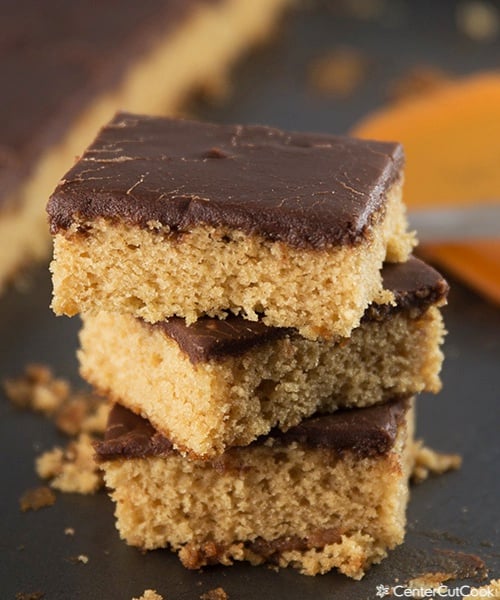 Sometimes making cake and frosting recipes from scratch means a little more time is spent in the kitchen. What I love about this recipe is that it comes together so fast. By that, I mean, this cake is fully baked in 15 minutes. 15 minutes!!! That's hard to beat!
As the cake bakes, you'll make the simple chocolate glaze on the stovetop. This is probably one of the fastest, easiest glaze recipes you'll ever make. All of the ingredients get tossed into a saucepan and heated until smooth.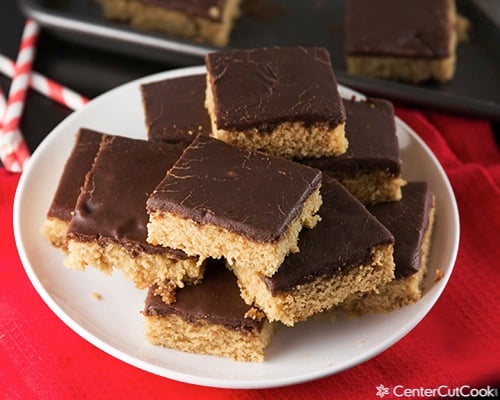 You'll get about 30 pieces of cake from one batch which means this cake is perfect for feeding a crowd!
I adore this cake so much that I have fabulous plans to turn it into decadent cake pops or cake balls. Mmmm…. cake balls! For now, enjoy it as a super easy to make, delicious Peanut Butter Sheet Cake that is sure to be a hit!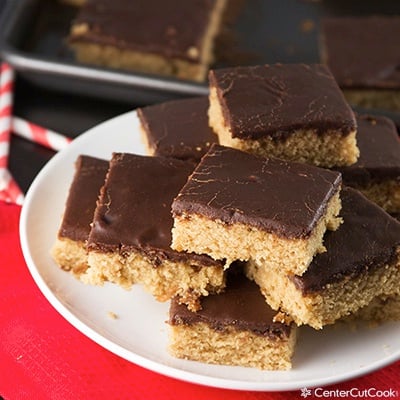 CAKE INGREDIENTS
8 Tablespoons unsalted butter
1/4 cup creamy peanut butter
1 cup water
1 cup sugar
1 cup brown sugar
2 cups all-purpose flour
1/2 teaspoon salt
1 teaspoon baking soda
2 large eggs
1 tablespoon vinegar
1/2 cup milk (I used 1%)
2 teaspoons vanilla
GLAZE INGREDIENTS
DIRECTIONS
Pre-heat your oven to 375 degrees and prepare a 12 x 17 inch jellyroll pan by spraying it with non-stick cooking spray or greasing it with butter.
In a large sauce pan, combine 8 tablespoons unsalted butter with 1/4 cup creamy peanut butter and 1 cup water. Heat over medium high heat until it comes to a rolling boil. Remove from heat and set aside.
With your mixer, combine 1 cup sugar with 1 cup brown sugar, 2 cups flour, 1/2 teaspoon salt, and 1 teaspoon baking soda.
Pour the peanut butter mixture into the dry ingredients.
Add in eggs, one at a time, and mix well.
Add in 1/2 cup milk, 1 tablespoon vinegar, and 2 teaspoons vanilla and mix to combine.
Pour into the prepared jellyroll pan and bake for 15-17 minutes, or until a tooth pick inserted into the center of the cake comes out clean.
While the cake is baking, prepare the frosting. In a large sauce pan, combine 8 tablespoons of butter with 1/4 cup milk, 4 tablespoons cocoa powder, 1 and 1/2 teaspoons vanilla. When this mixture is smooth, slowly add in confectioners sugar, one cup at a time and continue stirring until you've added all of the sugar and the mixture is smooth.
When the cake is done baking, allow it to cool for 10 minutes before pouring the warm glaze over the cake. Use a spatula to smooth the glaze out.
Allow to cool completely, then serve.
Recipe from
CenterCutCook