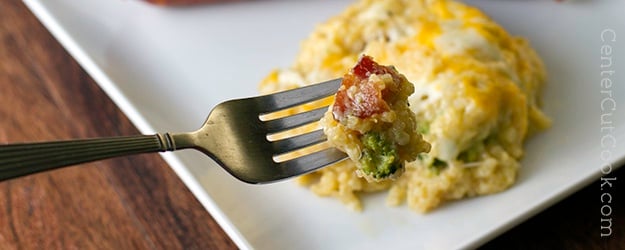 Way back in August last year, I took the plunge and decided I'd try cooking with quinoa for the very first time. I had every intention of cooking with quinoa regularly, so I bought a HUGE bag of the stuff at Costco. My first recipe was Southwestern Quinoa Casserole and it was a total hit! And then…. and then I didn't touch the bag of quinoa until last week when this Quiona Mac n' Cheese with Bacon & Broccoli was made.
I really don't know why I haven't cooked with it for seven months, perhaps it's because I don't have any great recipes on hand? As I was cleaning out my teeny tiny pantry and came across the mega bag of Quinoa, I knew I needed to get to work and find some other ways to use it. I started by checking the expiration date. Phew… still good there. Then, I thought about recipes that I already had, that could be adapted to include quinoa.
The first one that came to mind? Four Cheese Macaroni and Cheese. I know, way to pick one of the most indulgent recipes on this site! Gah! What can I say, I'm a sucker for pretty much anything pasta related, but throw some cheese in there and I'm set! I tweaked the recipe a bit, and didn't include four different cheeses, but the result was still fantastic! I wouldn't call this health food by any stretch of the imagination, but I'd say it's a step above traditional mac n' cheese and a great way to incorporate more quinoa into your diet. And bacon. And cheese. Lets be honest here.
I should note that if you don't like broccoli or bacon in your macaroni and cheese, you can totally leave it out and you don't have to change a thing. They were great additions though, so I'd recommend keeping them! You'll need about 3/4 cup of broccoli, steamed, along with a few slices of bacon. I used about three slices of bacon, you can use more or less depending on your preference.
For cheeses, I used a trio of cheeses that I already had on hand – sharp cheddar, mozzarella, and parmesan. You'll need a total of about 2 1/2 cups of cheese total, so mix it up any way you'd like!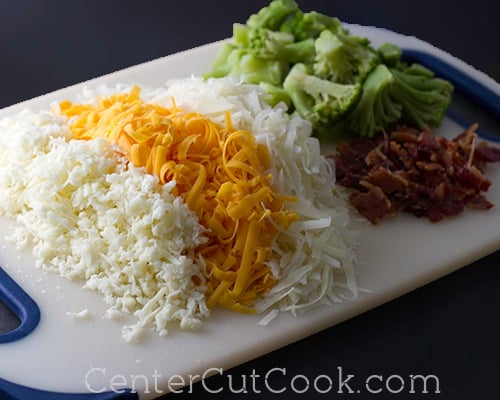 When you cook quinoa, you'll want to cook it in some chicken broth instead of water. It adds tremendous flavor! I used about one cup of quinoa which doesn't look like much before it's cooked. Once it absorbs all the liquid though, it fluffs up just like this:
The sauce for this macaroni and cheese comes together quickly on the stovetop, you'll just need butter, flour, half and half, and cheese! Once the macaroni and cheese is made, it'll get scooped into a 1 and 1/2 quart casserole dish, and topped with a little more cheese, then baked for about 10-15 minutes. It works great as a side dish, or can even work as a main dish as well!
We really enjoyed this recipe, as in… it's definitely going on the list of fabulous quinoa recipes to rotate through! Now hopefully it won't take me another 7 months to come up with the next quinoa recipe! :)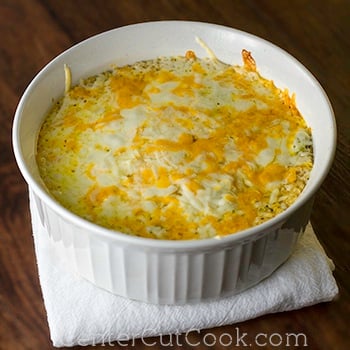 INGREDIENTS
1 cup quinoa
2 cups chicken or vegetable stock
3/4 cup steamed broccoli
3 slices bacon, cooked and crumbled
2 tablespoons butter
2 tablespoons flour
1 cup half and half
1/4 teaspoon black pepper
1/4 teaspoon salt
1 cup sharp cheddar cheese
3/4 cup Mozzarella cheese
3/4 cup parmesan cheese
DIRECTIONS
Pre-heat your oven to 350 degrees.
In a large sauce pan, cook 1 cup quinoa in 2 cups chicken stock. Bring to a boil, then cover, reduce heat, and simmer about 15 minutes, or until quinoa is fluffy and all of the liquid has been absorbed.
While the quinoa is cooking, melt 2 tablespoons butter over medium heat in a large non-stick skillet. When the butter is melted, whisk in 2 tablespoons flour and cook for a couple of minutes.
Slowly pour in half and half and whisk vigorously to remove any lumps or clumps. Reserve 1/2 cup of cheese and place off to the side. Reduce heat to low. Add remaining cheese to the pan a little at a time making sure to constantly stir. When the cheese has melted, add in salt and pepper.
When the quinoa is done, add the quinoa to the cheese sauce. Stir in steamed broccoli and cooked bacon. Pour into a 1 and 1/2 quart casserole dish. Top with reserved cheese and bake for 10-15 minutes, or until the cheese on the top is melted and bubbly.
Recipe from
CenterCutCook