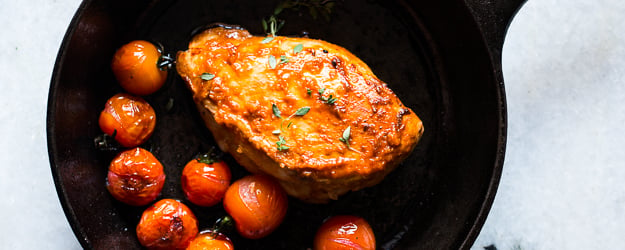 Not much to see here guys, except for THE best Spicy Chicken Breast Recipe that leaves you with juicy, flavorful, SPICY chicken! If you're looking for a spicy recipe to add a little heat to your weeknight dinner rotation, this versatile recipe for Spicy Chicken Breasts is perfect. It can be the shining star as a main entree, or you can get creative with other delicious options including using it to make a Spicy Chicken Sandwich or cut up in pasta.
Speaking of pasta, have you tried our Spicy Chicken Rigatoni yet? It's made with spicy chicken, tons of garlic and a combo of Alfredo and marinara sauce. It has remained a reader favorite for years!
This recipe for spicy chicken breasts is my favorite because it has lots of flavor, the zippiness from the spice (say bye to boring, tasteless chicken breasts) and are really juicy. The last part is key. Juicy chicken breasts can be a little tricky but just follow these steps and you should be good.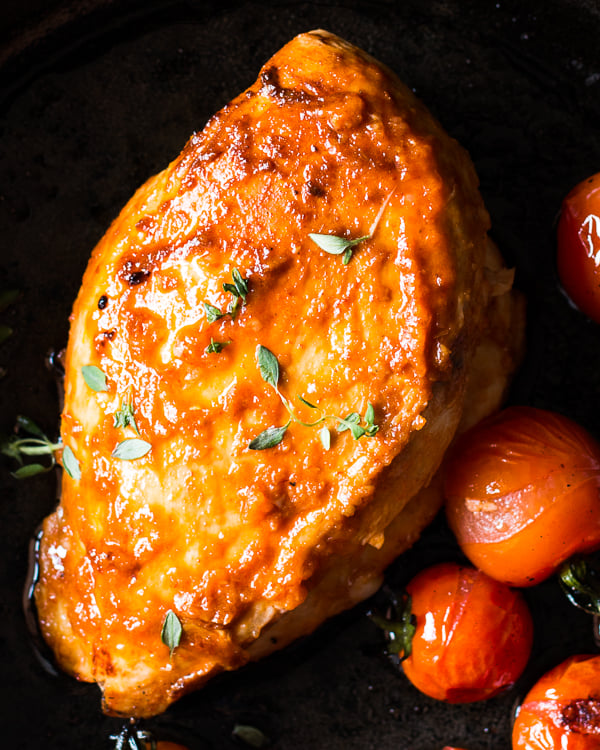 Spicy Chicken Breast Ingredients
You only need 5 ingredients to make this recipe:
Oil – olive oil or avocado oil
Chicken breasts – this recipe is written to make two chicken breasts that are each about 8 ounces each. You can easily double the recipe to make more chicken. Be sure to pound your chicken to an even thickness before cooking them for the best results.
Sriracha – we use 1 tablespoon. Use more or less to taste
Garlic – 3 cloves, minced. Alternatively, you could use ½ teaspoon garlic powder
Salt and Pepper – About ½ teaspoon each of salt and black pepper
Ways to use Spicy Chicken Breasts in Recipes
We like to serve these Spicy Chicken Breasts over rice with a side of roasted vegetables. Alternatively, you could make a delicious spicy chicken breast sandwich! Toast up a bun, add some spicy mayo and greens along with the spicy chicken breast and you have a delicious spicy chicken sandwich! You could also cut up the spicy chicken to add to your favorite pasta dishes.
Another deliciously spicy idea is to chop up these spicy chicken breasts to use in Buffalo Chicken Dip! Have you had it before? My recipe calls for 2 cups of shredded chicken or chopped chicken. Using these spicy chicken breasts adds a whole new level of heat and combined with Frank's Red Hot Cayenne Pepper Sauce?! So good!
More Spicy Chicken Recipes:
Looking for more spicy chicken recipes? If you haven't tried our Spicy Chicken and Eggplant Stir Fry, you must! It's flavorful, healthy and delicious and ready in under 30 minutes. Another favorite is this Spicy Sausage Skillet recipe made with Italian Chicken Sausage. It is always 10 out of 10.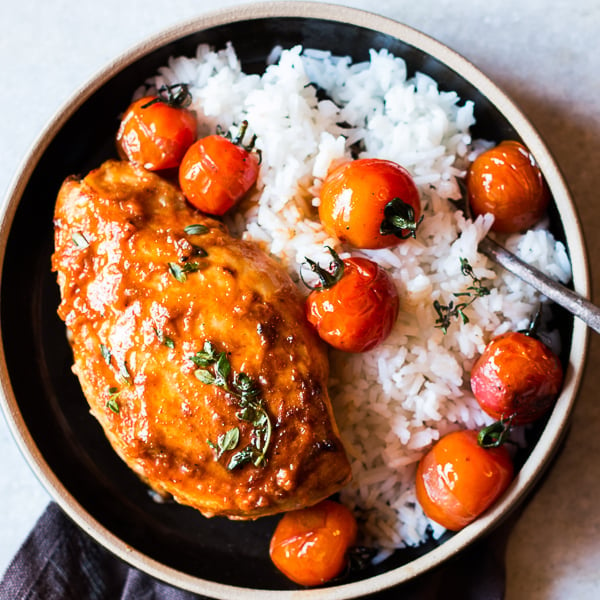 INGREDIENTS
1 tablespoon olive oil or avocado oil
2 Chicken Breasts (use a mallet to pound each chicken breast to an even thickness)
1 tablespoon Sriracha
3 Garlic cloves, minced or ½ teaspoon garlic powder
½ teaspoon each of salt and black pepper (more or less to taste)
DIRECTIONS
Using a kitchen mallet, pound each chicken breast to an even thickness.
In a small bowl, combine sriracha, garlic, salt and black pepper.
Coat both sides of the chicken with this mixture, cover, and set aside for 15 minutes.
In a large skillet, heat 1-2 tablespoons oil over medium high heat.
Add the chicken and cook for 4 minutes, flip the chicken and cook for an additional 4 minutes. If needed, add a bit of chicken broth or a small amount of water to the pan.
Turn off the stove, cover the chicken, and allow it to rest for 5 minutes. Ensure that the internal temperature of the chicken is 165 degrees F before serving.
Servings: 2