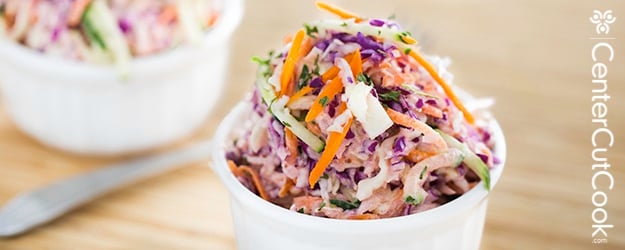 It's BBQ season which means it's time to pull out all of your favorite BBQ recipes! I've already got you covered with the pasta salad and the potato salad with my Easy Ranch Pasta Salad and Roasted Potato Salad, and now I've got you covered on the cole slaw front as well with this restaurant style Spicy Cole Slaw! It packs a bit of heat, but not too much, and the heat level can be easily adjusted.
Shall we get started? Begin by prepping all of the veggies! You'll need a heaping cup of shredded carrots. I like to use my food processor to shred my own, but feel free to take a shortcut and buy shredded carrots from the grocery store!
Next, you'll need shredded cucumber, about 1 and 1/2 cups. I used a seedless cucumber and ran it through the food processor to get perfectly shredded pieces. You'll also need a few green onions, sliced. If you don't have a food processor, just chop all of the veggies by hand.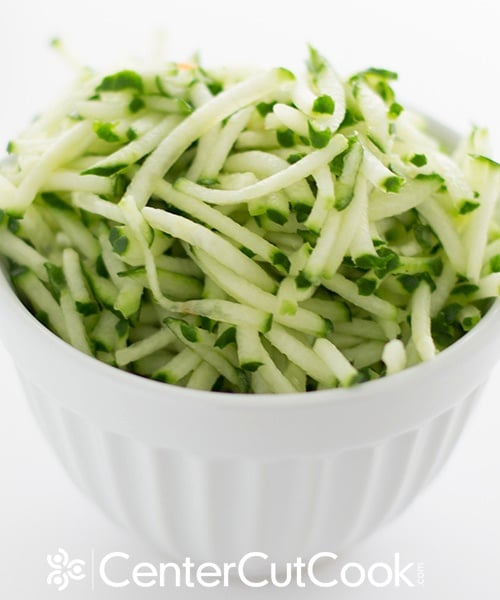 Along with the carrots, cucumber, and green onions, you'll need about 5 cups of cabbage. I used half green cabbage and half red cabbage. Use whatever you have on hand!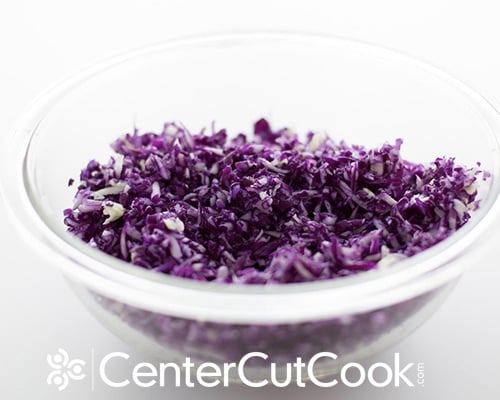 The dressing consists of apple cider vinegar, sugar, salt, black pepper, mayo, a little sour cream, horseradish, and coarse grained dijon mustard. You'll also need a pinch of red pepper flake, and a little cayenne pepper. Feel free to leave both of these ingredients out if you want it extra mild!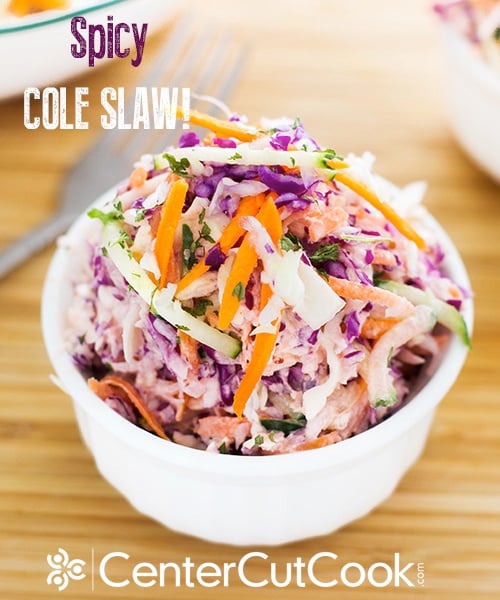 Toss all of the veggies together, then stir in the dressing. Cover tightly and chill in the refrigerator for at least 2 hours before serving! Stir well, right before serving and enjoy!
We have been eating this cole slaw for YEARS! It's such a nice variation from traditional cole slaw, and because you can easily adjust the heat, it can be enjoyed by all. Be sure to follow the directions when it comes to allowing the slaw to chill. It gets better and better, the longer it sits in the fridge.
In addition to being a perfect side, this cole slaw also tastes divine when it gets piled on top of homemade Slow Cooker Pulled Pork Sandwiches! Have you had cole slaw on a pulled pork sandwich before? It's fabulous!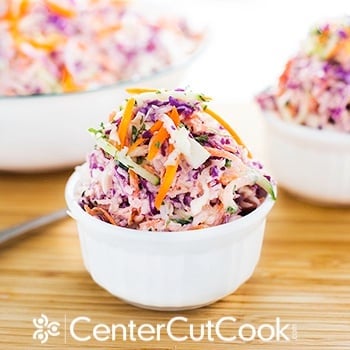 INGREDIENTS
5 cups cabbage (I used half red, and have green)
1 cup shredded carrots
3 green onions, chopped
1 1/2 cups cucumber, shredded or diced (I used seedless, if you use a regular cucumber, try to remove as many seeds as possible)
1 teaspoon lemon juice
1/4 cup apple cider vinegar
2 tablespoons granulated sugar
3/4 teaspoon salt
1/2 teaspoon black pepper
1/2 cup mayo
2 tablespoons sour cream
1 1/2 tablespoons prepared creamy horseradish
1 1/2 teaspoons coarse grained dijon mustard
A pinch or two of red pepper flake (omit if you don't want it spicy)
1/4 teaspoon cayenne pepper (omit if you don't want it spicy)
DIRECTIONS
In a large bowl, combine cabbage, carrots, and green onion. Toss the cucumber with the lemon juice, then add it in with the veggies.
In a small bowl combine apple cider vinegar, granulated sugar, salt, black pepper, mayo, sour cream, horseradish, coarse grained dijon mustard, red pepper flake, and cayenne pepper. Use a whisk to stir all of the ingredients together. Pour the sauce in with the slaw mixture, then site well.
When the dressing is well combined with the veggies, cover the bowl and refrigerate for at least two hours before serving.
*If you want this cole slaw really spicy, increase the amount of cayenne pepper and red pepper flake that you use.
Recipe adapted from
Emeril Lagasse