One of my favorite places to shop for meat is Costco, simply because I've always had good luck with the quality of meat that they sell. Despite the fact I am usually only cooking for two, the mega packs of meat that they sell doesn't scare me away because of recipes like these Steak Quesadillas! When I buy a large package of steaks, we typically grill them all, and then I find yummy ways to use the leftovers!
If your'e looking for a way to use up leftover steak, look no further than Steak Quesadillas. Tender steak, gooey cheddar cheese, sautéed bright red peppers, and cilantro round out this simple supper that's ready in about 15 minutes! I typically serve them with my recipe for homemade classic salsa, The Best Guacamole, and sour cream.
When I'm feeling particularly lazy, or I don't have peppers and cilantro on hand, I go the simple route and make extra simple steak and cheese quesadillas with… well… just steak and cheese. They are still super delicious and perfect for a night when you only have a few minutes to throw dinner together. This time around we had purchased a four pack of filet mignon so that's what I used, however, feel free to use whatever leftover steak you have on hand. Marinated flank steak would be lovely as well.
To go all out: Make sautéed peppers to sandwich in-between the tortillas with the steak and cheese, and top with some fresh cilantro. Additionally, shred your own cheese. It'll melt better.
To simplify: Simply use steak and cheese (pre-shredded is fine, but if you shred your own it'll melt better)! Easy peasy!
Note: I didn't specify how much of any ingredient to use for a reason. Just use whatever amount looks good to you. It's nearly impossible to screw this up.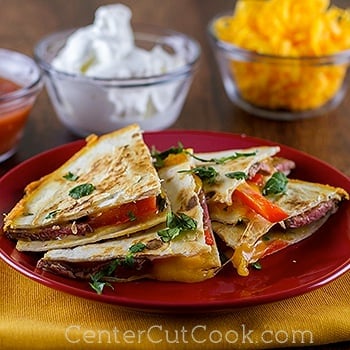 INGREDIENTS
2 fajita sized tortillas per quesadilla
Cheddar Cheese, shredded
Leftover cooked steak of your choice, cut into thin slices
Sautéed red pepper strips (I typically cut a pepper into strips and sauté it with a bit of olive oil, and a little salt, pepper, and oregano until tender)
Chopped fresh cilantro
Garnishes: Fresh Salsa, The Best Guacamole, and sour cream
DIRECTIONS
Heat a non-stick skillet over medium heat.
Place one tortilla in the pan. Sprinkle with cheese, then add in strips of steak, red pepper and cilantro. Top with more cheddar cheese. Place another tortilla on top.
When the bottom of the quesadilla is nicely browned, flip it and cook until the other side is nicely browned as well and the cheese is melted.
Cute into quarters and serve with any garnishes you'd like.
Recipe from
CenterCutCook