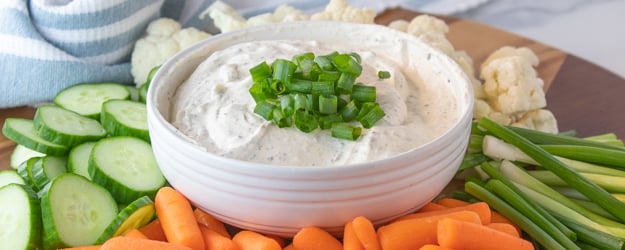 The best homemade ranch dip! Period. The name speaks for itself, and there is not much else to say about this quick and easy ranch dip, ranch sauce, or whatever you'd like to call this combination of ingredients. Do you call it ranch dip or ranch sauce?
It's party time 🎉 and I'm responsible for bringing an appetizer. I will always be brining the ranch dip. Whether it's ranch dip with veggies, ranch dip with chips, or these incredible Fried Pickles with ranch.
If you're looking for the perfect dip for your next party – this is it! (Pssst…. if you're also looking for the perfect ranch dip to dip your pizza in, use this one! Any other ranch pizza dippers out there?)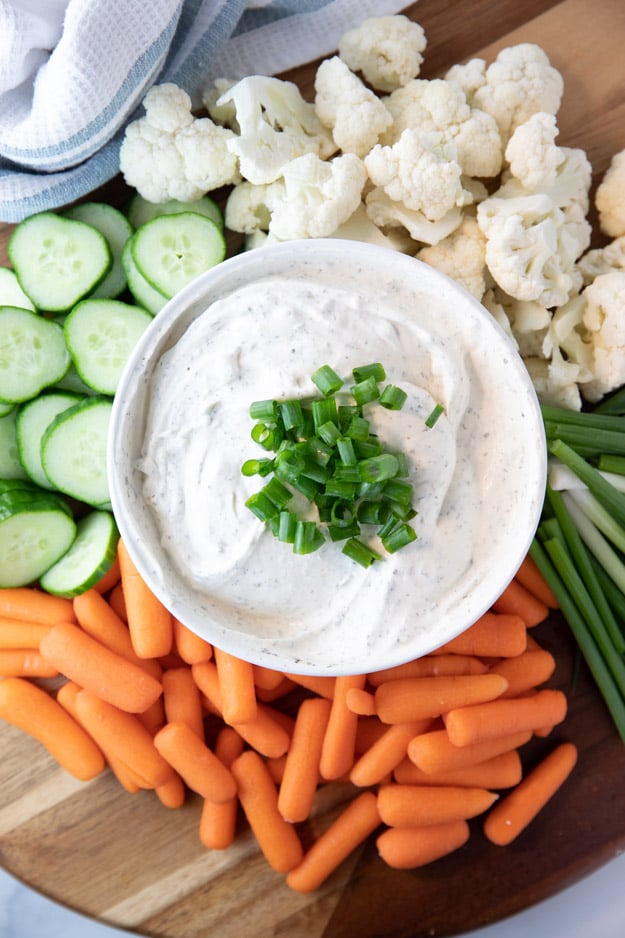 ranch dip ingredients:
Do you want to know the secret to the best ranch dip? I truly believe it comes down to using quality of ingredients along with the right ratio of seasonings.
You'll need:
Mayo – I like to use Hellman's Mayo
Sour Cream – I like to use the Daisy brand. I do not recommend using a reduced fat option for this.
Seasonings:
Dill
Dried Chives (or fresh or a combination of dried and fresh)
Dried Parsley
Coarse pepper
Salt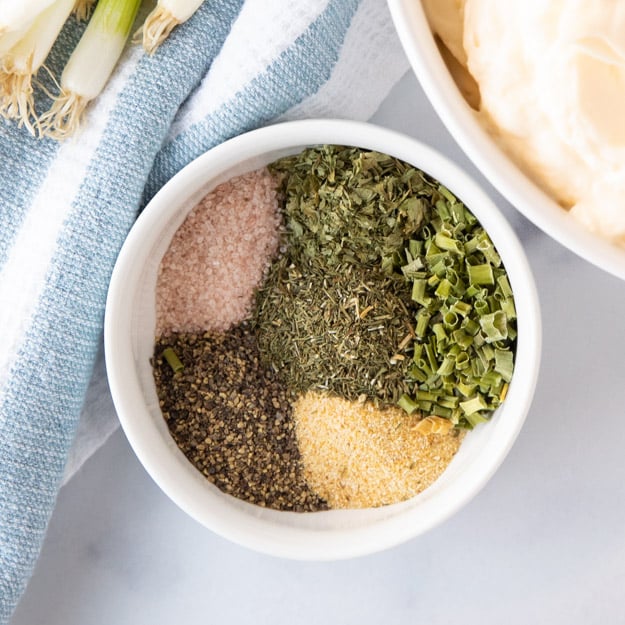 can I make this ahead of time
Yes, you can make Ranch dip ahead of time. In fact, you will want to make it ahead of time! You will want this ranch dip to chill in the refrigerator for at least an hour but a day or two ahead of time is great. If you'd like to garnish your ranch dip with fresh chives, wait until just before serving to add the green onions. Of course the garnish is optional! Most often I leave off the garnish unless I'm entertaining. There is almost always a bowl of this ranch dip in my refrigerator all week long!
Double or triple the recipe for serving large crowds!
more ranch recipes to try
I'm from the midwest where ranch goes with just about anything and everything. Here are some of my favorite ranch recipes that you gotta try:
Chicken Bacon Ranch Pasta Salad
Bacon Cheese and Ranch Pull Apart Bread
Prior to making my own ranch dip, I was brand loyal to using Hidden Valley Ranch Dip Packets. But once you try this recipe, you won't go back!
If you try this recipe, and I hope you do, please feel free to take a photo and tag me on social media!
Now let's get cookin.' Enjoy!
INGREDIENTS
1 cup mayonnaise
1/2 cup sour cream
1 teaspoon garlic powder
1 teaspoon dried parsley
1 teaspoon dried chives
3/4 teaspoon coarse black pepper
1/2 teaspoon salt
1/2 teaspoon dried dill
DIRECTIONS
In a large bowl combine mayonnaise and sour cream.
Add in garlic powder, dried parsley, dried chives, coarse black pepper, salt and dried dill.
Stir until all ingredients are combined well.
Refrigerate for at least an hour before serving.