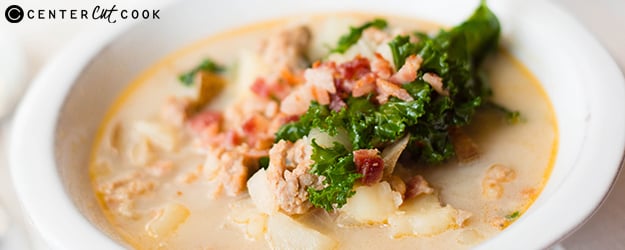 Make your own Zuppa Toscana Copycat soup at home – tastes just like the favorite Olive Garden soup and is so easy!
Being a food blogger can be a blessing and a curse.
A blessing because, let's be honest, I get to cook and eat and talk about it. Honestly, my job kinda rocks.
Until it's time to go out to dinner.
Then, everything falls apart. After making my own food from scratch for years, it has become so difficult to genuinely enjoy a meal at a restaurant because I have become so critical of food. I pick apart the flavors, the presentation, the preparation, and the love for every single little thing I order.
And, so very often, I am disappointed.
That's what makes copycat recipes such a great thing! Now, I get to make my favorite meals from restaurants I used to really enjoy, but, alas, I have become too darn picky to enjoy if I went and paid money for them. For example, I LOVE this zuppa toscana copycat soup. It really does taste a lot like the beloved soup at Olive Garden, and you can have it in the comfort of your own home any night of the week.
Plus, you can make it yourself for a fraction of the price, get more flavor, and "be served" a whole lot quicker than all the hassle of driving to a restaurant and waiting for your order. Now, there won't be breadsticks…which is an arguable counter to my whole plan! Or is it?
Speaking of, if you're looking to lighten up this zuppa toscana, you can replace the Italian sausage with chicken Italian sausage or just ground chicken for an even leaner option. Also, sub out the heavy cream for regular low-fat milk or, my favorite, almond milk. It won't be quite as luscious and creamy, but it'll still be an amazing dinner.
INGREDIENTS
1 lb. italian sausage
1/2 yellow onion, diced
2 cloves garlic, minced
1/4 tsp. crushed red pepper flakes
1 large russet potatoes, sliced in half and then in 1/4-inch slices
3 cups chicken stock, plus more as needed
3 slices bacon
2 cups kale, veins removed
1/4 cup heavy cream
1/2 tsp. kosher salt, plus more to taste
1/4 tsp. ground black pepper, plus more to taste
DIRECTIONS
Add the Italian sausage to a deep stock pot and cook until well-browned, about 6-8 minutes, making sure to crumble the sausage as it cooks.
Add the onion and cook, stirring frequently, until it starts to sweat, about 3-4 minutes.
Add the garlic and red pepper flakes, and cook an additional minute, until the garlic is fragrant.
Add potatoes and chicken stock and cook until the potatoes are tender, about 10 minutes.
While waiting for the potatoes to cook through, heat a separate skillet over medium-high heat and cook the bacon until crispy. Once crispy, allow to cool and then crumble.
Stir in the crumbled bacon and kale and cook until the kale begins to wilt, about 1-2 minutes. Stir in the heavy cream until heated through, about 1-2 minutes.
Season with salt and pepper, to taste.
Servings: 4