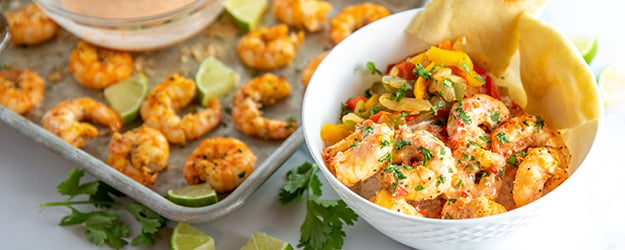 Let me tell you the tale of this easy-to-make air fryer shrimp recipe that's saucy, sweet, slightly spicy, and ready in minutes. Bonus – this shrimp is made with no breading which makes it even faster.
The base of this recipe is raw shrimp which get seasoned up and tossed in the air fryer where it takes only minutes for them to cook!
But what I really want you to know about is the dreamy, saucy sauce that you'll whip up while the shrimp cook.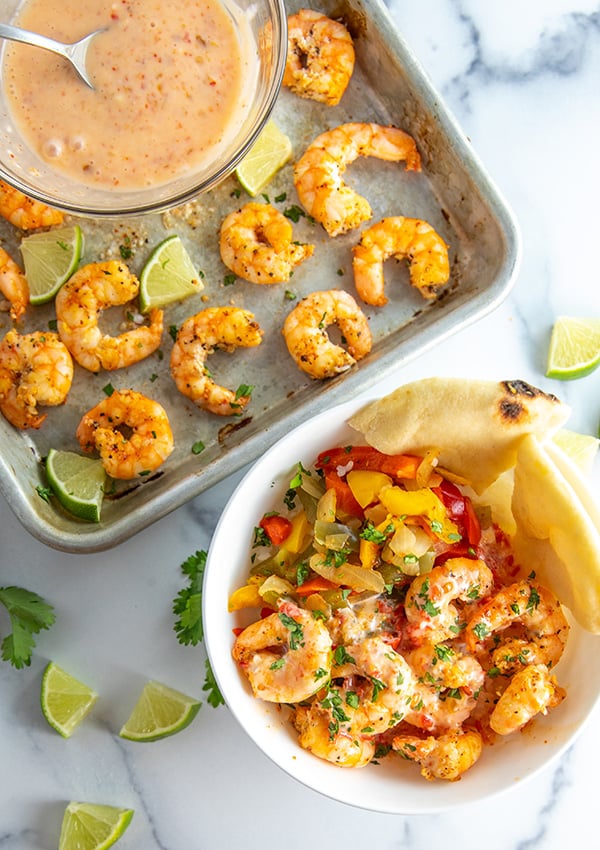 How do you air fry shrimp with no breading?
Making shrimp in the air fryer is super simple. Start with about 1 pound of raw fresh shrimp. I used jumbo sized which gives you 18-20 shrimp per pound.
Season it however you'd like. For this recipe we used salt, black pepper, tajin (you could substitute chili powder), and smoked paprika along with 2 cloves of fresh minced garlic.
Toss the shrimp with a little olive oil, and they are ready for the air fryer!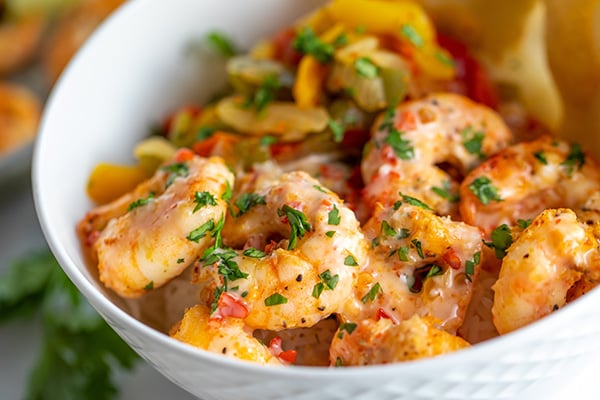 Air Fryer Shrimp Temperature
For this recipe, you will want to preheat your air fryer. Allow the air fryer to preheat at 400 degrees F.
Once the air fryer is preheated, arrange the seasoned shrimp evenly, then cook for 7-8 minutes. You do not need to flip the shrimp.
Creamy Sweet Chili Sauce for Shrimp
While the shrimp cook, you'll prepare the sweet chili sauce.
To make sweet chili sauce for shrimp you will need Thai Sweet Chili Sauce, mayo, and a squeeze of fresh lime juice. Combine all ingredients in a small bowl, then set aside.
When you remove the shrimp from the air fryer you have two options with the sauce:
1. Add the shrimp to the bowl of sauce and toss to coat. Or…
2. Drizzle the sauce over the top of the shrimp before serving.
You can't go wrong with either option. Both are delicious!
If you're familiar with my Bang Bang Shrimp or Bang Bang Chicken, the sauce is very similar.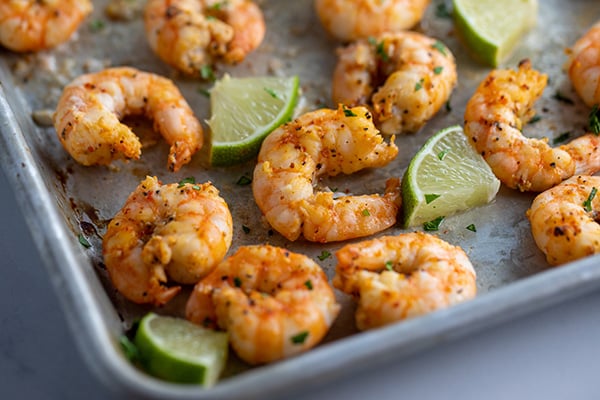 How do you thaw frozen shrimp faster
For frozen shrimp, allow them to thaw before making the recipe. You can thaw in the refrigerator overnight, or, for faster thawing you can take the shrimp out of the package and place them in a bowl of cold water. It'll only take about 15-20 minutes for the shrimp to thaw using this method.
Once the shrimp are thawed, drain the water and pat the shrimp dry with paper towels.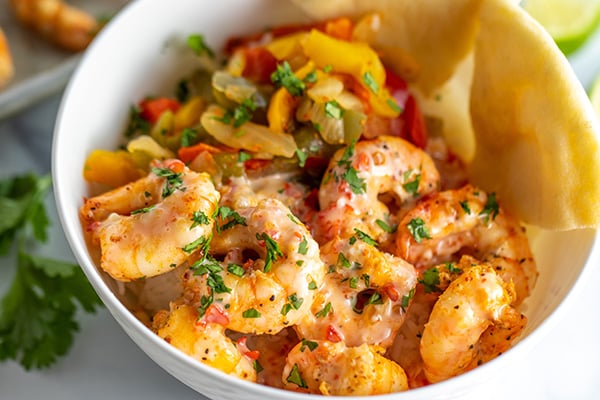 What to serve with Air Fryer Shrimp with Sweet Chili Sauce
My favorite way to serve these shrimp is to make Shrimp Bowls with them! Start with a base of rice (here's How to Make Perfect Rice), add sautéed veggies, then top with shrimp. Drizzle the Sweet Chili Sauce over top (or toss all of the shrimp in the sauce first), garnish with chopped fresh cilantro and serve.
I like to make sautéed peppers and onions to go along with the shrimp, but I've also used snap peas as well.
Make this Garlic bread as another delicious option to go along with it.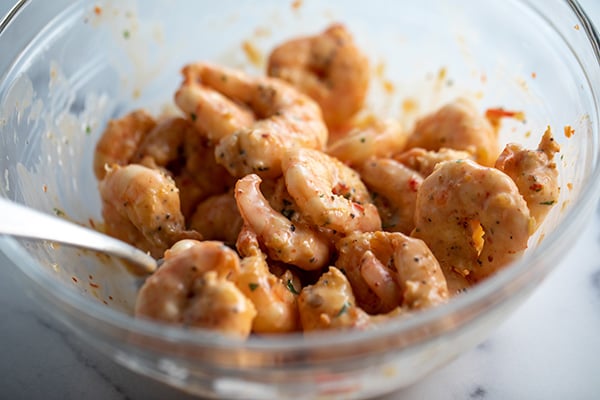 More delicious shrimp recipes
Looking for more shrimp recipes? This recipe for Crunchy Fried Shrimp is always a favorite!
Shrimp Scamp Pasta is delicious as well. Tender shrimp and pasta are tossed together in a scampi sauce with garlic and parmesan.
We hope you enjoy this easy shrimp recipe made right in the air fryer. Air Fryer Shrimp with Sweet Chili sauce requires less than 10 minutes of prep time and less than 10 minutes of cook time, dinner is ready in under 20 minutes!
Enjoy!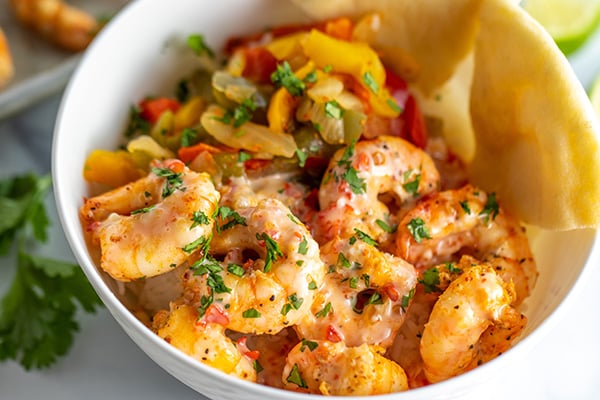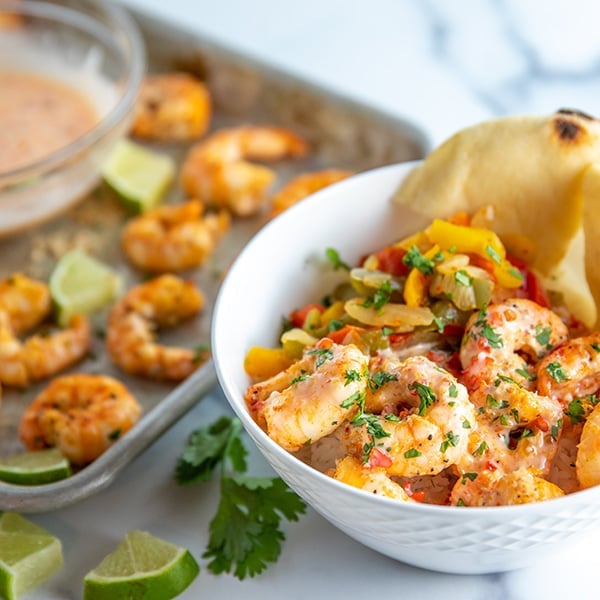 INGREDIENTS
1 pound raw jumbo shrimp – peeled, deveined
2 teaspoons olive oil
1/2 teaspoon each of salt and black pepper
1 teaspoon Tajín OR chili powder
1/2 teaspoon smoked paprika
2 cloves garlic, minced
1/4 cup Thai sweet chili sauce
1/4 cup mayo
1 tablespoon fresh lime juice (juice from about 1/2 of a lime)
Chopped fresh cilantro for garnish
DIRECTIONS
Place the shrimp in a bowl and season with salt, black pepper, Tajín (or chili powder), and fresh garlic.
Add in 2 teaspoons olive oil and toss to coat.
Preheat air fryer to 400 degrees F.
Add shrimp to the air fryer, making sure to space evenly. Do not overcrowd the air fryer. Cook in batches if needed.
Air fry for 7-8 minutes.
While the shrimp cook, make the sauce. In a small bowl combine Sweet Chili Sauce with mayo and fresh lime juice.
When shrimp are done, toss in sauce or drizzle the sauce on top and garnish with chopped fresh cilantro.
Servings: 2-3