Whether you call it Chicken Parmesan or Chicken Parmigiana, it doesn't really matter because both names describe the absolutely delicious recipe that consists of a breaded chicken breast covered in tomato sauce and topped with cheese — mozzarella, parmesan or provolone, just to name a few options. In Italian restaurants all across America, you'll find this Italian inspired Chicken Parmesan that's actually quite easy to make at home. Chicken Parmesan is crispy, cheesy perfection and a must make recipe that is ready in under 30 minutes.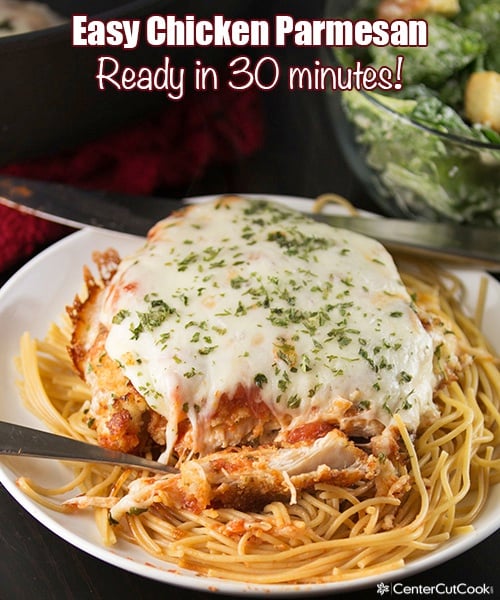 Steps for making the best Chicken Parmesan
There are a few steps you need to take to ensure that you end up with the most delicious Crispy Chicken Parmesan.
Pound the chicken breasts using a kitchen mallet until they are ¼ inch thick. Chicken breasts that are an even thickness provide the best results. If you do not have a kitchen mallet, other options you could use include a rolling pin or an empty wine bottle.
Seasoning the chicken generously with salt, black pepper and garlic powder along with Italian seasoning.
Don't skip the panko bread crumbs. This recipe calls for a combination of traditional bread crumbs and Panko bread crumbs. The panko bread crumbs provide the perfect crunch!
Finely grate your parmesan cheese using a microplane grater. The breadcrumb mixture consists of bread crumbs, panko bread crumbs, and finely grated parmesan cheese.
Ensure that the oil is hot before you add the chicken. If you place the chicken in the pan before it has thoroughly preheated, it will not be as crispy.
You'll start by coating the chicken by first dusting it with a little bit of flour, then dipping it in egg-whites before coating it in a combination of panko bread crumbs, regular bread crumbs, and finely grated parmesan cheese.
To get the crispiness that really makes Chicken Parmesan a stand-out meal, you'll pan fry it in a little bit of canola oil for a couple of minutes on each side. Then it'll go into the oven to finish baking. As the chicken finishes baking in the oven, you can prepare your sides to go with chicken parmesan.
Sides for Chicken Parmesan
Almost as important as the recipe for Chicken Parmesan are the best side dishes to serve with it. Traditionally Chicken parmesan is served atop a bed of pasta like spaghetti!
A great alternative to traditional pasta would be to serve this Chicken Parmesan with a side of zucchini noodles, often called zoodles! Here's our quick guide that explains how to make zucchini noodles. You'll want to sauté the zoodles in a little bit of olive oil until they are tender.
In my very humble opinion, the most perfect side dish for Chicken Parmesan would be this Perfect Cheesy Garlic Bread. Another great choice would be this Classic Ceasar Salad with creamy dressing or this Chopped Caprese Salad.
Other side dish ideas to serve with Chicken Parmesan:
Broccoli Salad
Sautéed broccoli florets
Roasted Brussels sprouts
Green Beans
How to Reheat Chicken Parmesan
This is by far, the best chicken parmesan that has come out of my kitchen! If you happen to have leftovers, you can use them to create a chicken parmesan sandwich which is also super delicious!
You may be wondering how to reheat your leftover chicken parmesan. Avoid the microwave if you can, because it'll most often leave you with soggy chicken. Your best bet for reheating Chicken Parmesan would be one of two options:
Oven: reheated Chicken Parmesan should be placed in a 400 degree oven for about 12-15 minutes, or until heated through.
Air Fryer: Preheat air fryer to 350 degrees F then place leftover Chicken Parmesan in the preheated air fryer for about 5 minutes, or until it's heated through.

More Crispy Chicken Parmesan Recipes

If you can't get enough of crispy chicken parmesan recipes, I've got two must make recipes that you need to try starting with this recipe for Parmesan Crusted Chicken. It calls for a secret ingredient that keeps the chicken juicy and tender! Another absolutely delicious option is this recipe for Parmesan Crusted Chicken Alfredo!

If you're looking for a perfect main dish that the entire family will love, this Easy Chicken Parmesan is a winner. The combination of crispy breaded chicken with melty mozzarella and marinara sauce is absolute perfection. From start to finish this recipe is ready in only 30 minutes. This recipe, as written, is perfect for two (if you want leftovers) to four, but you can easily double the recipe if you are feeding more. Enjoy!

INGREDIENTS

1 pound (about 3 medium sized) boneless skinless chicken breasts, pounded to 1/4 inch in thickness.
Salt, pepper, garlic powder for seasoning the chicken
1/4 cup all-purpose flour
1/2 teaspoon Italian seasoning (alternatively, use a combination of dried oregano and basil)
2 egg whites, beaten lightly until frothy
1/2 cup bread crumbs
1/2 cup panko bread crumbs
1/2 cup finely grated parmesan cheese
2 tablespoons finely grated parmesan cheese
2 tablespoons canola oil
1/2 cup spaghetti sauce of choice
1/2 cup Mozzarella cheese
Chopped fresh parsley for garnish

DIRECTIONS

Pre-heat your oven to 450 degrees.
Place each chicken breast between plastic wrap and use a meat mallet to pound the chicken to 1/4 inch thickness.
Season both sides of chicken with salt, black pepper, and garlic powder.
In a shallow dish (like a cake pan), combine 1/4 cup all purpose flour with 1/2 teaspoon Italian seasoning.
In another shallow dish, beat 2 egg whites until frothy.
In a third shallow dish, combine 1/2 cup bread crumbs with 1/2 cup panko bread crumbs and 2 tablespoons finely grated parmesan cheese.
Coat the chicken by dipping each piece in flour, then egg whites, then coating with the bread crumb mixture.
Heat 2 tablespoons canola oil in a large oven-safe skillet over medium-high heat. When hot, add the chicken and cook for two minutes (until browned) then flip the chicken and cook for another two minutes (until browned).
Transfer the oven-safe skillet to the oven and bake for 5 minutes. Flip the chicken and top with spaghetti sauce and divide 1/2 cup mozzarella cheese and 1/2 cup parmesan cheese evenly among each piece of chicken.
Bake for an additional 5-6 minutes, or until the chicken is done. Sprinkle chopped fresh parsley or fresh basil on top for garnish.
Serve over pasta if you wish. Serves 3-4.

Recipe from
CenterCutCook