An easy recipe for Chicken Parmesan that's ready in 30 minutes! Served over pasta, this chicken parmesan with melty mozzarella and marinara is a family favorite!
Hey guys! Please just give me a minute while I take the very last bite of this utterly deeeelicious quick and easy Chicken parmesan and slurp up the last pasta noodle on my plate. There. All done. Now I'm ready to talk to you about this must-make recipe for Chicken Parmesan!
This recipe, right here…. it's one of those meals that I can make for Ryan and I know without a shadow of a doubt that he's going to love it. He's got a thing for chicken parmesan. I mean, after all, he ordered it on our first date at Maggiano's waaaaay back in December of 2000 when we were practically still children. For as long as I've known him, Chicken Parmesan is his go-to whenever we go to an Italian restaurant so it was sort of important for me to nail this recipe, and well, please forgive me while I pat myself on the back. I nailed it.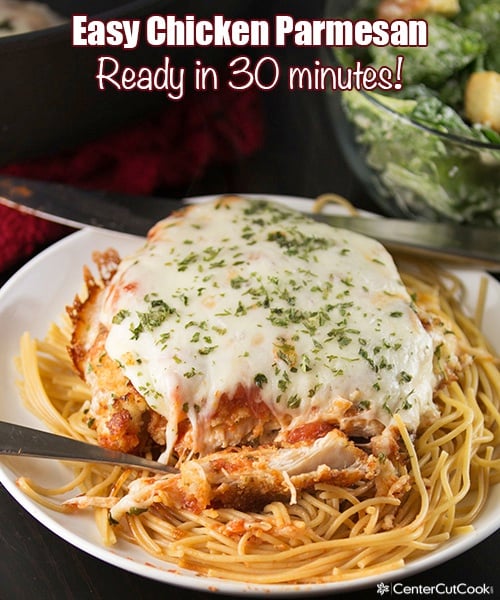 I don't know about you, but I am always looking for recipes that use boneless skinless chicken breasts because I consistently have them in my freezer, ready to use. This is one of the best uses for chicken that I can think of because even the pickiest of eaters usually enjoys the combination of crispy breaded chicken with melty mozzarella cheese (my favorite part!) and saucy marinara.
When I decided to try making this recipe for the first time, I wanted to make sure that it would be an easy recipe that could be made during hectic weeknights. From start to finish, this recipe is ready in only 30 minutes! You'll start by coating the chicken by first dusting it with a little bit of flour, then dipping it in egg-whites (I was trying to make it slightly healthy) before coating it in a combination of panko bread crumbs, regular bread crumbs, and a little parmesan cheese.
To get the crispiness that really makes Chicken Parmesan a stand-out meal, you'll pan fry it in a little bit of canola oil for a couple of minutes on each side. Then it'll go into the oven to finish baking. As the chicken finishes baking in the oven, you can cook some pasta to serve along with it. I like to also serve a salad on the side to complete the meal, but my Perfect Cheesy Garlic Bread recipe would be another great option.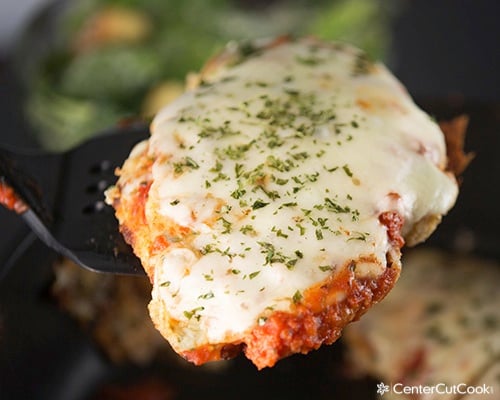 This is by far, the best chicken parmesan that has come out of my kitchen! Making this for your friends and family will impress them, no doubt, and they will come back to you over and over, begging you to make this dish again. If you happen to have leftovers, you can use them to create a chicken parmesan sandwich which is also super delicious! This recipe, as written, is perfect for two (if you want leftovers) to four, but you can easily double the recipe if you are feeding more. Enjoy!
PS: Have you tried my garlic bread meatball subs yet? Another Italian favorite in this house!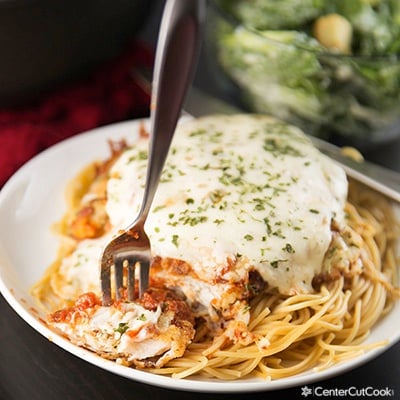 INGREDIENTS
1 pound (about 3 medium sized) boneless skinless chicken breasts, pounded to 1/4 inch in thickness.
Salt, pepper, garlic powder for seasoning the chicken
1/4 cup all-purpose flour
1/2 teaspoon Italian seasoning (alternatively, use a combination of dried oregano and basil)
2 egg whites, beaten lightly until frothy
1/2 cup bread crumbs
1/2 cup panko bread crumbs
1/2 cup finely grated parmesan cheese
2 tablespoons finely grated parmesan cheese
2 tablespoons canola oil
1/2 cup spaghetti sauce of choice
1/2 cup Mozzarella cheese
Chopped fresh parsley for garnish
DIRECTIONS
Pre-heat your oven to 450 degrees.
Place each chicken breast between plastic wrap and use a meat mallet to pound the chicken to 1/4 inch thickness.
Season both sides of chicken with salt, black pepper, and garlic powder.
In a shallow dish (like a cake pan), combine 1/4 cup all purpose flour with 1/2 teaspoon Italian seasoning.
In another shallow dish, beat 2 egg whites until frothy.
In a third shallow dish, combine 1/2 cup bread crumbs with 1/2 cup panko bread crumbs and 2 tablespoons finely grated parmesan cheese.
Coat the chicken by dipping each piece in flour, then egg whites, then coating with the bread crumb mixture.
Heat 2 tablespoons canola oil in a large oven-safe skillet over medium-high heat. When hot, add the chicken and cook for two minutes (until browned) then flip the chicken and cook for another two minutes (until browned).
Transfer the oven-safe skillet to the oven and bake for 5 minutes. Flip the chicken and top with spaghetti sauce and divide 1/2 cup mozzarella cheese and 1/2 cup parmesan cheese evenly among each piece of chicken.
Bake for an additional 5-6 minutes, or until the chicken is done. Sprinkle chopped fresh parsley on top for garnish.
Serve over pasta if you wish. Serves 3-4.