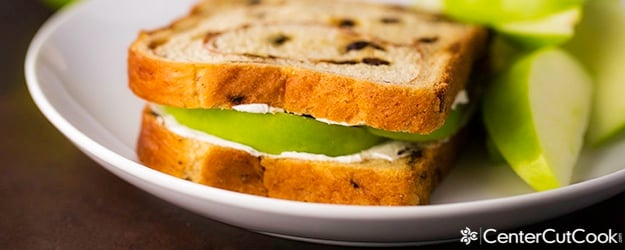 I don't know what it is about the combination of cinnamon raisin bread and apples that I just love! I already introduced you to Creamy Havarti and Sliced Apple Grilled Cheese Sandwiches in the fall, but today I want to introduce you to its counterpart, the Apple Raisin Bread Sandwich that's perfect for spring or summer! This is the type of sandwich that, everyone, no matter the age, will love. If you're looking for new ideas to pack in your kids lunches, give this one a try! It's unbelievable easy, super flavorful, and adds a little excitement to boring ole packed lunches.
You will start with slices of cinnamon raisin bread, cream cheese spread, and thinly sliced granny smith apples. Right after you cut up the apples, toss the slices with a little bit of lemon juice. This will prevent the apples from browning.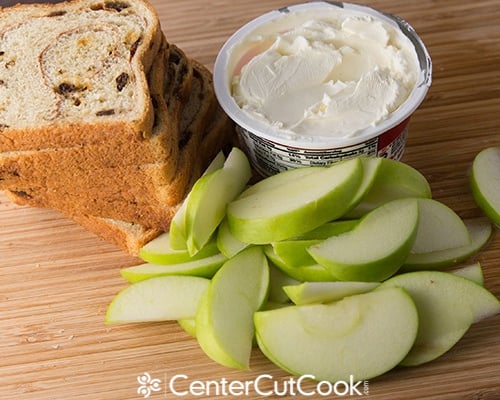 Slather a thin layer of cream cheese spread on each slice of bread. Arrange apples slices on one side, and sprinkle a bit of cinnamon on the other side.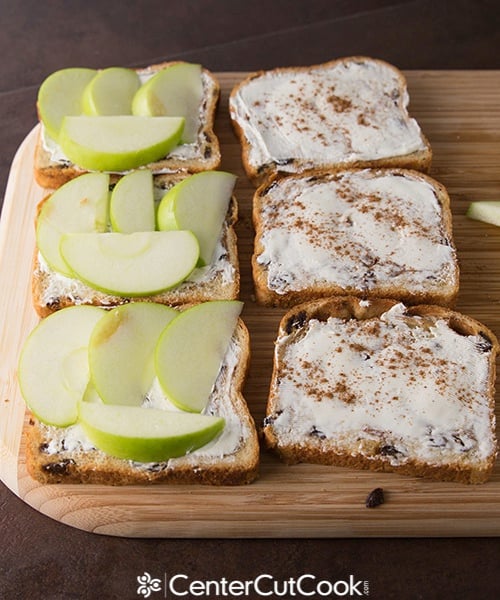 Cut the sandwich into quarters, if you wish, and serve. I like to use fancy tooth picks to spear the sandwiches if I'm using them for entertaining, otherwise I just leave the sandwich whole. Another fun variation is to use peanut butter in place of the cream cheese for any of you who aren't particularly fond of cream cheese. Peanut butter pairs perfectly with the apples and the cinnamon raisin bread!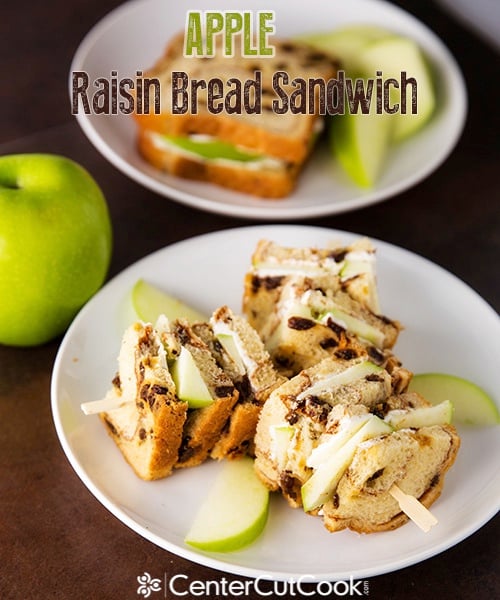 I don't have my own kids yet, but during my days as a teacher, I heard plenty of parents talk about the difficulties they faced trying to come up with unique ideas for school lunches that their kids enjoyed. This is a PERFECT idea that the kids AND YOU will enjoy! :)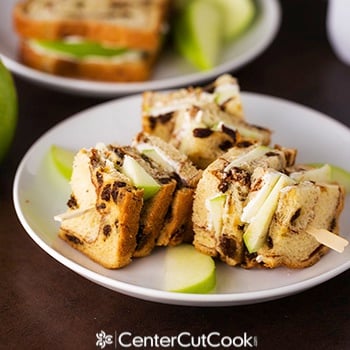 INGREDIENTS
Cinnamon raisin bread (2 slices per sandwich)
Cream cheese spread (peanut butter is another fun variation)
Thinly sliced granny smith apples
Cinnamon
DIRECTIONS
Spread a thin layer of cream cheese on one side of each slice of cinnamon raisin bread.
Toss apple slices with a bit of lemon juice to prevent them from turning brown. Arrange apples on one slice of bread, and sprinkle a bit of cinnamon on the other slice.
Cut the sandwich into quarters and serve.
Recipe from
CenterCutCook