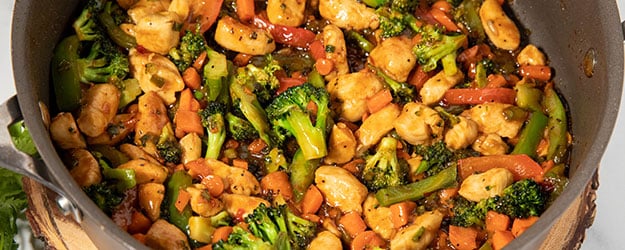 You know how sometimes stir fry is good and sometimes it's REALLY good? It all comes down to the stir fry sauce and today we're sharing our Easy Stir Fry Sauce recipe that will ensure your stir fry knocks it out of the park every single time. It's truly the best. This recipe has been tested and tweaked and retested and tweaked and it's absolute perfection. Bonus: this stir fry sauce can be made with or without soy sauce.
Let's get stir fryin', shall we?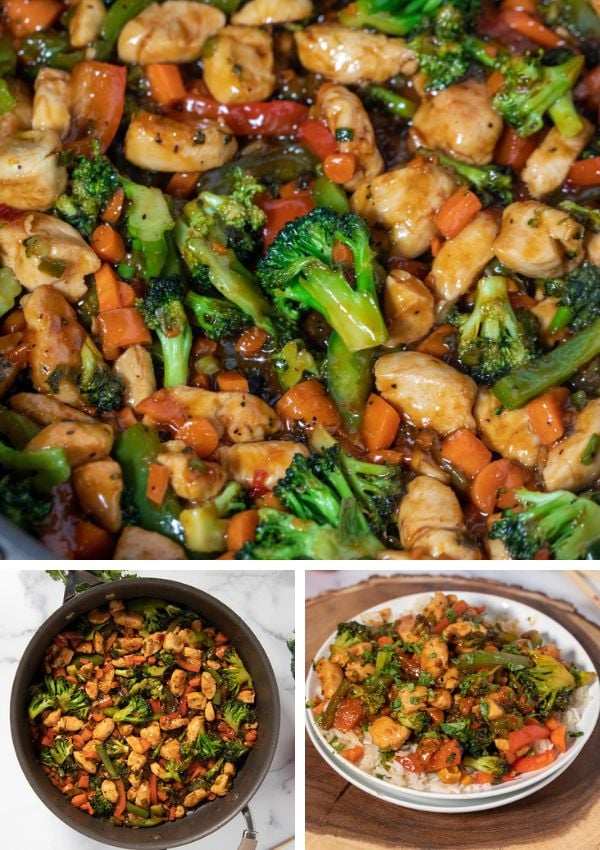 What is stir fry sauce made of?
Every stir fry sauce is different but most contain similar ingredients. Our Easy Stir Fry Sauce recipe includes Thai sweet chili sauce, hoisin sauce, soy sauce (can be substituted with coconut aminos), honey, apple cider vinegar, garlic, and corn starch.
Ingredient notes:
Thai Sweet Chili Sauce is an essential ingredient in this recipe and adds a layer of flavor that would be so very missed without. You can find it in just about any grocery store in the International foods aisle, typically in the same section as soy sauce and hoisin sauce.
Hoisin sauce: Hoisin is often used in Cantonese cuisine as a glaze for a variety of meats or for dipping. It lends itself perfectly to a stir fry sauce and again, can be found in the International foods aisle of your grocery store.
Soy Sauce: You can use regular soy sauce or lite soy sauce — depending on your preference.
Corn Starch: This is used as a thickening agent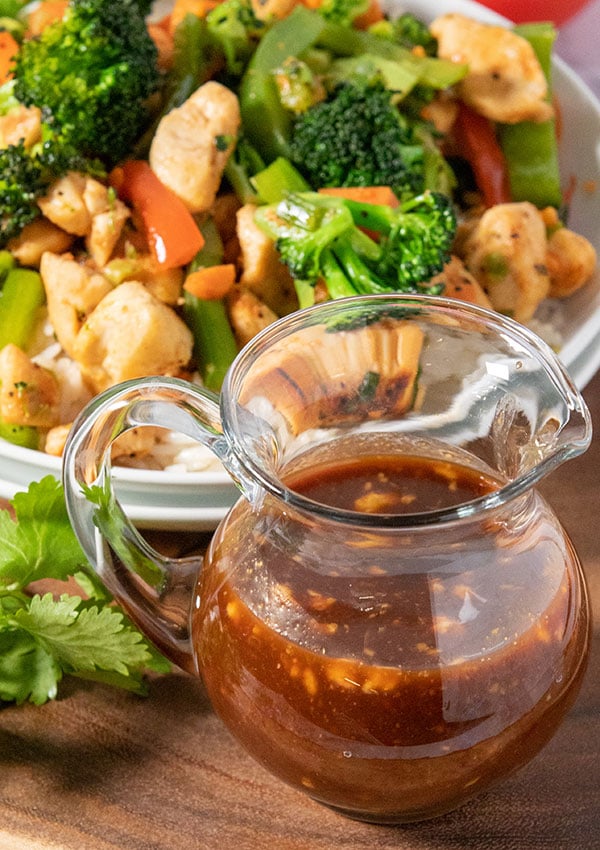 Stir Fry Sauce without Soy Sauce
If there's an allergy or preference to not use soy sauce, it is very easy to substitute coconut aminos in its place. Coconut aminos are a little less salty and a bit sweeter than soy sauce and can be substituted in a 1:1 ratio. If you need 1/4 cup of soy sauce, you can swap it and use 1/4 cup coconut aminos. Trader Joes has an excellent coconut aminos that is priced quite reasonably.
How do you make stir fry taste like a restaurant?
If you want a restaurant quality stir fry made right at home, take these things into consideration:
1. Use a quality sauce (I got you covered!)
2. Fresh vegetables that are in season always taste better than a frozen blend of stir fry vegetables, however when you're in a pinch, those frozen veggies work just fine as well. Veggies that are cut similar in size will ensure even cooking.
3. Velvet your chicken – this is a method for tenderizing your chicken. More on that in a minute!
4. Don't forget the garlic and ginger. After heating oil in a wok, I like to add garlic and ginger before adding vegetables to the pan. Be mindful of how long your veggies will take to cook and add those that will take longer first.
5. Garnishing your stir fry adds that final touch that adds depth of flavor — I love to use chopped fresh cilantro or scallions
How to velvet chicken
Wondering how to tenderize your chicken for stir-fry? There's a method called velveting that provides you with juicy tender chicken every single time. You'll start by cutting a pound of chicken into bite-sized pieces. Place your chicken in a bowl. To that bowl, add 1 and 1/2 teaspoons baking soda and toss to coat. Cover the bowl and refrigerate for 20-30 minutes, then rinse the chicken well to remove baking soda. Pat the chicken dry.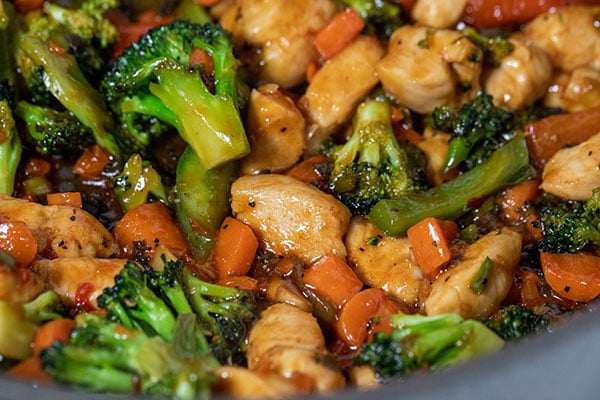 How to cook Stir Fry and when to add stir fry sauce to pan:
Cooking stir fry is so easy. Heat about a tablespoon of oil in a wok or skillet. When hot, add garlic and/or ginger and sauté for just about 30 seconds. Add in the chicken and season to taste. Once cooked, remove the chicken from the pan and set aside.
Heat an additional tablespoon of oil and add your preferred veggies. I like to use carrots, broccoli, red bell pepper, and sugar snap peas. Sauté the veggies until they're crisp tender, then return the chicken to the pan. When everything is nearly cooked, give your stir fry sauce a quick stir before pouring it into the pan. Bring to a boil, then reduce heat and simmer for just a few minutes. Serve this stir fry over rice (Here's how to make perfect rice), cauliflower rice, or chow mien. Additionally, our Chinese Fried Rice would also be delicious!
Looking for other stir fry options? Try our Kielbasa and Cauliflower Stir Fry, this Cumin Beef Stir Fry, or this Sweet N' Spicy Shrimp Stir-Fry with chow mien noodles.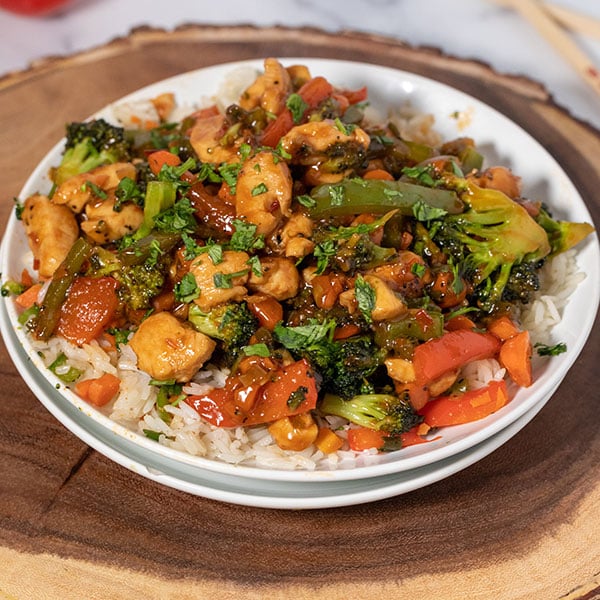 I hope you enjoy this recipe for Easy Stir Fry Sauce. It is so easy to make, and so flavorful. As always, if you try this recipe (and I hope you do), please let us know what you think and feel free to share photos on social media with us.
Enjoy!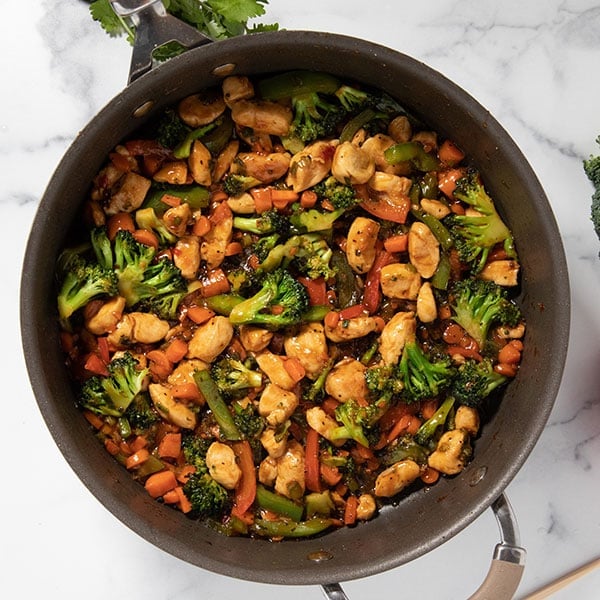 STIR FRY SAUCE INGREDIENTS
STIR FRY INGREDIENTS
2 tablespoons olive or avocado oil, divided
1 inch fresh ginger, minced
4 cloves garlic, minced
1 pound chicken, cut into bite sized pieces (see instructions in post above about tenderizing the chicken)
Vegetables of choice, cut evenly (red bell pepper, broccoli, carrot, sugar snap peas, etc.)
Stir Fry Sauce
Chopped fresh cilantro or scallions for garnish
STIR FRY SAUCE DIRECTIONS
Add all stir fry sauce ingredients to a bowl and whisk to combine. Set aside.
STIR FRY DIRECTIONS
Heat 1 tablespoon olive or avocado oil in a large wok or skillet.
Add in fresh ginger and garlic and cook for about 30 seconds.
Add in chicken and season to taste. When chicken is cooked through, remove chicken and set aside.
Heat an additional tablespoon of oil, then add sliced vegetables to the pan. Sauté until crisp tender.
Return chicken to the pan.
Give the stir fry sauce a quick stir, then pour over cooked vegetables and chicken. Bring the sauce to a boil, then reduce heat and simmer for 2-3 minutes.
Serve over rice or chow mien noodles.
Servings: 4