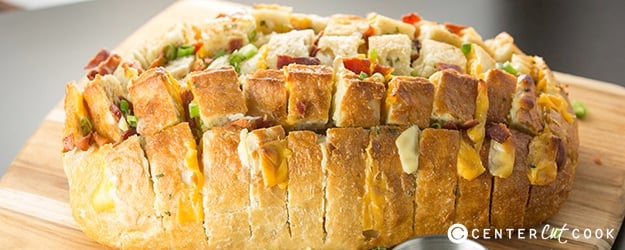 Pull apart bread, also known around the Internet as "crack bread" has been taking Pinterest by storm. There are SO many variations out there and they all sound delicious! The common ingredient with nearly all of the savory versions is, of course, cheese! I decided to try my own variation of pull apart bread and make it with bacon, cheese, green onions, and homemade ranch sauce on the side for dipping. Sounds delicious, right? It is!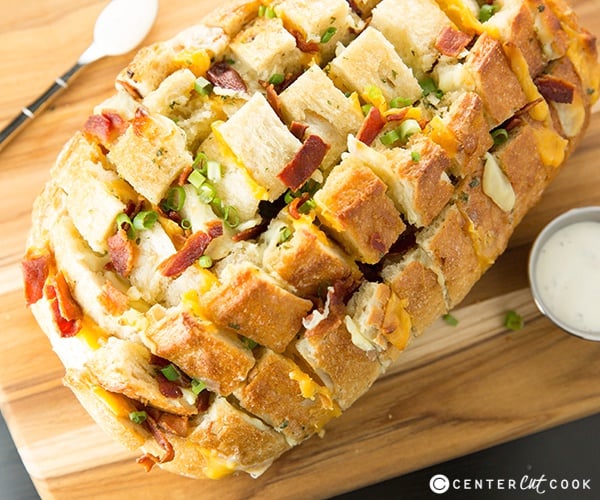 One of the most important ingredients in this recipe is the bread. You can make your own loaf of crusty bread, or buy a loaf from the bakery at the grocery store. I found this nice loaf of crusty French bread at the bakery that was crunchy on the outside but nice and soft on the inside, which worked perfectly for this recipe. You could also use sourdough bread or even Italian bread. Just make sure it's nice and crusty on the outside.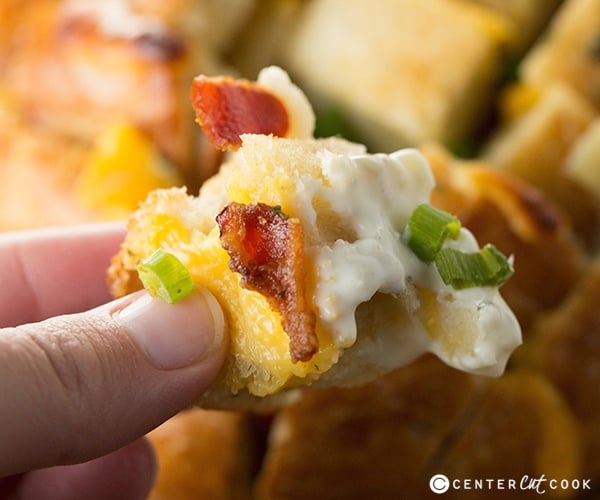 Now for the CHEESE! I really like the way American cheese melts, so I got 8 ounces of sliced yellow american cheese from the deli, and another 8 ounces of sliced white american cheese. I liked the color contrast you get with using both white and yellow cheese. If you don't have american cheese on hand, you could try using either thinly sliced or shredded monterrey jack cheese paired with cheddar cheese.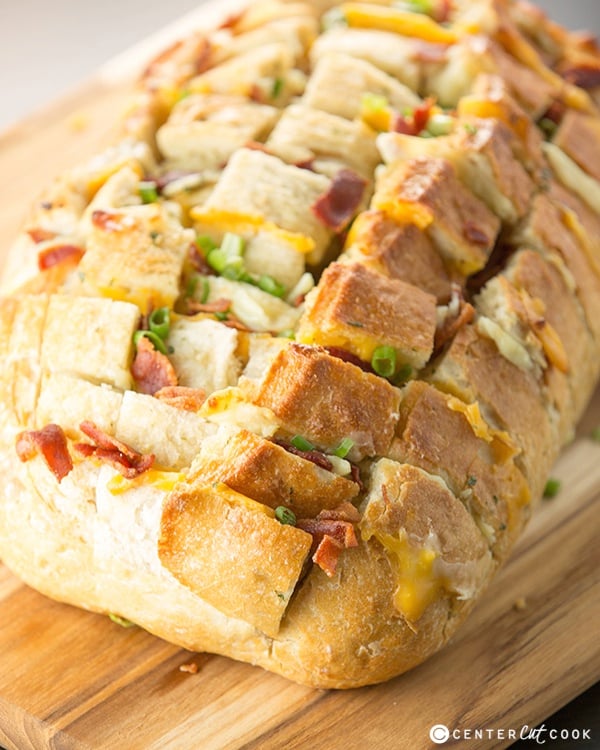 Because I'm a sucker for all things ranch dressing, I served this Pull Apart Bread with my homemade Ranch Dressing on the side. You could also use my Classic Ranch Dip for a thicker dipping sauce. If you wanted to get all wild and crazy, you could drizzle the ranch dressing all over the bread instead of serving it on the side.
Whether you call it Pull Apart Bread or "Crack Bread", it doesn't really matter. All you need to know is that it's ooey gooey and sinfully delicious!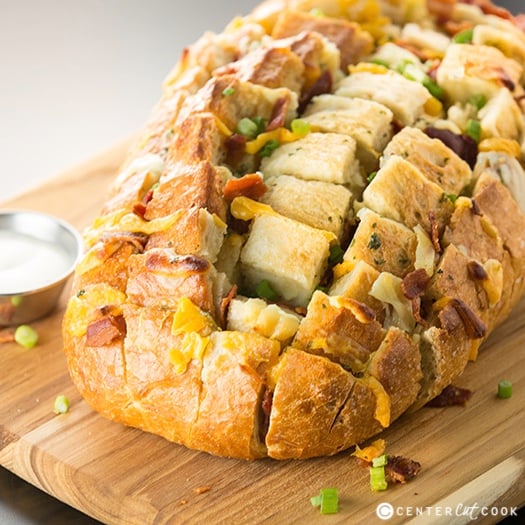 INGREDIENTS
1 unsliced crustily loaf of bread (round, or rectangle)
8 ounces deli sliced white american cheese
8 ounces deli sliced yellow american cheese
6 slices of bacon, cooked and chopped into bite sized pieces
1/2 cup melted butter
1/4 teaspoon garlic powder
1/4 teaspoon dried parsley
green onion for garnish
Ranch dip for dipping
DIRECTIONS
Pre-heat your oven to 350 degrees.
Place the loaf of bread on a foil-lined rimmed baking sheet.
Make cuts going across the bread, about 1 inch apart making sure not to cut all the way through the bottom crust.
Make cuts going in the opposite direction, about 1 inch apart, making sure not to cut all the way through the bottom crust.
In a bowl, toss the cheeses together. Stuff the cheese between each of the cuts on the loaf of bread.
Sprinkle cooked bacon pieces over the top, making sure they fall into some of the cuts.
Combine the melted butter with 1/4 teaspoon garlic powder and drizzle evenly over the loaf of bread.
Cover the loaf of bread with foil and bake for about 15 minutes.
Uncover and continue baking for about 10 minutes, or until the cheese is all gooey and melted.
Serve with homemade ranch dip on the side.
Recipe from
CenterCutCook