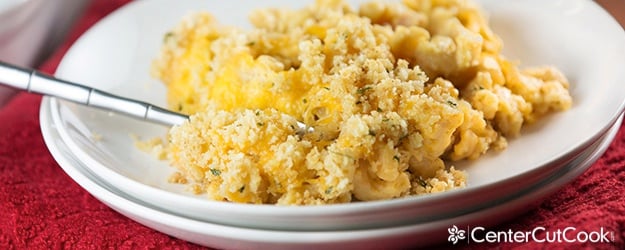 When it comes to macaroni and cheese, I take it pretty seriously. I mean, really seriously. Just in case you're doubting that last statement, let me direct you to some of my favorite macaroni and cheese recipes I've made over the last two years. There's of course, Four Cheese Macaroni and Cheese, Creamy Four Cheese Baked Pasta Skillet, Creamy Havarti Macaroni and Cheese, Quinoa Mac n' Cheese with Bacon and Broccoli, and last but not least Creamy 'One Pot' Mac N' Cheese.
Despite the fact I already have so many favorite macaroni and cheese recipes, I decided I'd add another to the list and introduce you to this ease recipe for Baked Macaroni and Cheese since so many of you have asked me for an easy macaroni and cheese that can be baked in the oven. This is just perfect for Thanksgiving dinner, because both the kids and adults will enjoy it!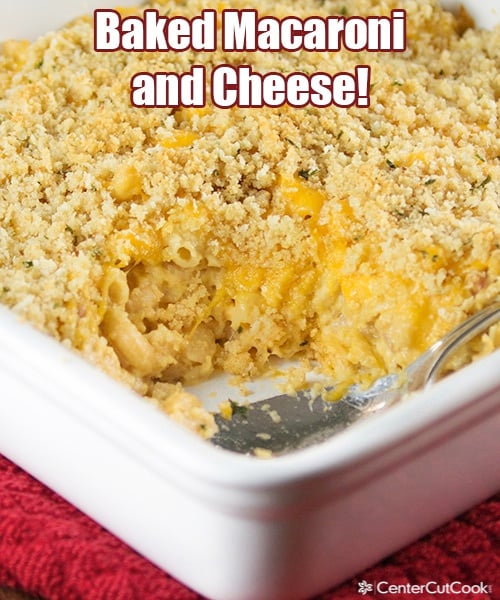 I started the base of this recipe with the aforementioned Creamy One Pot Mac n' Cheese because simply stated, it is some of the creamiest homemade macaroni and cheese I have ever had. The crazy part is that it's made with an egg! You don't actually taste the egg, of course, it just helps with the creaminess. Then I poured it in a 9×9 casserole dish, and added a little more cheese. For the topping I used a combination of Panko bread crumbs, regular bread crumbs, and some melted butter. It'll bake for 15-20 minutes, until the top is nice and golden. I added chunks of ham, but you could also make this with bacon, cooked chicken, broccoli, or any other add-in you'd like!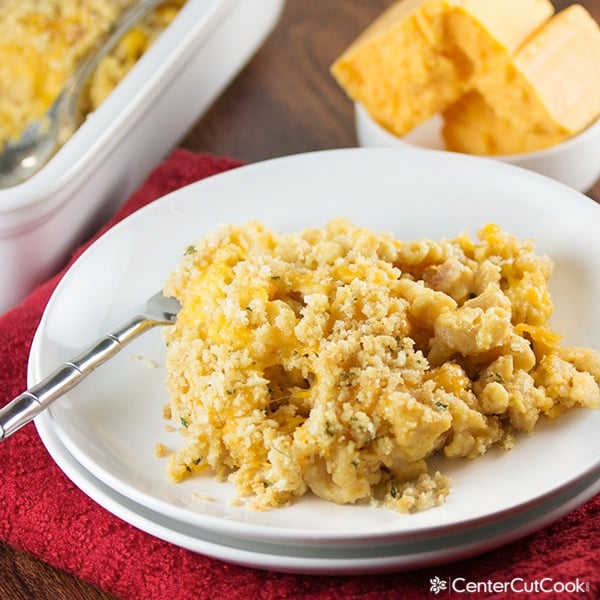 The result is a Baked Macaroni and Cheese casserole that is creamy, comforting, with just a little crunch from the bread crumbs. In other words, this is comfort food at its finest!
MACARONI AND CHEESE INGREDIENTS
8 ounces whole wheat elbow macaroni noodles (about 2 cups dry pasta)
2 large eggs
12 ounce can evaporated milk (found in the baking aisle)
1 teaspoon dry mustard dissolved in 1 teaspoon water
1/2 teaspoon Tabasco
4 ounces sharp white cheddar cheese
6 ounces sharp yellow cheddar cheese
4 tablespoons unsalted butter
8 ounces ham, diced
TOPPING INGREDIENTS
1/3 cup panko bread crumbs
1/3 cup regular bread crumbs
3 tablespoons butter, melted
1/2 cup cheddar cheese
DIRECTIONS
Preheat oven to 400 degrees.
Boil 8 cups of water in a large sauce pan or stock pot.
When the water is boiling, add in 1 and 1/2 teaspoons salt.
Add in 8 ounces whole wheat elbow macaroni noodles and cook for about 5 minutes, or until the noodles just start to soften.
In a medium sized bowl combine 6 ounces evaporated milk, 2 eggs, dry mustard/water mixture, and Tabasco. Stir to combine and set aside.
Drain the noodles and return them to the pan.
Add in 4 tablespoons of butter and allow it to melt over medium-low heat.
When the butter has melted, slowly stir in the milk/egg mixture and 6 ounces of cheese.
While you're stirring, slowly add in remaining evaporated milk and the additional 6 ounces of cheese.
Stir in diced ham, 1/2 teaspoon salt and 1/2 teaspoon black pepper.
Spray a 9 x 9 inch casserole dish with non-stick cooking spray.
When the macaroni and cheese has a creamy consistency, pour it into the prepared baking dish.
In a small bowl combine 3 tablespoons melted butter with 1/3 cup panko bread crumbs, and 1/3 cup regular bread crumbs.
Sprinkle 1/2 cup of cheddar cheese over the macaroni and cheese. Sprinkle the bread crumb mixture on top and bake for 15-20 minutes or until the bread crumbs are golden brown.
Serve immediately.
Recipe from
CenterCutCook