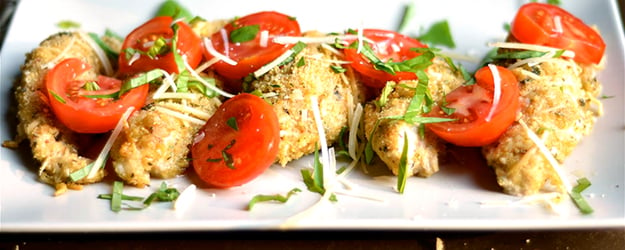 Baked Parmesan Chicken makes a delicious and easy weeknight meal! All the taste of fried chicken without the guilt!
Chicken tenders with a butter garlic sauce topped with bread crumbs and parmesan cheese is sure to get everyone licking their plate! This easy baked chicken dish is a family staple. One that I make often that is simple enough for an easy weeknight meal, but sophisticated enough to serve to guests. We all love the buttery garlic taste that only enhances the baked parmesan.
To set up this dish, heat up a stick of butter with 2 cloves of crushed garlic in a small saucepan. In a separate bowl, mix together a few italian spices, breadcrumbs, and freshly grated parmesan cheese. Once you dip the chicken in the butter garlic sauce, you will also dip the chicken in the breadcrumb parmesan mixture. Bake in a dish for 25-30 minutes until you see the parmesan sizzling and browning.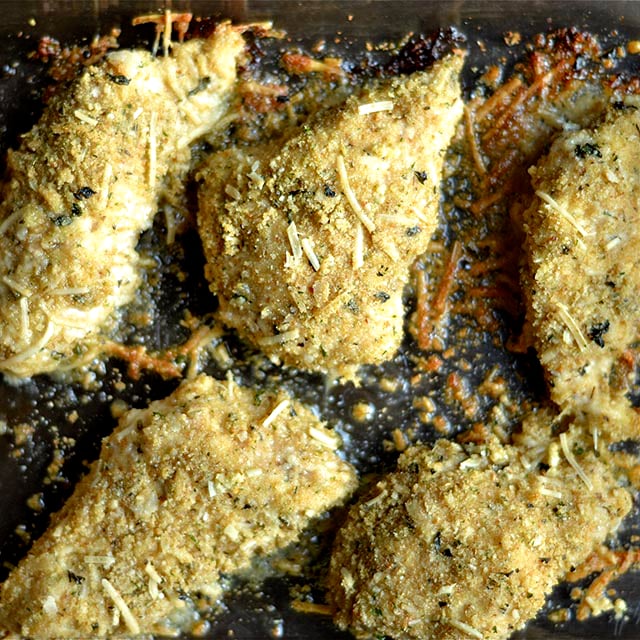 We love to serve this with fresh tomatoes and basil. I can eat an entire plate with these simple ingredients and be perfectly happy! My kids and husband also enjoy with a side of pasta and extra parmesan of course!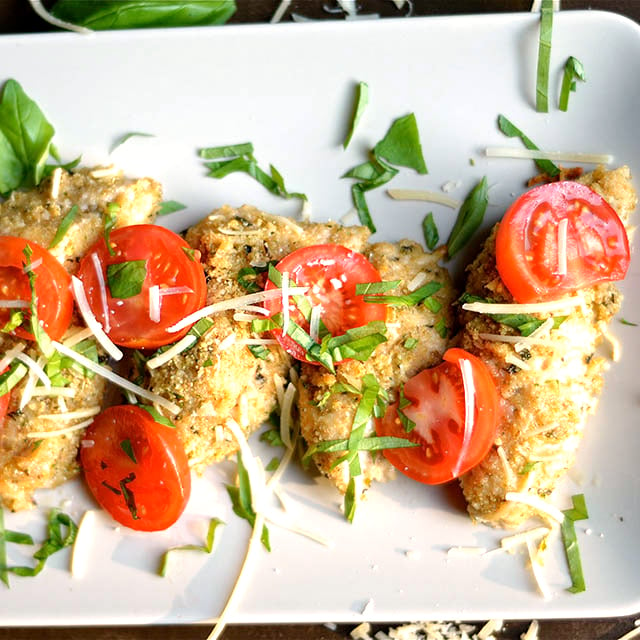 INGREDIENTS
2 cloves garlic, crushed
1 stick unsalted butter
1 cup Italian bread crumbs
1/2 cup finely grated parmesan cheese
1/2 tsp salt
1/2 tsp oregano
Dash garlic powder
Dash onion powder
Salt to taste
4 to 6 chicken breasts- pounded thin (or use chicken tender strips, about 1.5 lbs)
1 large roma tomato sliced (optional)
1/4 cup chopped fresh basil (optional)
DIRECTIONS
Preheat oven to 350 degrees. Grease a shallow baking ban and set aside.
In a small saucepan, melt the butter with 2 crushed garlic cloves.
Remove butter from heat and allow it to cool in a shallow dish.
In a shallow dish, combine the bread crumbs, parmesan cheese, basil, oregano, garlic powder, onion powder, and salt and pepper.
Dip the chicken first into the butter mixture, then coat with bread crumb mixture. Arrange the chicken 1 layer deep in baking pan.
Drizzle chicken with remaining butter and garlic mixture.
Bake uncovered for 25-30 minutes or until fork tender and golden brown.
Serve with tomatoes and basil, more parmesan cheese, and pasta.
Servings: 8 servings