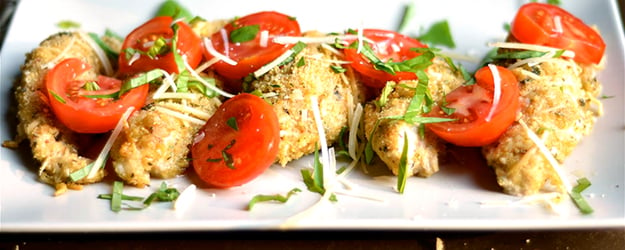 Oven-Baked Parmesan Chicken is a simple yet satisfying dinner that the whole family will enjoy. Chicken tenders with a butter garlic sauce topped with bread crumbs and parmesan cheese is sure to get everyone licking their plate! This easy baked chicken dish is a family staple. One that I make often that is simple enough for an easy weeknight meal, but sophisticated enough to serve to guests. We all love the buttery garlic taste that only enhances the baked parmesan chicken.
To make Baked Parmesan Chicken, you will begin by heating a stick of butter with 2 cloves of crushed garlic in a small saucepan. In a separate bowl, mix together the seasonings, breadcrumbs, and freshly grated parmesan cheese. I like to use my microplane grater for this task. Once you dip the chicken in the butter garlic sauce, you will also dip the chicken in the breadcrumb parmesan mixture. Bake in a dish for 25-30 minutes until you see the parmesan sizzling and browning and the chicken is cooked through.
What kind of Chicken should I use?
To make oven-baked Parmesan Chicken, you will either want to use chicken breast tenders, or chicken breasts that have been pounded thinner, and cut into tender sized pieces. This ensures that the chicken cooks evenly and quickly, which is exactly the kind of recipe we're all looking for on those busy weeknights.
What kind of bread crumbs should I use?
The bread crumbs are an essential ingredient in this recipe to give the chicken that crunch that makes this recipe so irresistible. We used Italian Bread Crumbs but you could also use Panko bread crumbs (larger, Japanese style bread crumbs) or even plain bread crumbs. When I use plain bread crumbs for this recipe, I like to add 1-2 teaspoons of Italian seasoning to the mixture.
Italian Seasonings
Oven-Baked Parmesan Chicken is seasoned with a variety of classic Italian seasonings. We used oregano, garlic powder, onion powder, and salt. If you do not have these seasonings on hand, you can always substitute pre-mixed Italian seasoning if you have that on hand. You'll need about 1.5-2 teaspoons of Italian seasoning.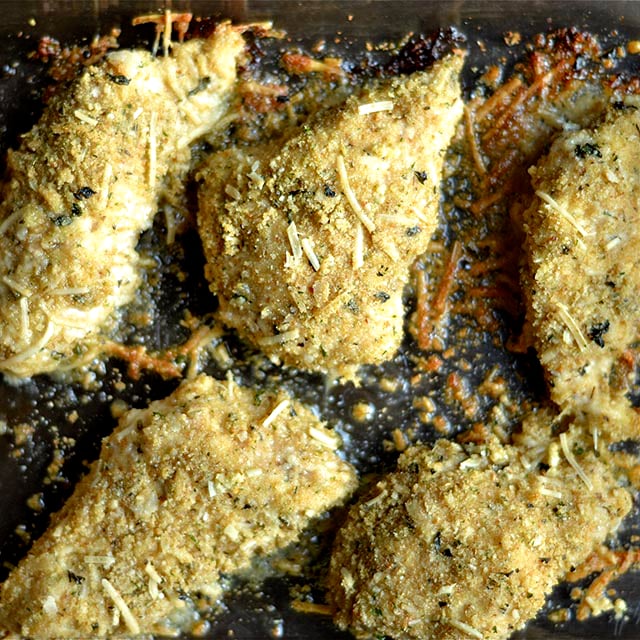 We love to serve this with fresh tomatoes and basil. During this time of year when garden tomatoes and basil are in abundance, you definitely need this recipe in your life! Is there anything better than the combination of fresh tomatoes and basil?
What to serve with Baked Parmesan Chicken
I like to serve this chicken with Parmesan and Garlic Farfalle. It pairs perfectly with this Parmesan Chicken. Add in a garden salad or a side of steamed veggies and dinner is ready!
Looking for more delicious, juicy chicken recipes? This recipe for Parmesan Crusted Chicken made with mayo is similar, yet so different and equally as delicious. Another similar, yet very different recipe is this Tomato and Basil Chicken with a creamy pan sauce. It is so good!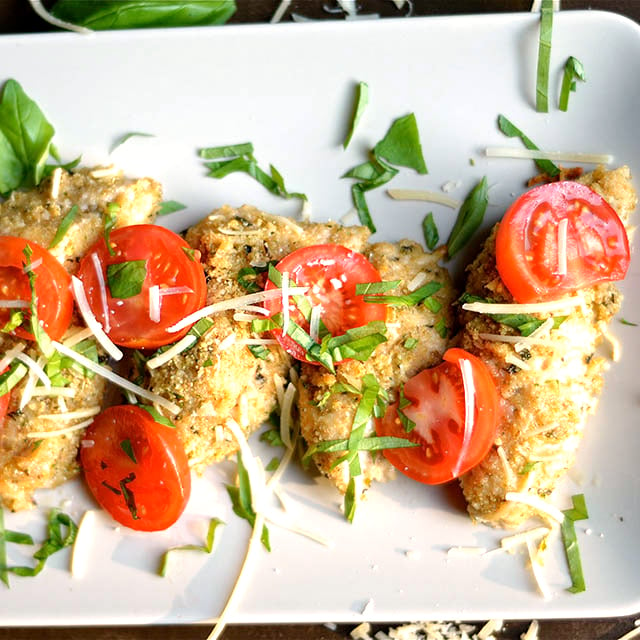 INGREDIENTS
2 cloves garlic, crushed
1 stick unsalted butter
1 cup Italian bread crumbs
1/2 cup finely grated parmesan cheese
1/2 tsp salt
1/2 tsp pepper
1/2 tsp oregano
1/2 tsp garlic powder
1/2 tsp onion powder
4 to 6 chicken breasts- pounded thin (or use chicken tender strips, about 1.5 lbs)
1 large roma tomato sliced, or cherry or grape tomatoes, cut into halves (optional)
1/4 cup chopped fresh basil (optional)
DIRECTIONS
Preheat oven to 350 degrees. Grease a shallow baking dish and set aside.
In a small saucepan, melt butter with 2 crushed garlic cloves.
Remove butter from heat and allow it to cool in a shallow dish.
In another shallow dish, combine the bread crumbs, parmesan cheese, basil, oregano, garlic powder, onion powder, and salt and pepper.
Dip the chicken first into the butter mixture, then coat with bread crumb mixture. Arrange the chicken in a single layer in your prepared baking dish.
Drizzle chicken with remaining butter and garlic mixture.
Bake uncovered for 25-30 minutes or until fork tender and golden brown.
Serve with tomatoes and basil, and additional finely grated parmesan cheese
Servings: 8 servings