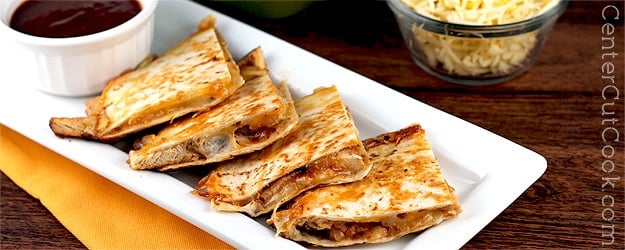 Many, many recipes in this house are created as a result of trying to use up leftovers. It's my effort to NOT be wasteful which can be tricky sometimes. Today's BBQ Ranch Chicken Quesadillas are a perfect example of this effort!
A couple of weeks ago we had Cheesy Tex-Mex Chicken that I served with tortillas. A handful of tortillas were leftover, so into the freezer they went. Then, last week I whipped up simple creamy alfredo sauce to use in this Italian Love Nests recipe that I made when some friends came over for dinner (it really is a great entertaining recipe!). Are you following me so far? Of course there was leftover alfredo sauce, so a couple of days ago, I decided to grill up some cajun chicken to create a cajun chicken fetteccini alfredo. The leftover cycle continued when we didn't use up all of the cajun chicken.
Fast forward to today when I realized it was probably the last day I'd be able to use the leftover cajun chicken before it went bad. After opening and closing the fridge and freezer 10 times (am I the only one who does this?! As though looking into the fridge an 8th time will reveal something new?) I finally decided upon these BBQ Ranch Chicken Quesadillas, and I'm glad I did! Cool ranch, tangy BBQ sauce, and cajun chicken, along with sharp cheddar and spicy pepper-jack cheese with a hint of cilantro, proved to be the perfect combo on a quesadilla, and a fabulous Sunday afternoon lunch.
Notes: Options with these BBQ Ranch Chicken Quesadillas include omitting the chicken for a vegetarian alternative. You could also use plain grilled chicken over the cajun version if you're not too keen with cajun seasoning. If you'd like cajun chicken, simply sprinkle cajun seasoning (found in the spices aisle at your grocery store) on both sides of the chicken. Grill the chicken until it's cooked through, then cut into strips.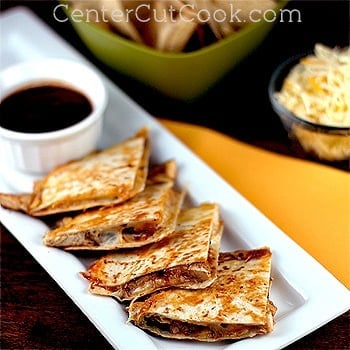 INGREDIENTS
2 Fajita size tortillas
1 tablespoon BBQ sauce per quesadilla
1 tablespoon Ranch dressing per quesadilla
Grilled Chicken (cajun or plain), cut into strips (see note above)
Sprinkle of dried cilantro (use fresh if you have it)
1/2 cup of cheese per quesadilla (more or less if you'd like). I used a combo of sharp cheddar and spicy pepper jack cheese
DIRECTIONS
Heat a large non-stick skillet to medium heat (When you use a non-stick skillet, you won't need to grease the pan with butter).
Start with the bottom tortilla and sprinkle half the cheese on it. Next drizzle ranch and bbq sauce on top of the cheese. Then add cooked chicken, and top with remaining cheese. Sprinkle a dash of dried cilantro over the cheese and chicken, then place the remaining tortilla on top.
Carefully place the assembled quesadilla in the pre-heated skillet. When the bottom is nice and brown after a few minutes, carefully use a spatula to flip the quesadilla so that the other side can cook. When the entire quesadilla is heated through and the top and bottom tortillas are crisp, remove from the pan.
Cut the quesadilla into quarters and serve.