There's nothing I love for breakfast, more than something that's healthy, and packs a nutritional punch! Okay, I lie, I'd probably like bacon more if I'm being honest, but we all know that it doesn't pack a nutritional punch like this smoothie does. I've been on a smoothie kick lately, and I'm always changing' things up so that it doesn't get boring. Sometimes I make smoothies that consist of 100% fruit, other times I like to throw in yogurt. Today's smoothie is chock full of fruits AND protein, to help you feel full for longer.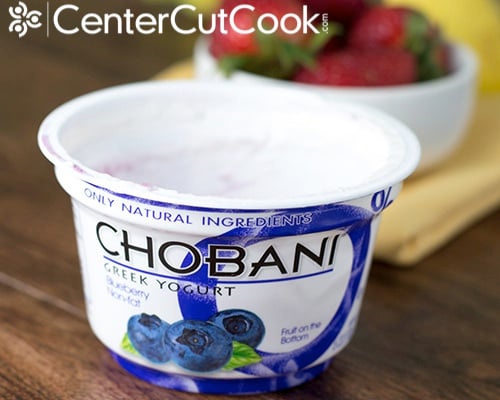 You'll start with a 6 ounce cup of Blueberry non-fat greek yogurt. Speaking of greek yogurt, have you entered our Chobani Giveaway yet? Click here to enter!If you're not crazy about blueberry yogurt, you could sub in strawberry, or another flavor of your choice. Even if you don't like greek yogurt, no worries, by the time all is said and done, you won't even taste it!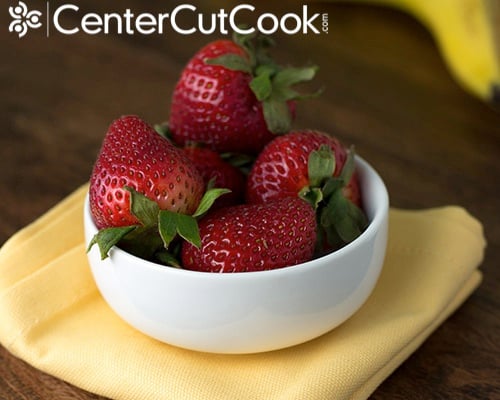 Along with the yogurt you'll need about 5 strawberries. Fresh or frozen, doesn't matter. You'll also need one whole banana. In your blender, add the yogurt, strawberries, and banana. Add 1/4 cup of water, and about 4 ice cubes. Blend on high until the smoothie is we'll…. nice and smooth! If you used all frozen fruits, you might need a bit more water. If you used all fresh fruit, you may need a bit more ice. Play around with it, you really can't mess it up! I also added in about two tablespoons of hemp seeds. Hemp seeds are an awesome source for a variety of nutrients, including protein, and they don't really alter the flavor. Another good add-in would be chia seeds. If you don't have either of these on hand, don't worry, they are optional.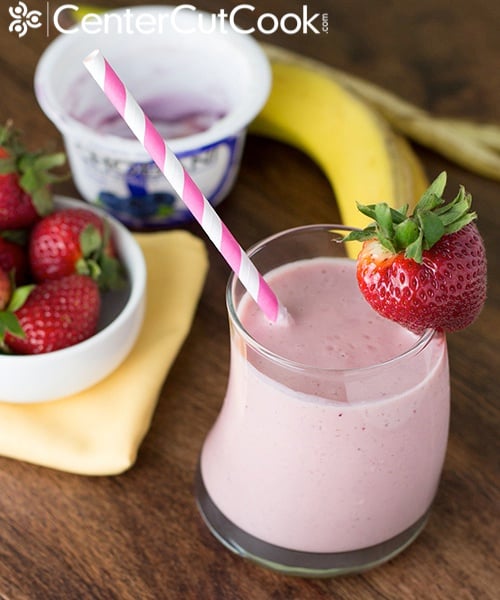 I felt like this smoothie was perfectly sweet as-is, so I didn't add anything to sweeten it further. If it's not sweet enough for your tastes, you can always add a little honey. Pour into a glass, garnish with a fresh beautiful strawberry (you deserve it!), add in a fun paper striped straw, and enjoy!
There's no need to pay for an expensive smoothie from your favorite smoothie shop when it's SO easy to make delicious smoothies at home!
Love smoothies like I do and looking for more smoothie recipes? Checkout this fabulous Tasty Green Smoothie or this High Protein Strawberry Smoothie.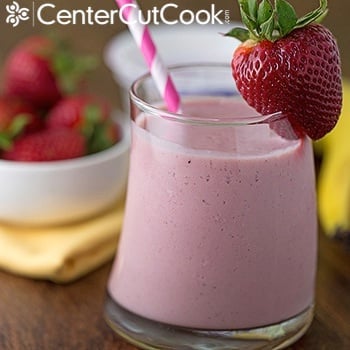 INGREDIENTS
6 ounces Blueberry Greek Yogurt
1 banana
4 frozen strawberries
1/4 cup cold water
4 ice cubes
*Optional 2 tablespoons hemp seeds
DIRECTIONS
Combine all ingredients, blend on high until smooth.
Recipe from CenterCutCook