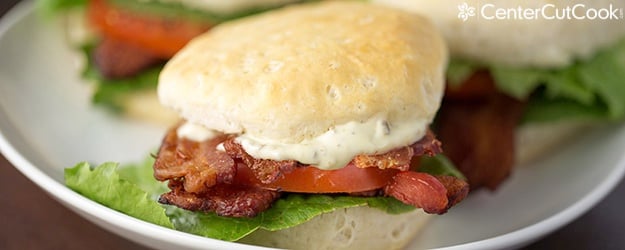 Alrighty guys, it's about to get real here…
Despite the fact I am a food blogger and I have a plethora of fantastic recipes in my collection plus another bazillion fantastic recipes that I'm just itching to try, there are nights where dinner is just not happenin' in this house.
You know what I mean right? Like it's 8:00 PM and you suddenly remember that you haven't made dinner, and even worse, you have no. clue. what to make?
We had one of those nights last night.
I'm certain there are probably some of you that think food bloggers make everything from scratch. Guess what, I'm here to tell you that I don't. I can't speak for the rest of the food bloggin' world, but I'm going to guess they have to take some help from the grocery store sometimes too.
When things are crazy and I need to get dinner on the table fast, I have a few recipes I turn to that can be made ultra fast. This is one of them! I start by making 8 big biscuits. Certainly if you want to make your own biscuits, go for it!
While the biscuits are baking, I fry up some bacon. In a pan, just to clarify. I'm sure there are people that deep-fat-fry bacon, but I'm not one of them.
Is there anything better than the smell of bacon cooking?
Garlic and onions smell almost as good, but I think I like bacon better!
So now you've got the biscuits baking in the oven, and you're pan frying the bacon. While the bacon is getting nice and crispy, it's time to make the sauce. Combine 1/2 cup mayo with 1 tablespoon pesto. This pesto mayo is simple but delicious!
BLT Sandwiches are my thing. And I love these BLT Wraps and these BLT Flatbreads with Avocado Spread so it should come as no surprise that I just adore these BLT Biscuits with Pesto Mayo too.
The flaky, buttery biscuit pairs perfectly with the bacon and the Pesto Mayo is just bursting with flavor. It's amazing what 1 tablespoon of pesto can do to ordinary plain ole' mayo.
To keep things super simple, I like to serve these BLT Biscuits with some fresh fruit and call it good! This time around I just sliced up some strawberries and it was fantastic. While I understand that the BLT Sandwich is perfectly delicious and perfect as-is, I think you'll like this little twist on the BLT!
Tips: I used one slice of bacon per biscuit, however, feel free to use two slices or more. Enjoy!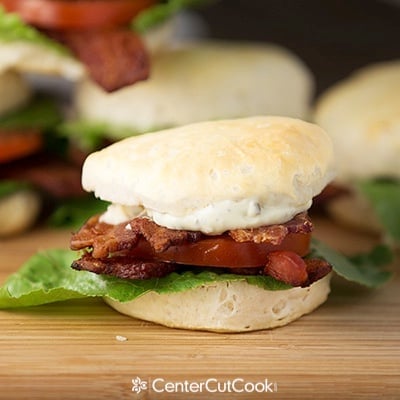 INGREDIENTS
8 biscuits, cooked
1-2 slices of bacon per biscuit, cooked
1/2 cup mayo
1 tablespoon basil pesto
8 slices tomato cut about 1/4 inch thick, seasoned with a bit of salt and pepper
Lettuce
DIRECTIONS
Cook biscuits according to package directions, or make your own from scratch.
Pan-fry 1-2 slices of bacon per sandwich.
In a small bowl combine 1/2 cup mayo with 1 tablespoon basil pesto.
Lightly season the tomato slices with a bit of salt and black pepper.
Cut each cooked biscuit in half. Slather a bit of pesto mayo on one side.
Layer on pieces of lettuce, tomato, and crispy bacon.
Recipe adapted from
Southern Living May 2013