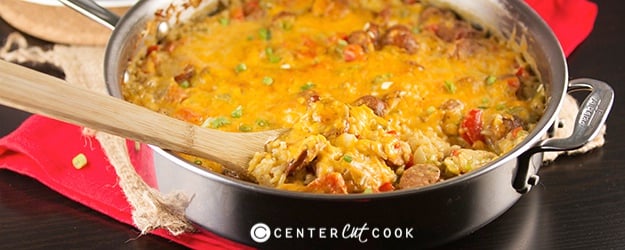 Hey um…. you guys? Can I please introduce you to the cheesy goodness that I've named Cheesy Chicken & Rice Skillet? Well, actually it might be considered a casserole. The thing is, it starts on the stove top and finishes in the oven so do we call it a skillet or a casserole because it's sort of both? The fabulous thing is that this Chicken and Rice Casserole is not made with cream soup yet it is still creamy and comforting and delicious. I am always looking for easy dinner recipes that are really satisfying and this Cheesy Chicken and Rice Skillet definitely fits the bill.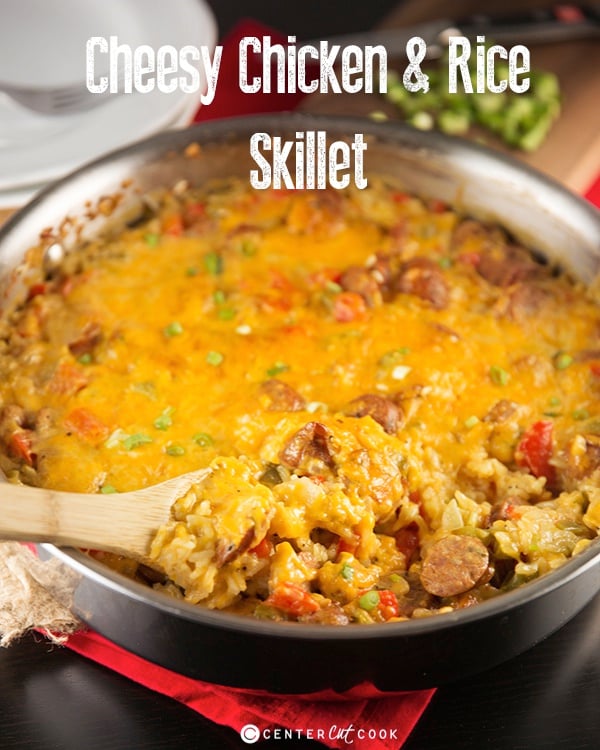 You might have noticed that I am sort of obsessed with using Italian Chicken Sausage. I found some that we just love from Costco and it comes in 3-packs, so I'm always trying to think of new ways to use it. If you can't find Italian Chicken Sausage (it is similar in consistency to kielbasa but is sold in links like what you'd expect from traditional Italian Sausage except the Italian Chicken Sausage I buy isn't raw. You could always sub some kielbasa if you'd like, or you could even sauté some chicken and use that. I love the Italian Chicken Sausage though and it compliments this Cheesy Chicken and Rice Skillet just perfectly.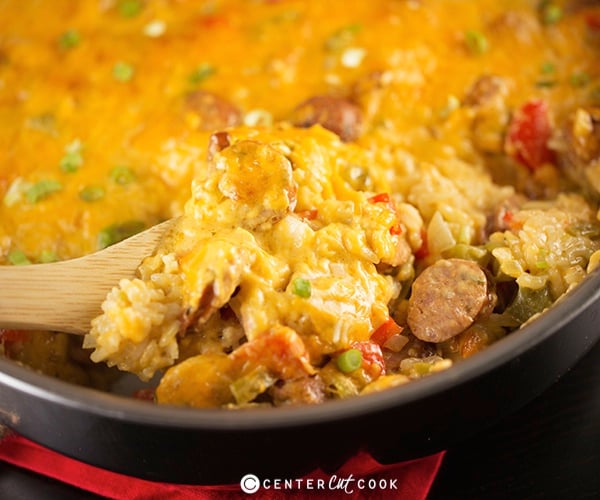 The creaminess comes from sharp cheddar cheese and a little sour cream. Just look at that cheesy creamy goodness! Yum! If you are looking for dinner recipes that you know your entire family will love, whether you're cooking for one person or eight, give this Cheesy Chicken and Rice Casserole (errrr Skillet?) a try. Simple ingredients, simple cooking process, huge flavor. Enjoy!
GIVEAWAY!
Today's giveaway wraps up an entire week of fabulous giveaways! I'm helping Carrian from Oh Sweet Basil celebrate her 30th. There's still time to enter so be sure to check out the links below. For today though, how would you like to win a Microsoft Surface 2? It comes with a touch cover keyboard and it's super thin and fast.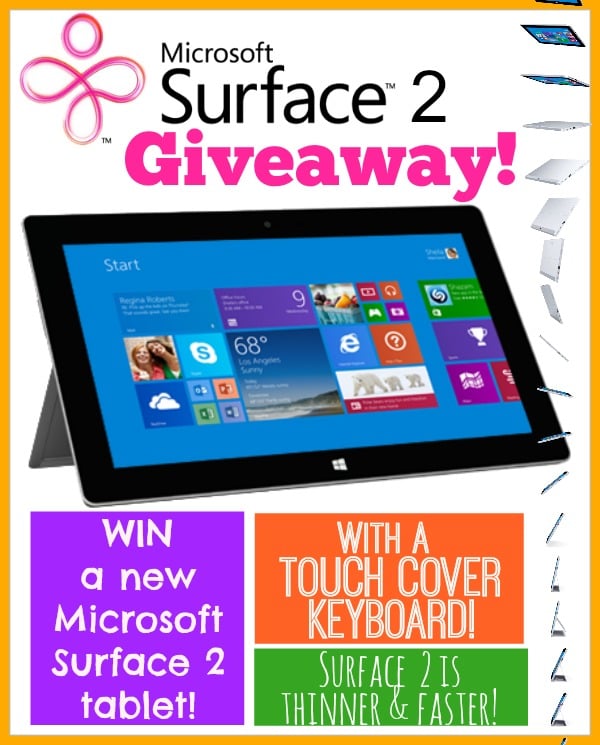 Use this Rafflecopter widget to enter, then don't forget to enter the giveaways from last week including $1,000 that's up for grabs!
The giveaway has ended. Congrats to the winners, Jessica and Kate!
Good luck!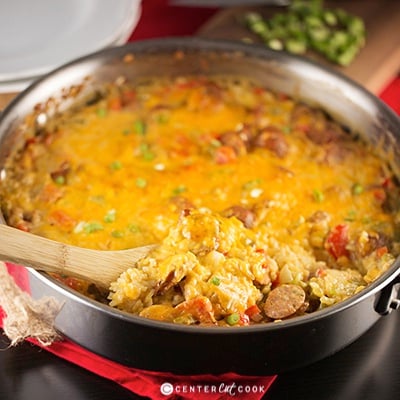 INGREDIENTS
1 tablespoon olive oil
1 pound pre-cooked Italian chicken sausage (Like Aidell's – similar to something like Kielbasa), cut into bite sized pieces
1 small yellow onion, diced
1 red bell pepper, diced
1 green bell pepper, diced
2 gloves garlic, minced
1/2 teaspoon salt (more or less to taste)
1/2 teaspoon black pepper (more or less to taste)
1/4 teaspoon cayenne pepper
1 cup long grain white rice – uncooked
1 1/4 cups chicken broth
1/2 cup sour cream
1 1/2 cups cheddar cheese
DIRECTIONS
Pre-heat your oven to 375 degrees.
In a large non-stick skillet that's also oven-safe (if you don't have an oven safe skillet, that's okay, you'll just have to transfer everything to an oven-safe baking dish), heat 1/2 tablespoon olive oil.
Add in the chicken sausage and sauté for about five minutes. Remove the sausage from the pan and add more oil if needed. Add in the onion, red pepper and green pepper and continue cooking until the peppers and onions are tender.
Add in garlic and cook for a minute or two longer, or until fragrant. Season everything with salt, black pepper and cayenne pepper.Return the sausage back to the pan.
Stir in white rice then slowly stir in chicken broth. Bring to a boil, then reduce heat to a gentle simmer.
Add in sour cream and 1/2 cup cheddar cheese and stir to combine.
If your skillet is oven-proof, sprinkle remaining cheese over the top of the skillet.
If you don't have an oven-proof skillet, transfer the mixture to a casserole dish, then top with cheese.
Bake for 30 minutes uncovered, or until the cheese is bubbly and the rice is tender.
Enjoy!
Recipe from
CenterCutCook