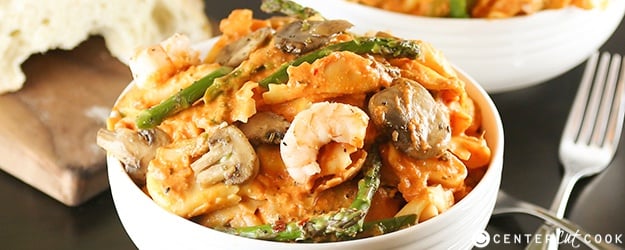 One of my favorite meals to prepare and enjoy is pasta because there are so many different ways to prepare it. You can add in a variety of meat or shrimp and toss it with all kinds of veggies from mushrooms and asparagus to peas and roasted red peppers. This pasta recipe for Tortellini with Shrimp and Mushrooms came together on a whim after I was trying to figure out what to make for dinner with what I already had on hand. The result was even better than expected! It was so tasty we felt like we were eating in a fine Italian restaurant!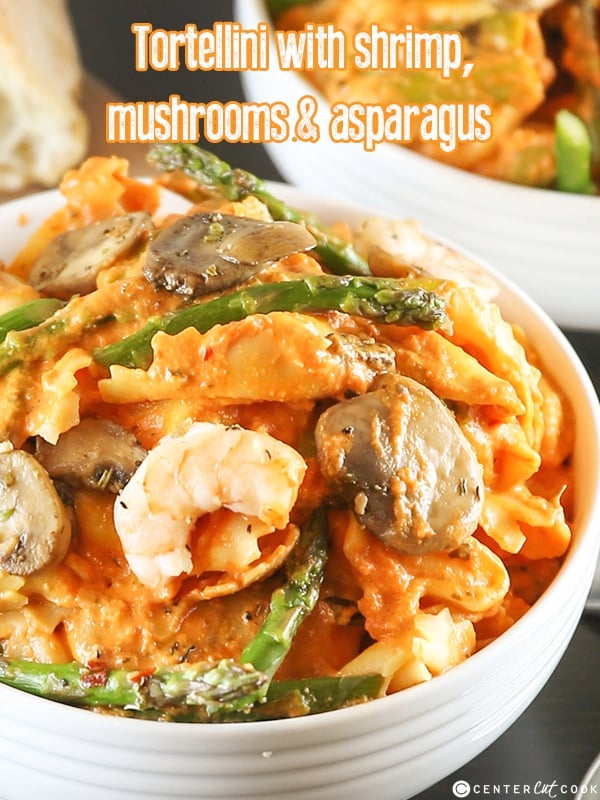 One of the best parts about this recipe aside from the fact that it's super delicious, is that it comes together in under 30 minutes. For the sauce, you have a few options. I used half homemade spaghetti sauce combined with my homemade Simple Creamy Alfredo sauce. You can use all spaghetti sauce, homemade or store bought, or any variety of jarred sauces from the grocery store. Just use whatever sounds good to you, although I do have to say that the combination of spaghetti sauce with alfredo sauce is wonderful!
You can also change it up and use whatever veggies you have on hand. I happened to have asparagus on hand (love asparagus this time of year!) and some fresh sliced mushrooms which worked perfectly for this recipe. You can also sub in chicken for the shrimp if you wish. The options are endless which is why I love cooking pasta so much!
If you are looking for a new pasta recipe to make for your family, definitely give this one a try! I like to serve it with a salad and my favorite Perfect Cheesy Garlic Bread. Enjoy!
The Giveaways Continue!
You guys!!! I'm so excited for today's giveaway because it is pretty gosh darn incredible. All week I've been helping Carrian from Oh Sweet Basil celebrate her birthday with a week of giveaways. On Monday, it was the Blendtec blender, and yesterday it was a bunch of goodies from Wusthof, Anolon, and Microplane (there's still time to enter!). Today's giveaway is amazing. Are you ready?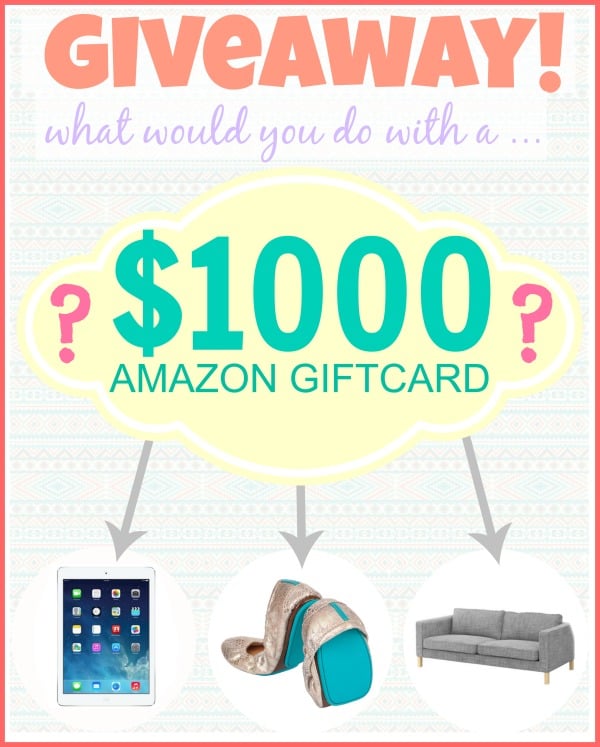 What would you do with a $1,000 gift card to Amazon! The options are endless, right? Together with Carrian and several other fabulous food bloggers, we are giving away a $1,000 Amazon.com gift card to one lucky winner. I'd love to win something like that right about now! To enter, just follow the instructions on the Rafflecopter widget below. Good luck!
The giveaway has ended. Congrats to the winner, Jamie!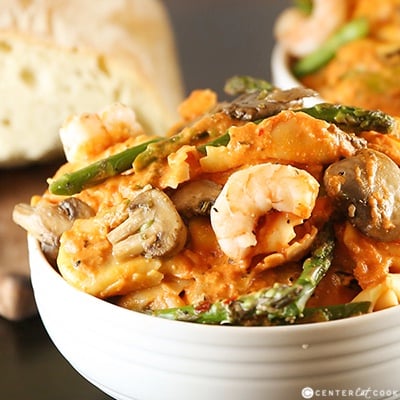 INGREDIENTS
1 pound raw shrimp, peeled and deveined with the tails removed (I used 31-40 count shrimp. This means that there's 31-40 shrimp per pound)
1 tablespoon olive oil
1/2 pound asparagus, washed, hard ends trimmed, and cut into bite sized pieces
8 ounces mushrooms, sliced
3 cloves garlic, minced
1/2 teaspoon salt
1/2 teaspoon black pepper
1 pound cheese-filled tortellini or other tortellini of your choice
26 ounces pasta sauce of choice (here's my recipe for Slow Cooker Spaghetti Sauce). I used a combination of half spaghetti sauce and half homemade alfredo sauce but use whatever sounds good to you.
Freshly grated parmesan cheese for garnish.
DIRECTIONS
Cook tortellini according to package directions.
Heat sauce in a large skillet until simmering.
While the tortellini cooks and the sauce heats up, heat 1 tablespoon olive oil in a large non-stick skillet over medium-high heat. Add the shrimp and cook until the shrimp is pink, about 3-4 minutes. Remove shrimp from the pan.
To the pan add in asparagus and mushrooms and sauté until tender, about 7-10 minutes. Add in the garlic and cook for a minute longer, until fragrant.
Add shrimp back to the pan, and season everything with salt and black pepper.
Drain the tortellini and toss it with the shrimp and veggies.
Pour the warm sauce over the pasta and shrimp and veggies and stir to combine.
Garnish with freshly grated parmesan cheese.
Serves 4-6. Enjoy!
Recipe from
CenterCutCook