It is no secret that we love pizza in this house. I love to whip up a batch of my fast and easy pizza dough on a Friday night so that we can enjoy homemade pizza right at home. I had pizza on the brain when I was trying to determine how to use up a package of boneless skinless chicken breasts that I had in the refrigerator. I don't know about you, but I'm always looking for new chicken recipes. I decided to combine our love for all things pizza with chicken and that's how this recipe for Cheesy Pizza Chicken was born!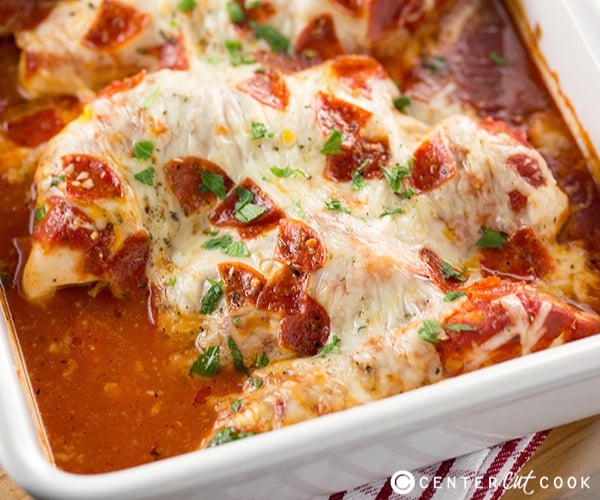 If you love pizza, you are going to love this recipe. I started by marinating the chicken in some Italian dressing. Italian dressing is one of my go-to marinades for chicken. It's quick and easy, and definitely adds some flavor. You'll want to let the chicken hang out in the marinade for three to four hours, so plan ahead.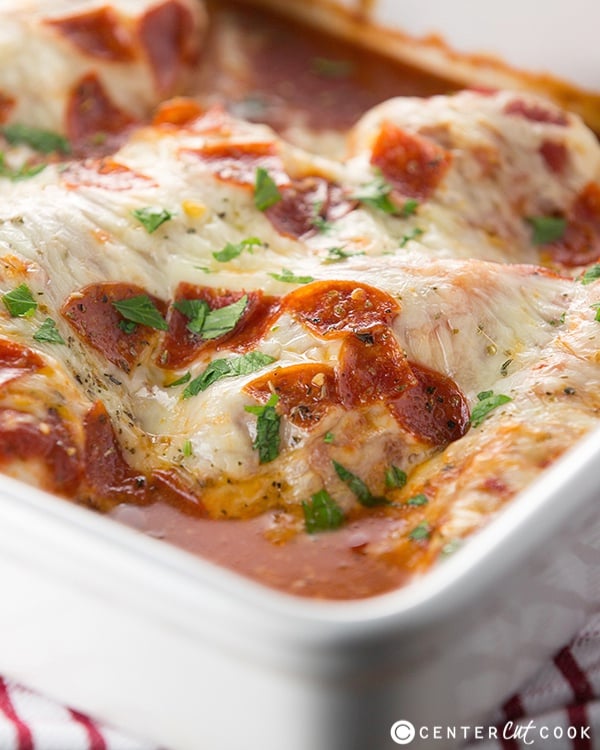 You can use four small chicken breasts, or go ahead and cut two large chicken breasts in half if that's what you have on hand. Whenever I buy chicken from Costco, the pieces seem to be huge, so I just took two large chicken breasts and cut them in half.
Once the chicken has marinated, you'll place the chicken in a casserole dish and top it with your favorite pizza sauce. Into the oven it'll go for about 15 minutes. Then… my favorite part. You'll take the chicken out of the oven and top it with lots of melty mozzarella cheese, and any of your favorite pizza toppings. I had some turkey pepperoni on hand that I cut into quarters, but feel free to use whatever toppings you like.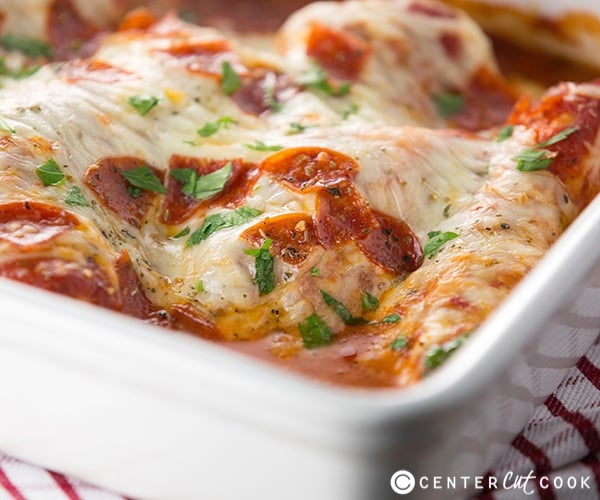 The chicken will go back into the oven to bake for about 20 minutes longer, or until the chicken reaches an internal temp of about 165 degrees. I always use a meat thermometer to double check that the chicken is cooked through.
Garnish the chicken with some chopped fresh parsley, or even basil would be wonderful, and serve immediately.
Does this not look delicious? This is what happens with pizza meets chicken and the result is fantastic! I hope you enjoy this super simple recipe for Cheesy Pizza Chicken!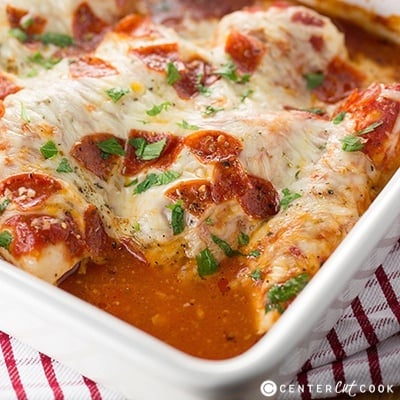 INGREDIENTS
4 small chicken breasts or two large chicken breasts cut into halves
1 1/2 cups Italian dressing
1 cup pizza sauce
1 1/2 cups mozzarella cheese
Pepperoni or other toppings of your choice
DIRECTIONS
Place chicken in a large gallon sized ziplock bag with the Italian dressing and marinate for 3-4 hours.
When you're ready to bake the chicken, preheat your oven to 350F.
Remove the chicken from the Italian dressing.
Place the chicken in a large casserole dish, leaving room between each piece. Top with pizza sauce.
Bake for 15 minutes, then top with mozzarella cheese, pepperoni and additional toppings of your choice. Continue baking for another 20 minutes, or until the chicken reaches an internal temperature of 165F.
Recipe from
CenterCutCook