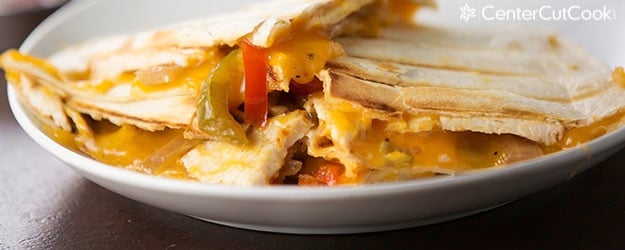 I am always excited when I make The Best Fajitas and there are leftovers, because it means I can make things like …
This!
Chicken Fajita Quesadillas! What is a chicken fajita quesadilla you ask? You start with two soft flour tortillas (or corn, if you wish), pile on tender fajita vegetables, and marinated chicken between layers of sharp tangy cheddar cheese, then grill it (my favorite grill pan) until the tortillas have browned up beautifully and the cheese is ooey gooey and melted.
The result? A perfectly grilled quesadilla oozing with cheese, chicken, and veggies. A Chicken Fajita Quesadilla!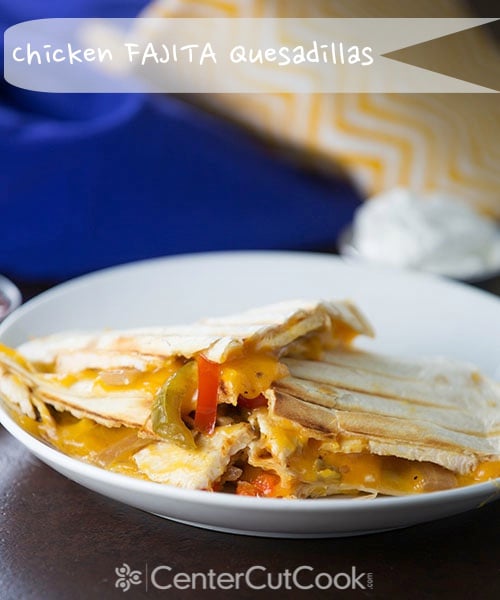 Let's say you haven't already made the veggies and chicken for fajitas, but you'd still like to make these fajita quesadillas. No problem! First, let me tell you that it's worth it to marinate and cook the chicken just for this recipe. But, in case you don't want to take that route I'll just suggest you take a couple of short-cuts like….
Instead of marinating the chicken and grilling it, you could just use rotisserie chicken from the grocery store, or any pre-cooked chicken. You'll still need to sauté the veggies, but from start to finish, you should be done within 15 minutes if you're using leftover chicken and veggies from making The Best Fajitas the night before.
And guess what? They taste just as good as a quesadilla you'd get in a restaurant! I like to serve these guys with homemade salsa, guacamole, and sour cream for an easy supper during the week. And of course, this Mexican Rice pairs perfectly with quesadillas.
Chicken Fajita Quesadillas are filling enough to work as a full meal, or a snack, or an appetizer. Basically, they work for just about anything!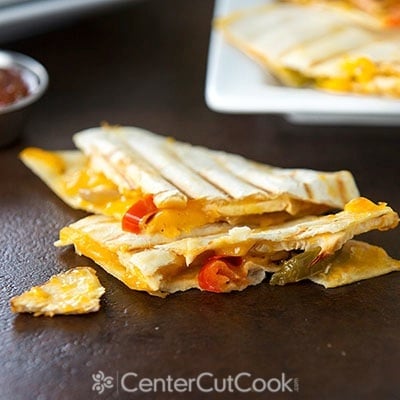 MARINADE INGREDIENTS
Juice from 1 orange
Juice from 3 limes
2 garlic cloves
1-3 chipotle chiles in adobo sauce (depending on your heat preference)
1 teaspoon ground cumin
1 teaspoon salt
1/2 teaspoon black pepper
4 tablespoon olive oil
1 teaspoon liquide smoke
1/2 tablespoon soy sauce
FAJITA QUESADILLA INGREDIENTS
1 pound boneless skinless chicken breasts
1 red bell pepper, cut into strips
1 green bell pepper, cut into strips
1 medium onion, chopped
6-8 ounces mushrooms, sliced
Juice from half of a lime
1/2 tablespoon soy sauce
1 tablespoon olive oil
Salt
Pepper
2 1/2 cups shredded sharp cheddar cheese
DIRECTIONS
*Note: This recipe is easiest to make using leftover chicken and veggies from The Best Fajitas. If you are using leftover chicken and veggies, skip to step 5.
Add all of the marinade ingredients to your blender and blend on high for a few seconds until you have a smooth marinade. In a large zip-lock bag, add your chicken and pour the marinade over it. Toss the bag around a few times to ensure that the meat is coated. Put the bag in the refrigerator for around 3-4 hours.
When you're ready to cook the chicken, heat your grill pan (my favorite grill pan) to medium high heat and cook the chicken for 6-8 minutes on each side, or until the chicken is cooked through to about 165 degrees. Allow the chicken to rest for a few minutes before slicing it into thin strips.
While the chicken is resting, heat 1 tablespoon olive oil over medium heat. Saute' the vegetables until tender. Season with salt, pepper, 1/2 tablespoon soy sauce, and the juice from half of a lime.
Heat your grill pan to medium high heat and divide the chicken/veggie mixture equally into 6 portions.
Sprinkle about 1/4 cup cheese on one tortilla. Top with 1/6th of the meat/veggie mixture. Sprinkle 1/4 cup more cheese on top. Add the remaining tortilla on top. Cook the quesadilla until it is golden brown on both side and the cheese is gooey and melted. This should take about 4 minutes per side.I like to use my spatula to press down on the quesadilla as it's cooking to really smoosh everything together.
Cut each quesadilla into quarters. Serve with salsa, guacamole, and sour cream.
Serves 6.
Recipe from
CenterCutCook