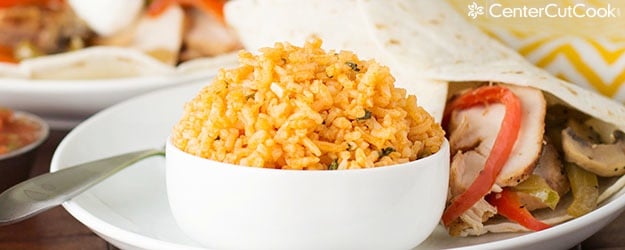 This? This little recipe just might go down in the record books as my favorite Mexican Rice, ever. Ever!
Now, I must admit, I am no stranger to those little paper envelopes of Mexican Rice at the grocery store. You know the ones I am talking about. The ones that go on sale for a buck and can be made in like 15-20 minutes max? Super convenient, right?
One problem.
They're lacking in flavor, not to mention the fact that they include all kinds of ingredients that require way too much sounding out to say correctly. Thamin Mono whaaa?
Enter homemade Mexican Rice. Try this recipe once and I assure you, you will never go back to the little rice packets from the grocery store. Is it going to take you longer to make than those aforementioned packets? Yes, but… is it worth it? Absolutely.
Mexican food and I are pretty tight pals. I love the stuff, from Carnitas and Mexican Tostadas to Mexican Pizzas. And because it's on the menu at least once a week (not joking), I am always looking for the perfect side. Perfect side= Mexican Rice.
This recipe calls for lots of tomatoes. I used the canned whole tomatoes, but go ahead and use fresh if you're lucky enough to have delicious, fresh, ripe tomatoes on hand.
Also included in this recipe are some jalepenos. If you're worried about the heat level, no worries. You'll remove the seeds and the ribs from the jalepenos which is where the heat likes to hang out. The end result should be a side dish that's suitable for all palates.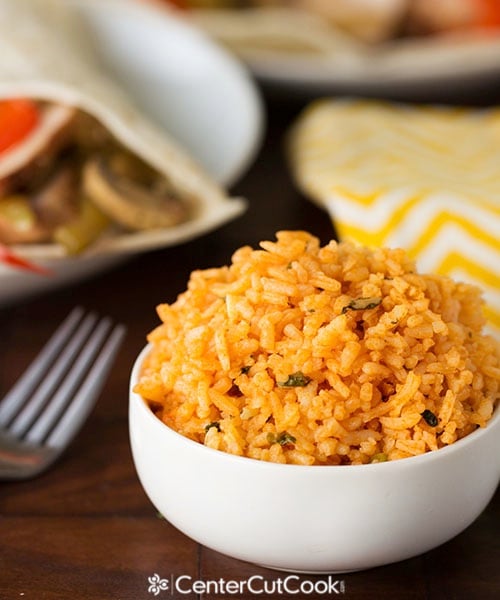 The key to success with this recipe is to rinse the long grain white rice with water and rinse it until it runs clear. Please DO NOT SKIP this step. For real. This removes the starchiness from the rice and will leave you with beautiful, fluffy rice. The kind of rice that you get at the really good Mexican restaurants. Skip this step and your rice will not be fluffy.
I can't tell you how many Mexican and Spanish Rice recipes I've tried, searching for the perfect recipe to serve with my favorite fajitas. I wanted something that was restaurant style, fool-proof, and delicious every. single. time. This is it guys!
Now, go make yourself some fajitas, and plop a big ole spoonful of tender, fluffy Mexican Rice on the plate! And maybe some beans too. Enjoy!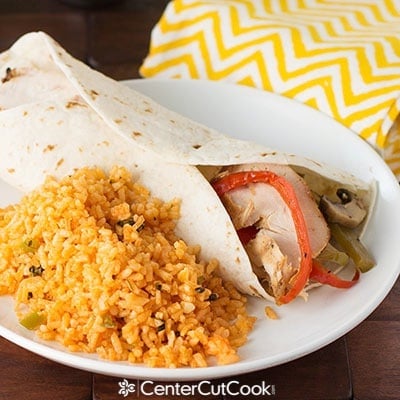 INGREDIENTS
24 ounce can whole, peeled tomatoes, drained
1 medium yellow onion, quartered
2 jalepenos, seeds and ribs removed, chopped
2 cups long grain white rice
1/3 cup canola oil
3 garlic cloves, minced
2 cups chicken broth
1 1/2 teaspoons salt
1/2 cup fresh cilantro
1/2 teaspoon ground cumin
1 lime cut into wedges for garnish
DIRECTIONS
Pre-heat your oven to 350 degrees.
With your blender, combine whole tomatoes with quartered onion and blend until it's completely pureed and smooth. Measure two cups of this mixture, and discard any excess. YOU ONLY NEED TWO CUPS OF THIS MIXTURE.
Place long grain white rice rice in fine strainer and rinse the rice until the liquid runs clear. This will take a couple of minutes. Don't skip this step! It is absolutely necessary for perfect rice!
Allow the rice to drain, and shake to remove any excess water.
Heat 1/3 cup canola oil in a large oven-safe skillet (If you do not have an oven safe skillet, you can transfer the rice to a casserole dish before putting it in the oven) over medium heat. When hot, add in the rice.
Stir fry the rice in the hot oil for 8-10 minutes, until the rice starts turning golden brown. Stir regularly to prevent the rice from sticking to the bottom of the pan.
Add in chopped jalepenos, and garlic. Cook for a few minutes.
Stir in chicken broth, the pureed tomato/onion mixture (2 cups), salt, and cumin. Bring this mixture to a boil over medium-high heat. When boiling, cover the oven-safe pan and place it in the oven. If you do not have an oven-safe skillet, transfer the mixture to an oven-safe casserole dish.
Continue cooking the rice in the oven for 30-35 minutes, stirring every 10 minutes. When all of the liquid is absorbed and the rice is tender, remove the rice from the oven.
Stir in cilantro, and garnish with lime wedges.
Serve immediately.
This rice heats up great the next day so you can make it ahead of time!
Recipe adapted from
Food.com