Can you just imagine how delicious this Mongolian Beef tastes if I tell you that it arguably tastes just like P.F. Chang's version with super tender beef, a sweet soy glaze/sauce infused with ginger and garlic, and topped with scallions? It is so easy to make, and one of our favorite fake-out take-out recipes that can be made right at home with minimal time and effort. This Mongolian Beef recipe is perfect as-written and needs no tweaking or perfecting.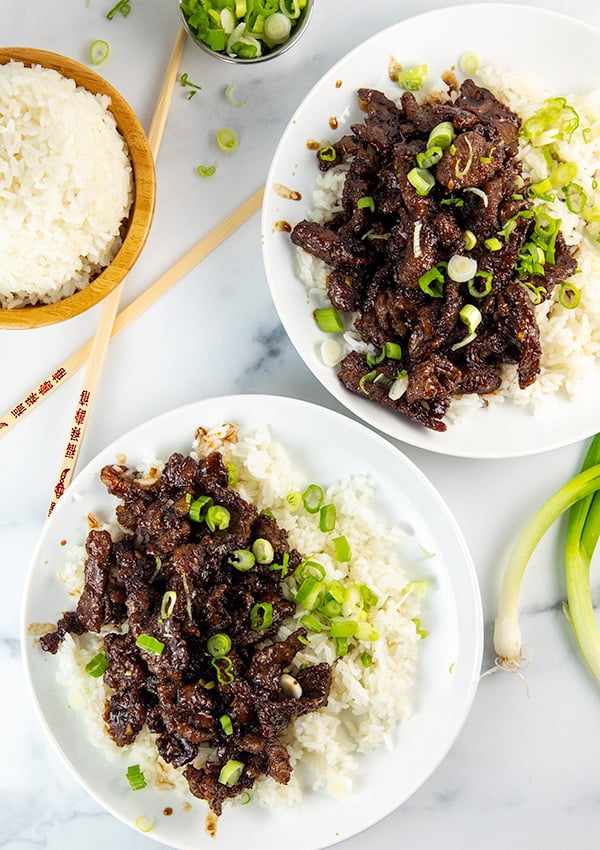 What kind of beef should I use for Mongolian Beef?
You have options with the cut of beef that you use when it comes to making Mongolian Beef at home. I have used beef tenderloin, flank steak, and even top sirloin. The key is to slice the beef thinly to achieve the best, most tender result.
Once your beef is thinly sliced, place it in a bowl with 4 tablespoons of corn starch. Use tongs to toss the beef in the corn starch, then gently shake the excess corn starch off the beef (I like to tap the tongs on the side of the bowl to help the excess fall off) and transfer it to a bowl or plate.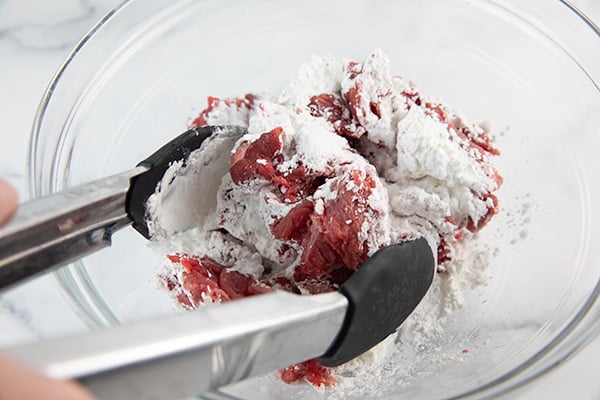 The corn starch will allow the beef to crisp up beautifully, and will also act as a thickening agent for the sauce/glaze.
How do I make the sauce for Mongolian Beef?
To make the sauce for Mongolian Beef, which is more like a glaze, you will need fresh minced garlic and ginger, soy sauce, water, Worcestershire, rice wine vinegar and brown sugar. If you do not have rice wine vinegar, another good substitute would be apple cider vinegar. If you do not have Worcestershire sauce, just omit it. No substitution is necessary. While it adds depth of flavor to the sauce/glaze, it'll still be delicious without. I do not recommend substituting anything in place of the brown sugar. It is a key ingredient.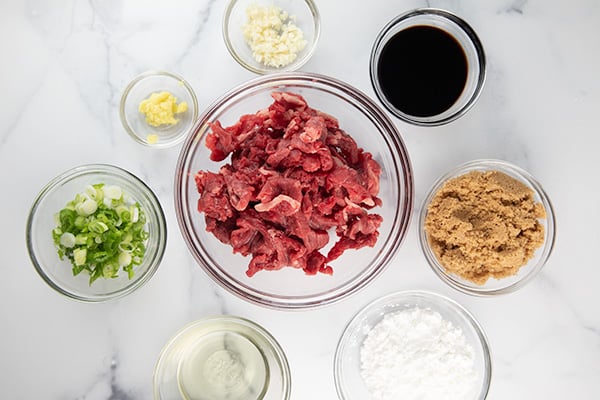 The fresh garlic and ginger in this recipe really do make such a difference in the flavor. I like to use my Microplane grater to finely grate the ginger. If you haven't cooked with fresh ginger before, don't be intimidated. Use a knife to peel the hard outer edges off the ginger. I use about a two inch piece, then finely grate it using a microplane grater.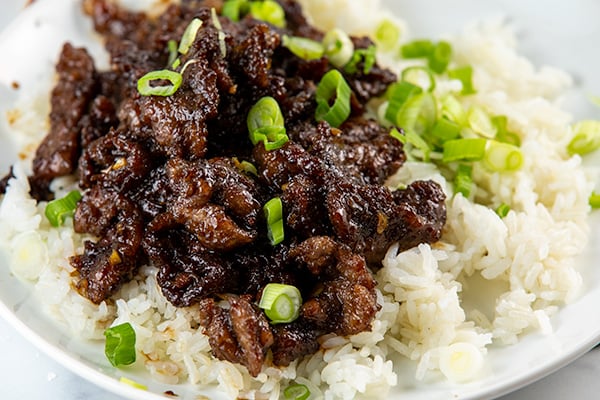 Once the sauce starts to thicken, you'll add the beef back in, along with half of the chopped scallions and allow it to warm up for just a few minutes.
Serve this Mongolian Beef over rice with a side of steamed veggies and you have an incredibly delicious dinner. While Mongolian Beef can be made in the crock pot or even the Instant Pot, I almost always make it on the stove using this simple, delicious recipe.
Easy and tasty, this Mongolian Beef with a sweet soy sauce glaze might be your next new favorite. Enjoy!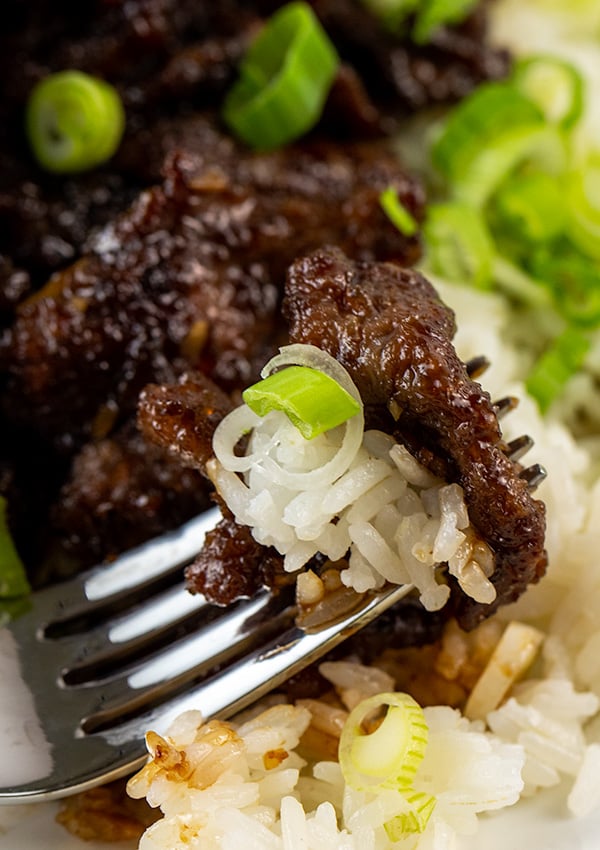 Looking for more delicious Asian inspired recipes? I've got you covered.
You might enjoy our recipe for:
Note: This recipe for Mongolian Beef was originally published here on CenterCutCook in 2012. It was updated with new photos, and a few recipe tweaks in 2021.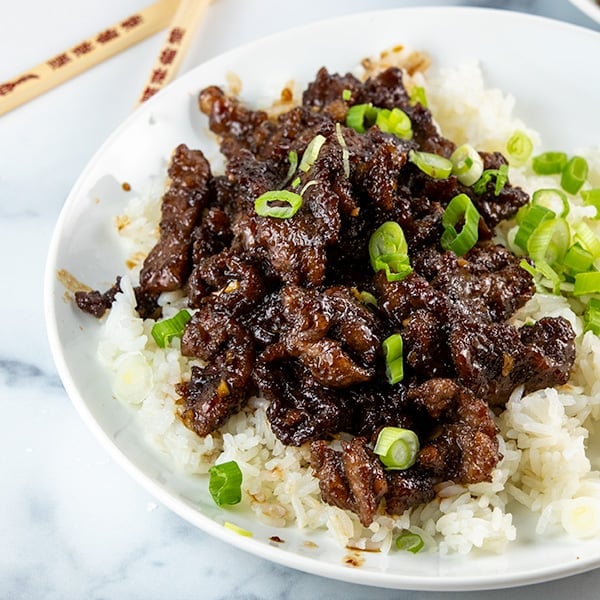 INGREDIENTS
8-12 ounces beef sliced thin – about 1/4 inch thick (Sirloin, Flank, or Beef Tenderloin will all work)
4 tablespoons corn starch
5 tablespoons vegetable oil
1/2 teaspoon fresh grated ginger
4 garlic cloves – minced
1/3 cup soy sauce
1/3 cup water
1/2 tablespoon Worcestershire sauce
1 teaspoon rice wine vinegar
1/2 cup brown sugar
3 scallions diced – divided
DIRECTIONS
Measure 4 tablespoons of corn starch and place in a bowl. Dip each strip of beef tenderloin in the corn starch to coat. Lightly shake off excess corn starch. Allow beef to sit for about 10 minutes before cooking.
Heat vegetable oil in a wok or large skillet on medium-high heat. Sauté' beef strips, cooking a few at a time, until they start to crisp. This should only take a few minutes because the beef is thinly sliced.
Remove beef from pan and set aside.
Lower heat to medium and sauté' garlic and ginger for about 1 minute, making sure not to burn the garlic.
Add in soy sauce, water, Worcestershire sauce, rice wine vinegar, and brown sugar. Stir to combine all of the ingredients.
As the sauce begins to thicken, add beef back to the pan, and half of the scallions. Cook for an additional 2-3 minutes.
Serve over rice, and top with remaining diced scallions.
Servings: 2-3